Overview
Efficiently route the day's work, assign incoming jobs to the closest team member on the map, and know their whereabouts as they're on the move.
This feature is available on select plans. Learn more.
There are two forms of routing in Jobber, this article covers one type– daily route optimization. Daily route optimization is used to customize your route on a day-to-day basis. This is where you can make any adjustments to the order of the visits for the day, and have the new order reflect on the app for your team. The other type of routing is route optimization through the settings menu.
There are two types of routing in Jobber:
Settings > Route Optimization or the "master route": This is the big list of how you would route all your properties if you were to do them all in one day. This is what the daily route defaults to based on what is scheduled that day. Sometimes we refer to this as the "master route". This type of routing is more rigid and works well for companies that have a fixed schedule
Daily route optimization

(done from the map view of the calendar):

This is where you can alter your route day to day. We call this "daily route optimization". This form of routing is useful for when you have a more variable schedule and need more flexibility
With these two routing types, you can use the master route to create your preferred route (or have Jobber optimize and create the most efficient route automatically), then customize it day-by-day if needed. Learn more on how these two types of routing work together.
Note: This video has three sections to showcase the different types of routing in Jobber. The master route section starts at 0:53 and the daily route section starts at 3:27. Check out the full video for a full overview of routing.
Using daily route optimization
Note: Your visits will need to be assigned to a team member, and set as anytime (not scheduled for a certain time) in order to be optimized.
First, you will want to have turned on route optimization from Settings > Route Optimization. To do this, and learn more about routing all properties from your Jobber account in one place here.
The full account route that is created from route optimization will be overwritten with the daily route optimization feature on days where daily route is in use.
To optimize your route, go to the Map View of the Calendar and click on either the pin on the map or the task within the left panel, and click Route From Here. This will create the most efficient route based on this address as the starting point.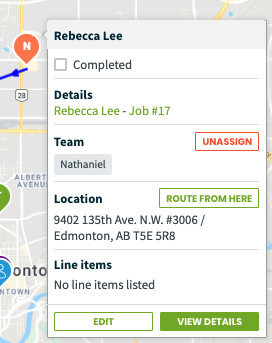 To see a specific user's route, click on that user's name along the top of the map. This will highlight their route in red.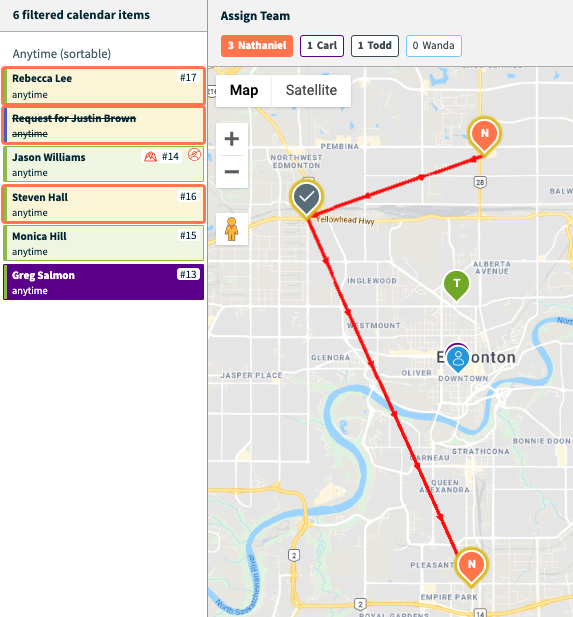 To customize the route, click and drag the visits from the left panel.
Routed jobs in the Jobber app
In the Jobber app, you will be able to see the visits and tasks listed in the order of the route you have created for them in Jobber online.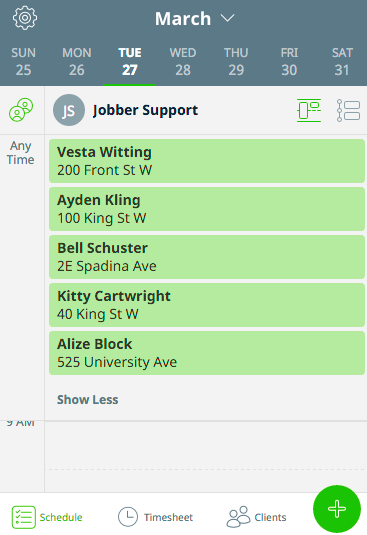 My visit isn't routing!
If you notice that your visit is not routing, there may be an issue with finding the correct address in Google Maps. We show this issue with your map icon appearing in red instead of green.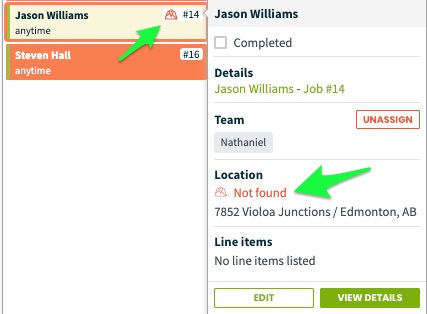 To ensure that the Jobber app is taking you to the correct location you will need to manually set up this map pin for the correct location. To do so, access your Properties page and click onto this property.

Select More Actions > Adjust Map Location. You will then be provided with steps to update the map pin for your client in order to be able to route for their property.