Overview
Wallet in client hub is a self-service option for your clients where they can add new cards and manage existing cards. To collect their card information upfront, why not send them an email to request that their card be saved in wallet? This way it'll be ready to go for future work and enables you to set up automatic payments. Requesting a client put a card on file is also a good way to prepare for charging cards in Jobber if you are coming over from different software or are new to Jobber Payments.
Note: You must be using Jobber Payments to save cards.
Wallet
Wallet is a section of client hub where your clients can enter their card details to save a card on file for future use. You can send an email to request that your client save their card in Wallet.
From the client's profile, navigate to the box for saved Payment methods located underneath the billing history box. Click the button for Send email request or Send SMS request to send an email or text message to let your client know they can save a card and that card can be billed for future work.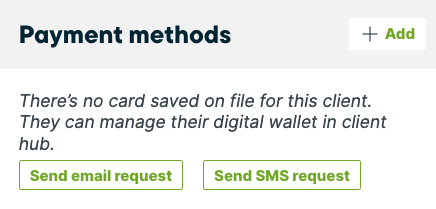 The verbiage in the email is based on a template that can be edited in Gear Icon > Settings > Emails and Text Messages. However, after clicking Send email request, you will be able to preview and edit the message being sent to this particular client. If you have any details to share that are unique to this client, this is a good place to add them.
Note: Text messages are not customizable.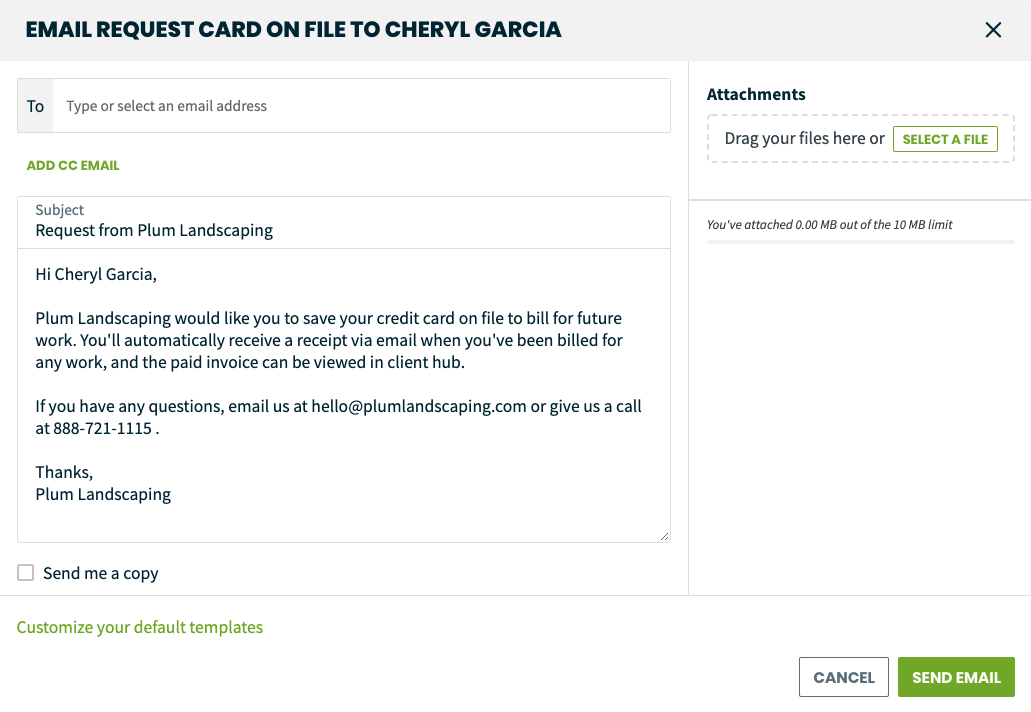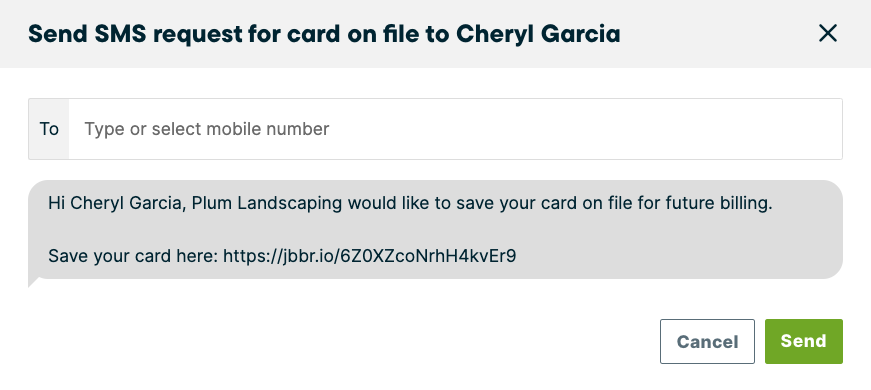 When your client receives the email or text message, there is a button to View Your Wallet which directs them to the wallet section of client hub. For your client to add a payment method, they'll need to click + Add Payment Method. If they already have saved cards, this is also where they can manage them.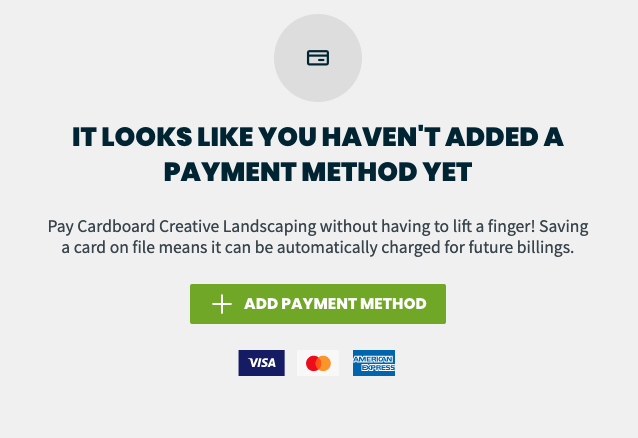 This will prompt them to fill out their credit card details like the name on card, card number, expiry, CVC, and billing address. If they are adding more than one card, they can also check a box to indicate which card is the default payment method.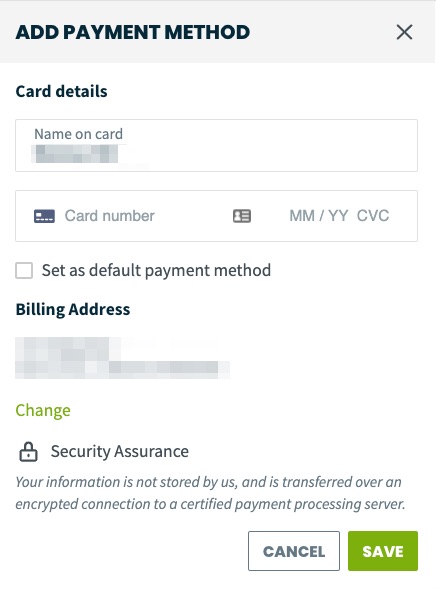 All cards added for this client will appear in the wallet section, including those that you added manually and those that were added by the client. If there are multiple cards, one of them will be designated as the default payment method. This is the card that will appear by default when charging this client. The default card is indicated by a 'default' label as well as a star.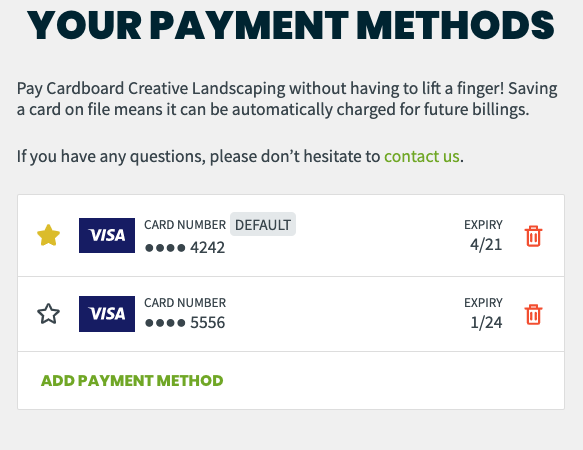 To remove a card, your client can click the red garbage can icon beside the expiry for that card and it will be removed as a stored payment method.
Note: If your client only has one card on file and it's being used for a job that is set up with automatic payments, the card cannot be deleted by the client. In this situation, your client will see a prompt to reach out to you since the job with automatic payments will need to be updated.
Email template
To edit the email template for requesting a card on file, go to the Gear Icon > Settings > Emails and Text Messages. The template to request a card from your client is in the General section.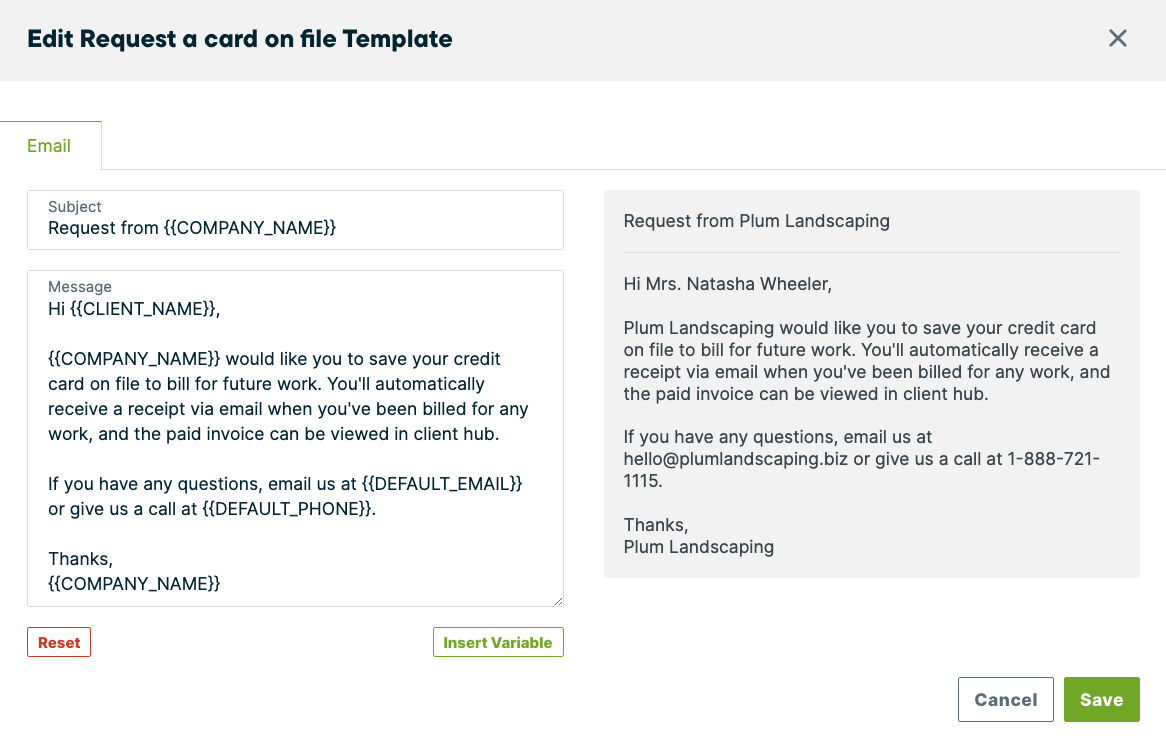 Send a mass email with Mailchimp
If you are on the Grow Plan, you can use that plan's Mailchimp integration as a way to send a mass email to your clients to invite them to add their credit card details in wallet for future use.
Some of the information from your Jobber account can be used as Merge Tags in Mailchimp when you are composing an email campaign. This is similar to variables in Jobber, where you can use them to input information custom to the client in your templates.
One of the merge tags is called *|CLIENTHUB|* which gives each of your clients a personalized link to client hub. Even though this is a mass email and each client will see the same email body, each client will be able to access their individual client hub with a button formatted to use this merge tag.
For the content of your email campaign in Mailchimp, you will want to introduce to your clients that they are able to save their own cards on file. If you are setting up automatic payments for your client's recurring work, this is a good opportunity to let them know that you will need their card on file so they can be billed automatically and as a convenient option for them. For more tips on introducing client hub to your clients, check out the Benefits of Using Jobber for your Clients.
Here is the body of a sample email, but of course you can make this your own to suit your needs and company voice:
Hi there,
I'm writing you today to let you know about our new client hub!
Whether you want to take a look at your past or upcoming appointments, a recent quote, make a payment or check which invoices need to be paid, print a receipt, or request new work—you can now do it all in one place.
If you would like to pay automatically for your recurring appointments or line up payment for when the service is completed, head over to the Wallet tab on the sidebar. This is where you can securely store a credit card so that you are ready to go for your upcoming work. Wallet is also where you can manage your stored cards.
Click the button below to access client hub.


[Insert button with *|CLIENTHUB|* merge tag]
In the video below, one of our product coaches Ronen walks through how to set up an email campaign in Mailchimp and then add a merge tag to invite clients to log into client hub.
Learn more about How Clients Sync with Mailchimp.