Overview
Welcome to Jobber! Whether you're a new member of a team that's been using Jobber for a while or your whole team is coming to Jobber for the first time, you'll need to learn how to join the account that your account admins have set up. Follow along with this guide to learn how to accept your invitation to setup your account, download the app, and get working!
Accept your invitation
Once your team adds you to their Jobber account as a new user, you'll receive an email or text message inviting you to join the team on Jobber. From your invitation, click Accept the Invitation.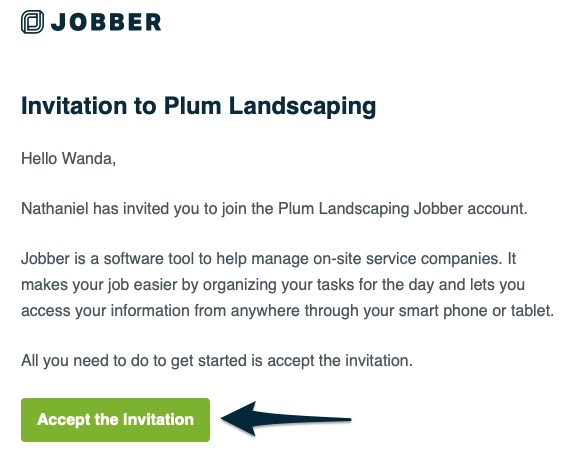 Next, you will be prompted to set up your account. This screen should mention the name of the company whose account you are joining. It is important to make sure you are accepting an invitation of an existing account rather than creating a new Jobber trial.
Note: If you do accidentally start a trial, reach out to our Success Team and we'll help you out!
Fill out your name, the same email address, and enter a password (then confirm your password to make sure it's entered correctly). Once your details have been entered, click Join Now.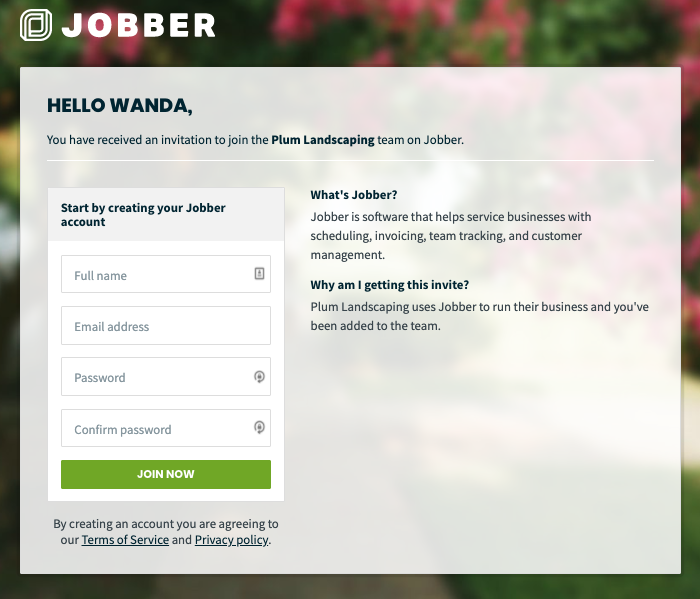 The password and email address entered here will become your new login information for Jobber going forward.
Download the app
Next up, you'll want to download the Jobber App so that you are ready for work in the field. The app is available on the Apple App Store and Google Play Store.
Think of the app like another one of your tools while out in the field. You're going to be using it a lot. The app shows your schedule and job details so that you know what your assignments are for the day as well as any info you'll need to get the job done. There are also options on the app to clock in and out so that you can log your time for the day.
Learn more about the Jobber App.
Start working
Now that you've joined your team on Jobber and have downloaded the app, you're ready to get working. Depending on your role in the company, you might use the app for your day-to-day, or you might find that you work with Jobber online more often, or a combination of both!
If you're going to be mostly working in the field and using the app, our guide to Your Day-to-Day in the Jobber App is a good place to start learning about the tools in the app that you will use during your work.
If your role involves working in the office or doing work mainly on Jobber online, a good place to start is this video where Sarah walks you through Jobber in under 3 minutes. Feel free to follow along and let Sarah be your Jobber guide.
Questions?
If you have any questions, feel free to reach out to our Jobber Success Team. We're here to help! From this article, click the speech bubble icon in the bottom right corner to start a live chat.