Overview
With two reports, track your transactions and know when to expect a payout.
There are two reports that relate to Jobber Payments:
the Transactions List
the Payouts Report
These can be found at the top left of the Reports page. Only admin users will have access to Jobber Payments reporting.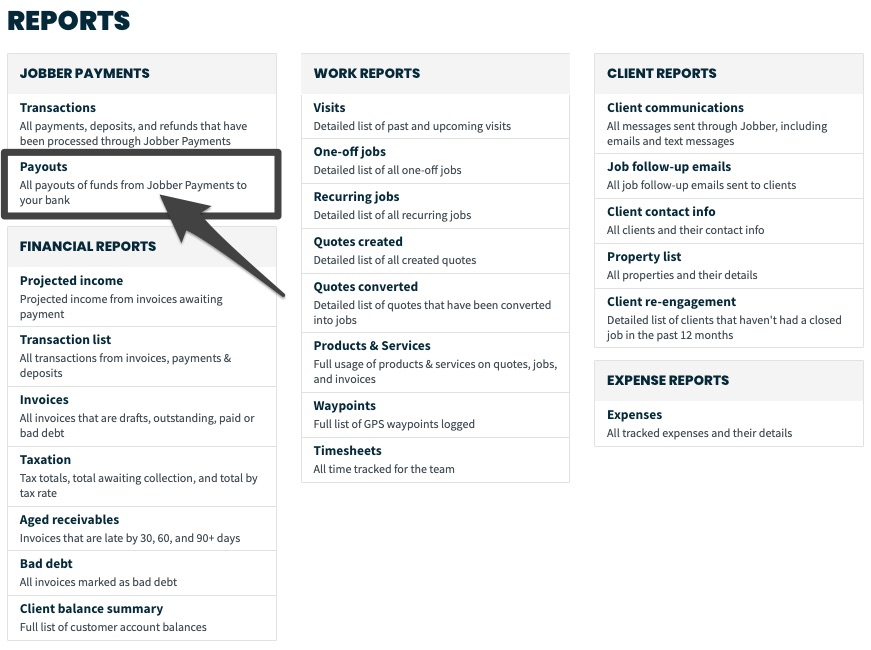 Transactions List
The Transaction Report will show all Payments, Deposits, and Refunds.

Like most reports found within your account, you can specify a custom date range or use the default options. You can also filter to show the different types of Transactions.

Click onto Columns beside 'Receive Excel Copy' to customize what you can see on the report. We recommend selecting 'Fee $' as it is one of the most sought after columns for users to view and will show you the fees that are charged per transaction.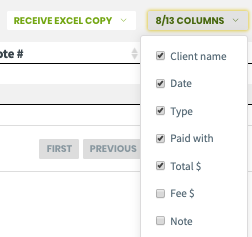 Payouts Report
The Payouts Report will show the processed payments being sent to your bank account. The Filter option at the top of this page allows you to view all payouts from within a specific time period (you choose!). To the right of the payout, you will see its status. If the payout is listed as Paid it has been deposited into your bank account (the deposit can take until the end of the day to be seen on your account). If the payout is In Transit, it is currently being processed and you will see an expected date you will receive it. We have more information about the payout window here.
Please note that your first payout will take 5-7 business days to be deposited, once this has been successfully deposited your next payout(s) will take 2-4 business days.

Clicking into the payout will show you more details regarding the amount collected/deposited and the fees associated with the transaction.

You can also click into a specific transaction to find more information, if you needed to issue a refund or email a receipt this is also possible. There will also be direct links to the quote and/or invoice.