Reports page
With over 20 built-in reports, you'll know exactly how your business is doing. Learn more.
To get to your Reports click Reports from the sidebar on the left of your screen.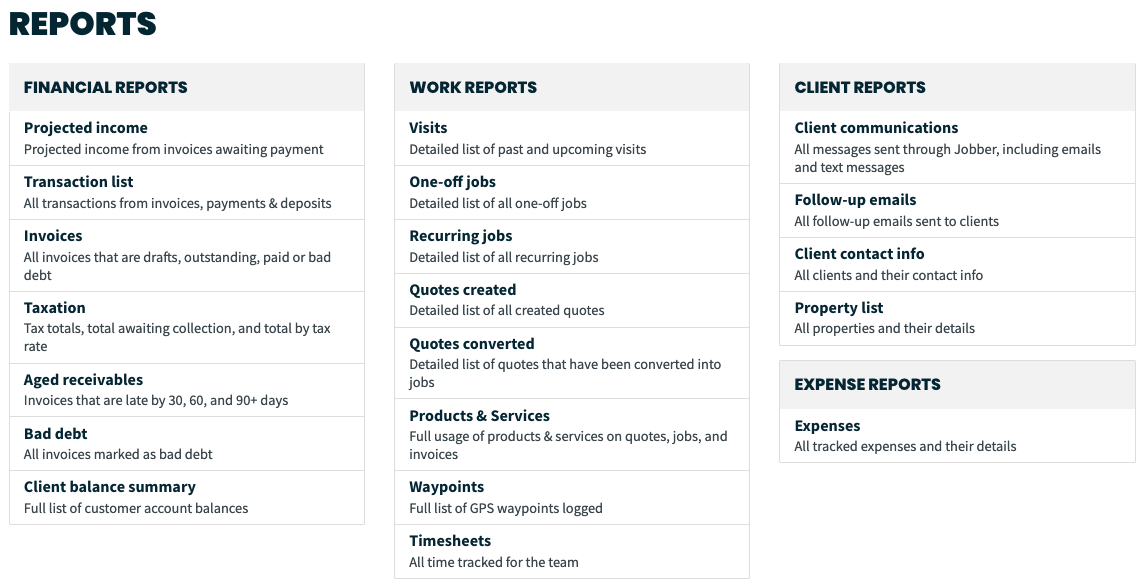 Reports are divided into three categories: financial reports, work reports, and client reports.
These reports are:
Financial reports
Work reports
One-off and recurring jobs reports
Client reports
Report overview
Some of the reports will have an overview section that breaks down items in the report. From this overview section, you can click on each of the sections to filter the report and these items will appear in the list section of the report.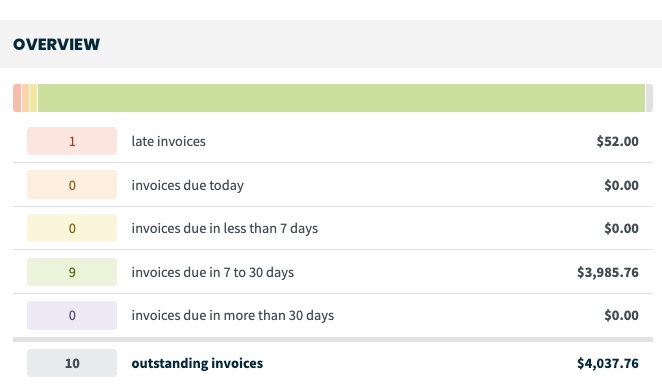 For example in the Projected Income Report, you can click on each of the headings to view those invoices. So clicking Invoices due in 7 to 30 days will display the invoices that have due dates that fall within 7 to 30 days.

Report customization
When you access a report, you'll see an Options box at the top of the page, this is where you can begin to customize the report. Each report has its own options for customization including date range options and additional filter options.
For many (but not all) of the reports, a specific date range can be set, or you can choose a specific start and end date by choosing Custom Range.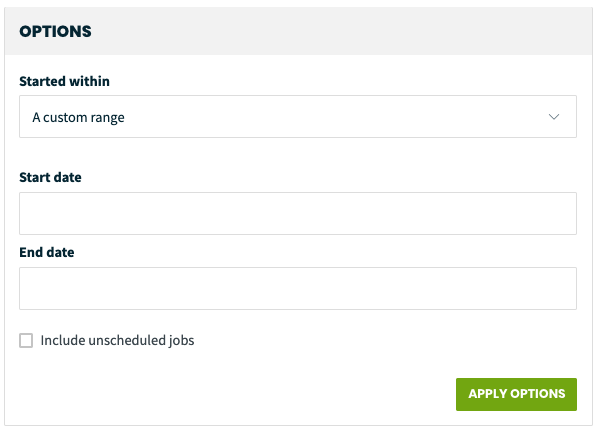 Many reports also have additional customization options, including custom column options. The column available will vary by the data the report contains, so not every report will have the same column options.
To add or remove columns from the report, click the Columns button found at the upper right of the report.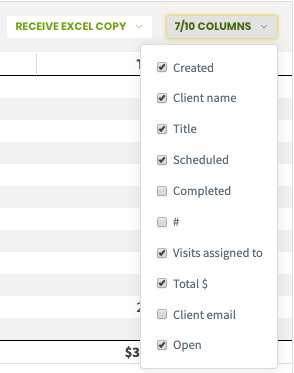 There is also an option for Receive Excel copy. When you click this button you will be sent a .csv file of the report which can be opened in Excel or saved to your computer. The email will be sent to the email that you are currently signed into Jobber with.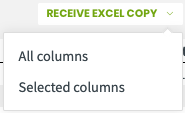 Note: Not all reports can be exported. The Taxation, Waypoints, and Job Follow-ups reports are all in formats that cannot be exported since they are not .csv files.
There are options to view all the columns available for this report on the emailed copy, or just selected columns. If you chose selected columns, the emailed report will show the columns that are currently on your screen in Jobber.
Who can see reports?
All admin users have access to reports as part of their permissions. In order for other users to view reports, their Reports permission box must be checked. To do this, an admin will need to click on the Gear Icon > Manage Team > select the user, click on Show Advanced Permissions from under the pre-set permission groupings and then make sure that Reports is checked.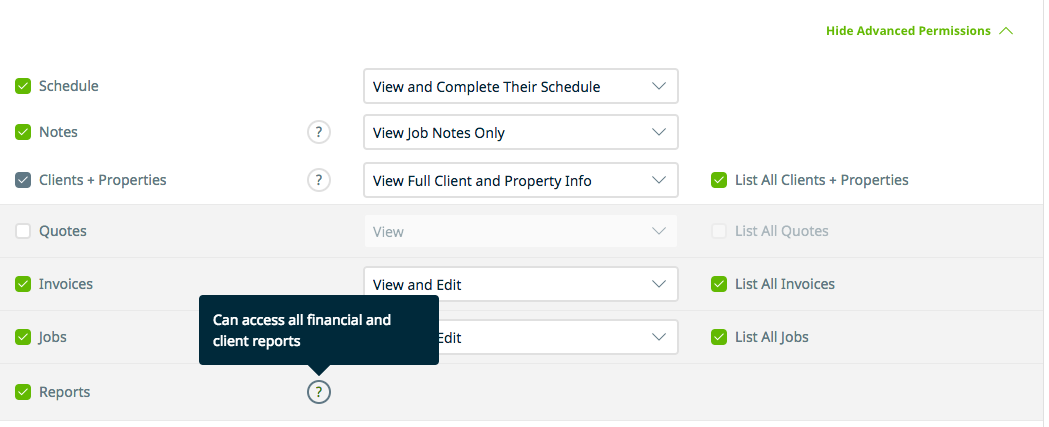 Franchises
If you have multiple Jobber accounts which are linked as a franchise, you have the ability to export data from all your linked accounts with one click. These exports show the data from all your accounts in one spreadsheet.
Navigate to the report you want to export and from the Recieve excel copy button, select All columns (Franchise) to export all the columns available in this report to export this data across all linked accounts. If you only want to export the columns currently visible, select Selected columns (Franchise). If you only want to export the data from the account you are currently viewing, select the All columns or Selected columns options.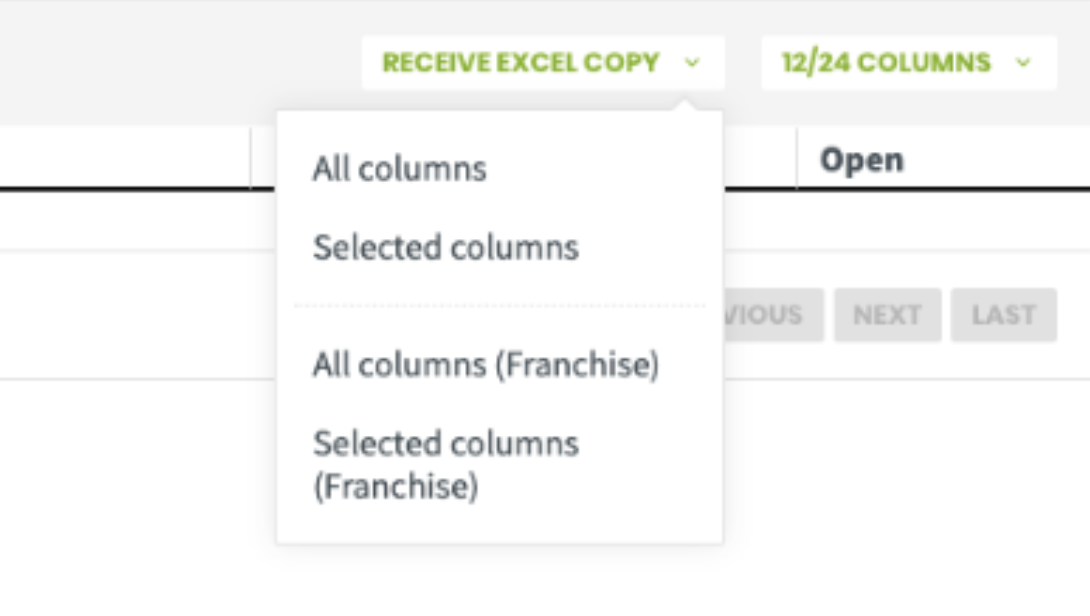 When using the franchise download options, a maximum of 90 days of data can be downloaded in each request. This applies to the 'Last 12 months', 'This calendar year', and 'A custom range' options, where 90 days is based on the starting date.
Franchise report emails are sent to the email address of the user who requested the report. These emails contain the word "franchise" to clarify that data shown here is an aggregate of the data from all your accounts. Attached to this email is the .csv file with the report. The furthest left column in the report is for Account Name to make it clear which of your accounts each line of data belongs to.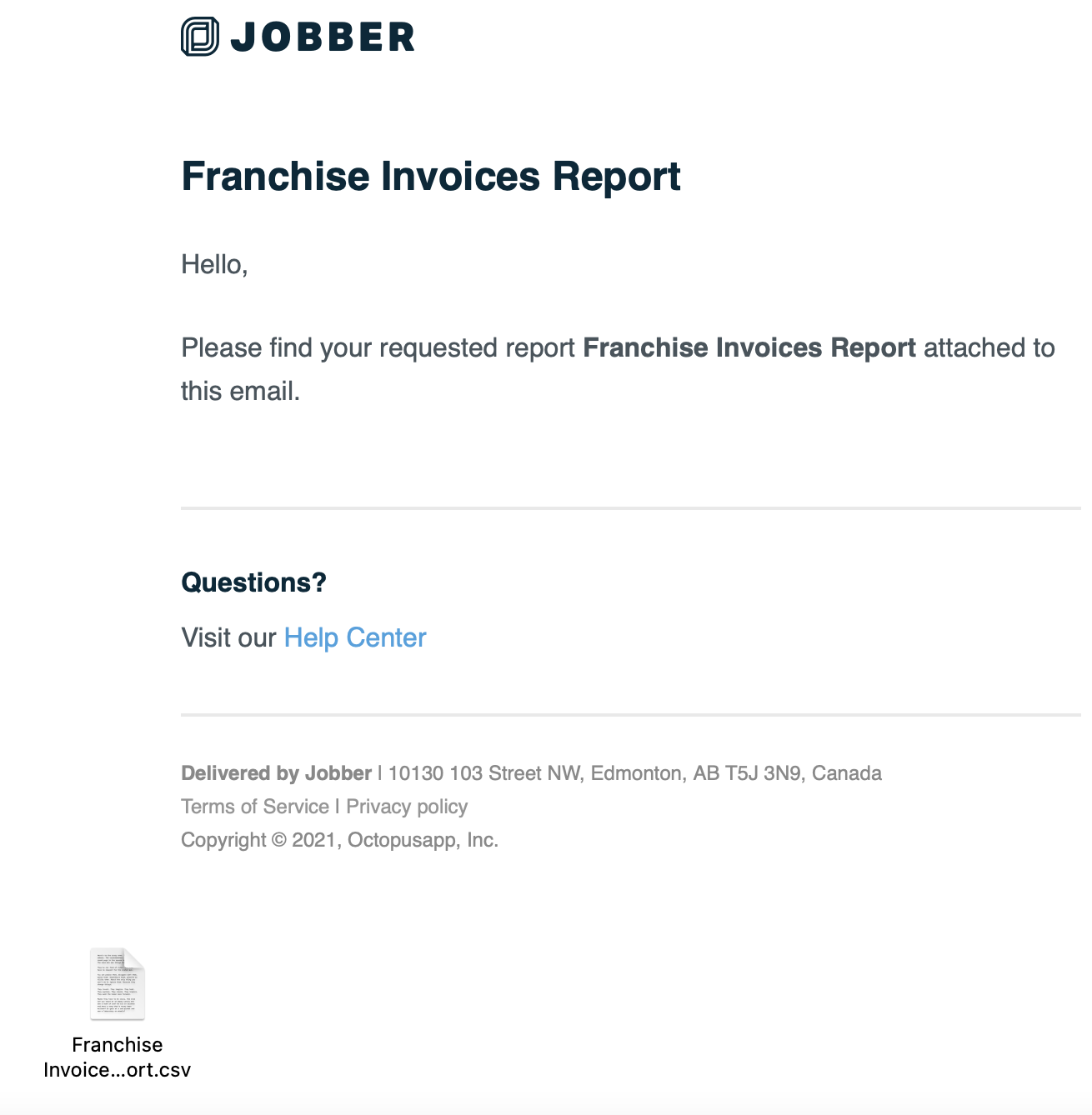 Note: Franchise reports do not have totals for each column, however, this can be calculated in Excel or another spreadsheet editor.

If you have multiple Jobber accounts and are interested in linking them as a franchise, email us at support@getjobber.com or start a live chat with our Success Team to get started. We'll need to hear directly from the Account Owner to make changes to your account.

Note: Data cannot be shared between franchise accounts, so while reports can be exported in aggregate, other data (such as a client's work history) is not shared between accounts.