What is Client hub?
Client hub is a self-serve, online experience that allows your clients to approve quotes, check appointment details, pay invoices, print receipts, or request more work—all in one place. Learn more.
Your clients can approve a quote, check appointment details, pay an outstanding invoice, print a receipt, or request more work—all in one place. It is a mobile-friendly site, so clients can view it with a computer or a mobile device.
Your clients can access client hub via a secure email link or you can add a log in button on your website—no pesky passwords to remember in either case.
If you have Jobber Payments, or a 3rd party payment integration installed, your clients can pay their invoices online through client hub. With Jobber Payments or Stripe, your client can also pay a required deposit on a quote in the same way.
Before you start
Client hub is automatically set up with your company branding, so you'll want to make sure you've updated your company branding in your account. Please go to the Gear Icon > Settings > Company Settings to make sure all your information is entered and correct, and that you have a logo uploaded.
In client hub there is a side navigation bar - your logo and business name are displayed in the top left. Underneath the navigation menu is an option to 'Contact Us' and when your client clicks here they will see your full company address and contact information as listed on your Jobber branding page.

Settings for Client hub
Your clients will always have access to client hub, but you can customize some of their access by going to the Gear Icon > Settings > Client hub.
Menu Visibility
Toggle On Client visibility so that when logged in they can see all of the quotes and invoices you've sent. If turned off, your client can only access an invoice or quote directly from the email you have sent them.
Quote Approval
Choose whether to Require client signatures when approving quotes
Choose whether to allow Clients to request changes on quotes they have received
Appointments
Choose whether or not to Show scheduled time when the client views their appointments online. Both job visits and work request assessments will appear under the appointments heading.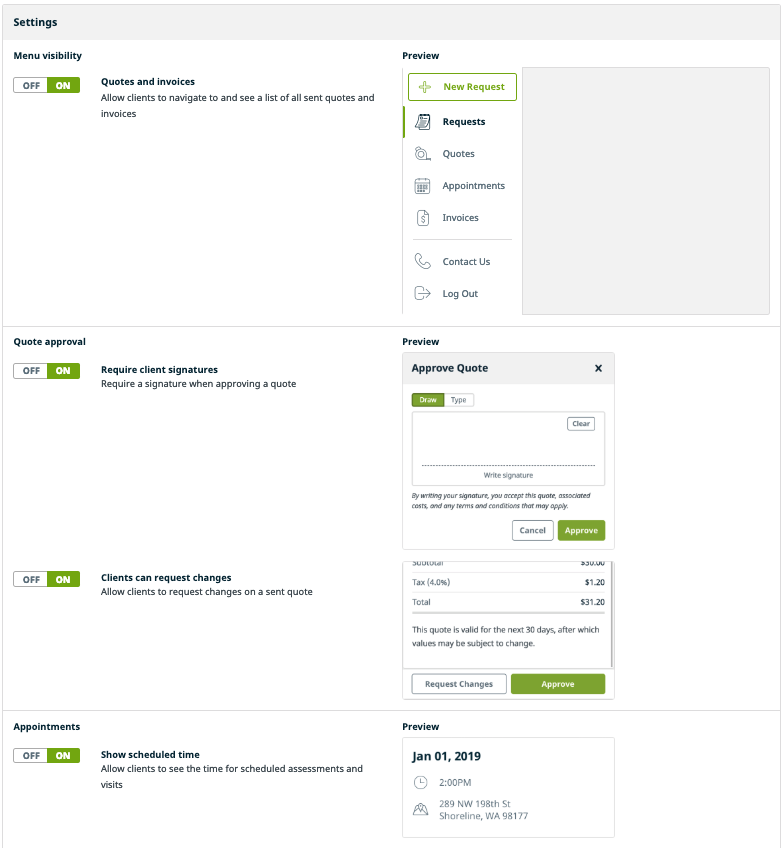 The visibility of requests in client hub is managed from the Requests tab from the settings menu. Once this is turned on, it will be available for clients to submit requests online through client hub. The request form can also be shared on your website, social media, or through a link.
Add your Client hub URL to your website
To add a link for clients to log into client hub from your website, copy the URL from Settings > Client hub. You can then add this to your website as a link or a button. Each website builder has its own tools for adding buttons.

Delegate login
Want to see what your clients see in the client hub? You can log in as a delegate by clicking More Actions > Log in as Client from their client page in Jobber.
While logged in as your client as a delegate in client hub, you cannot make a payment or submit a work request.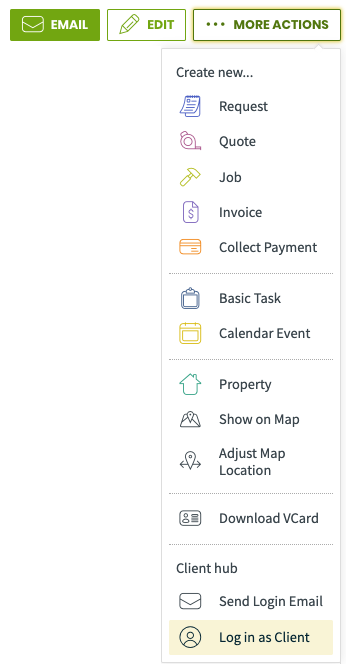 How does logging into Client hub work?
Jobber uses a modern secure email-based authentication that does not require a password. Clients will access their account through their email or through a text message that contains a client hub link.
Important! Anyone who is given the link to a client hub account can access all that same information as the client. For example, if you email the client an invoice, and CC someone else on the email, that other person will also be able to access this client's client hub as well. This is important to keep in mind when you turn on client hub and email clients.
How can your clients log into Client hub?
Clients will have a number of different ways that they can access the client hub. If you email them an invoice or a quote, that email will now contain a link that will securely log them into client hub.
If you have your Work Request link added to your website or FaceBook page and your client submits a request they will be directed to their client hub page afterwards.
You may also want to send them a link to the client hub directly. This can be done from More Actions > Send Login Email when on their client page in Jobber. A box will then come up asking you to confirm and send them an email to log in to client hub.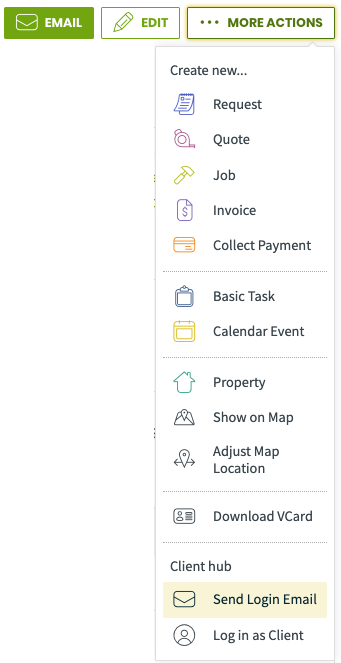 Let your clients know about client hub
Check out our client benefits page for tips on how to introduce the client hub to your clients. There you can find a video that goes over the benefit of the client hub for your clients, a handout you can share, and resources for your website.
If you're looking for some guidance on how to communicate the changes and benefits that come with client hub to your clients, feel free to use this sample email as a starting point:
Hi there,
I'm writing you today to let you know about our new client hub!
Whether you want to take a look at your past or upcoming appointments, a recent quote, check which invoices need to be paid, print a receipt, or request new work—you can now do it all in one place.
In the next few days I'll be sending over your invitation to log in. This email will include your secure personalized link, and this same link will also be included with each quote or invoice we email you, which means no pesky passwords to track and reset.
We hope that you enjoy this new self-serve experience. If you have any questions at all, please don't hesitate to reach out.
Thank you,
Your Name
What does client hub look like?
The client hub at this point consists of 3 sections:
Requests
Clients can request work through the client hub by selecting this first menu option. This is a simple request form that will appear in your Jobber account when submitted. Submitted requests will remain in client hub for their records. In order for this option to be available, you will first need to make your request form visible to clients and new leads from Settings > Requests. Learn more about Requests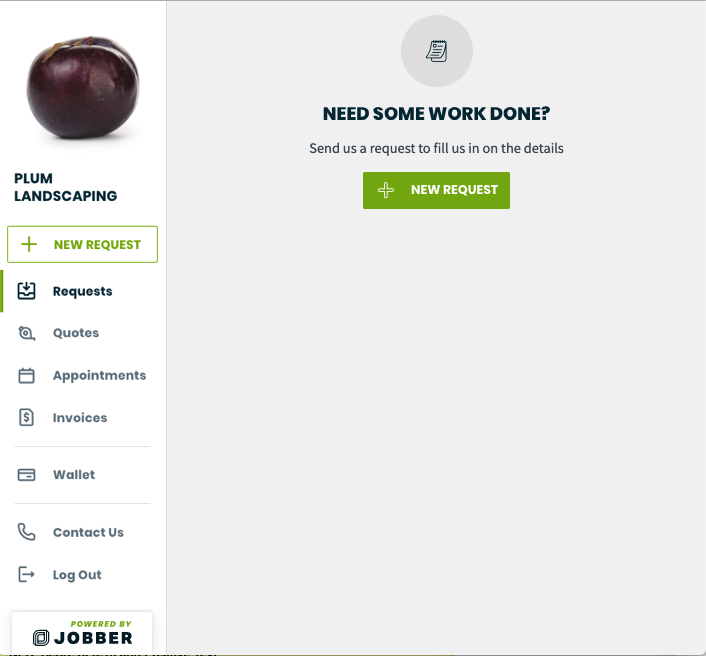 Quotes
Quotes will appear as either Awaiting Response or Approved in client hub. The Approved quote list will include quotes that have been Converted into jobs. Draft and Archived quotes are not visible to your clients.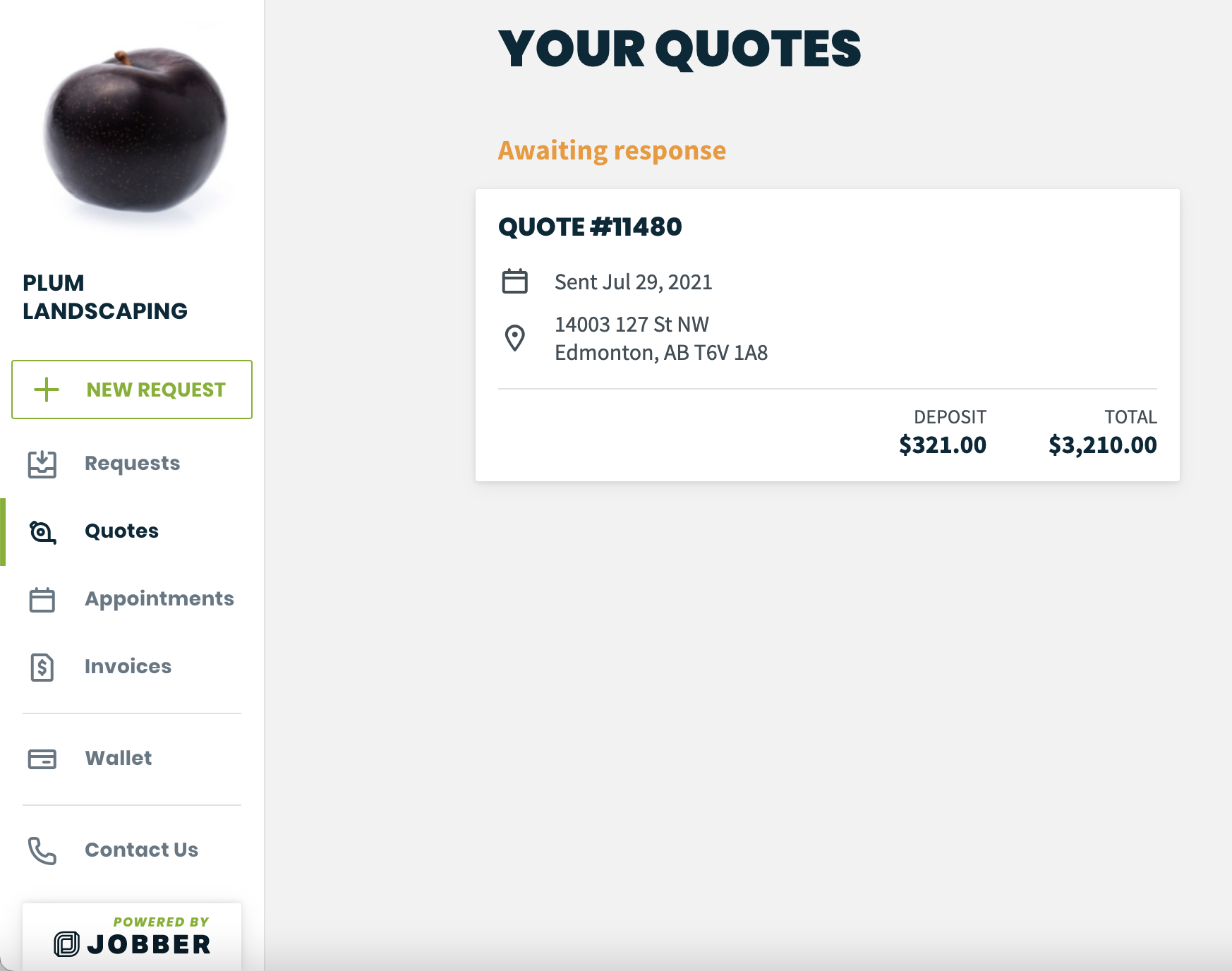 If you have Jobber Payments, your clients can also pay quote deposits through the hub. The pay button is in the top right.
They can also print off or download a copy of their quote or payment receipt. The print button is in the top left of the Quote.
Appointments
In the client hub, clients are able to see a list of all their previous appointments and the next five of their upcoming appointments as long as those upcoming appointments fall within 60 days from today. They will appear in a list showing the date, time, and property location. You can also choose to either show the specific time or just the date, and this can be toggled in your settings by going to the Gear Icon > Settings > Client hub.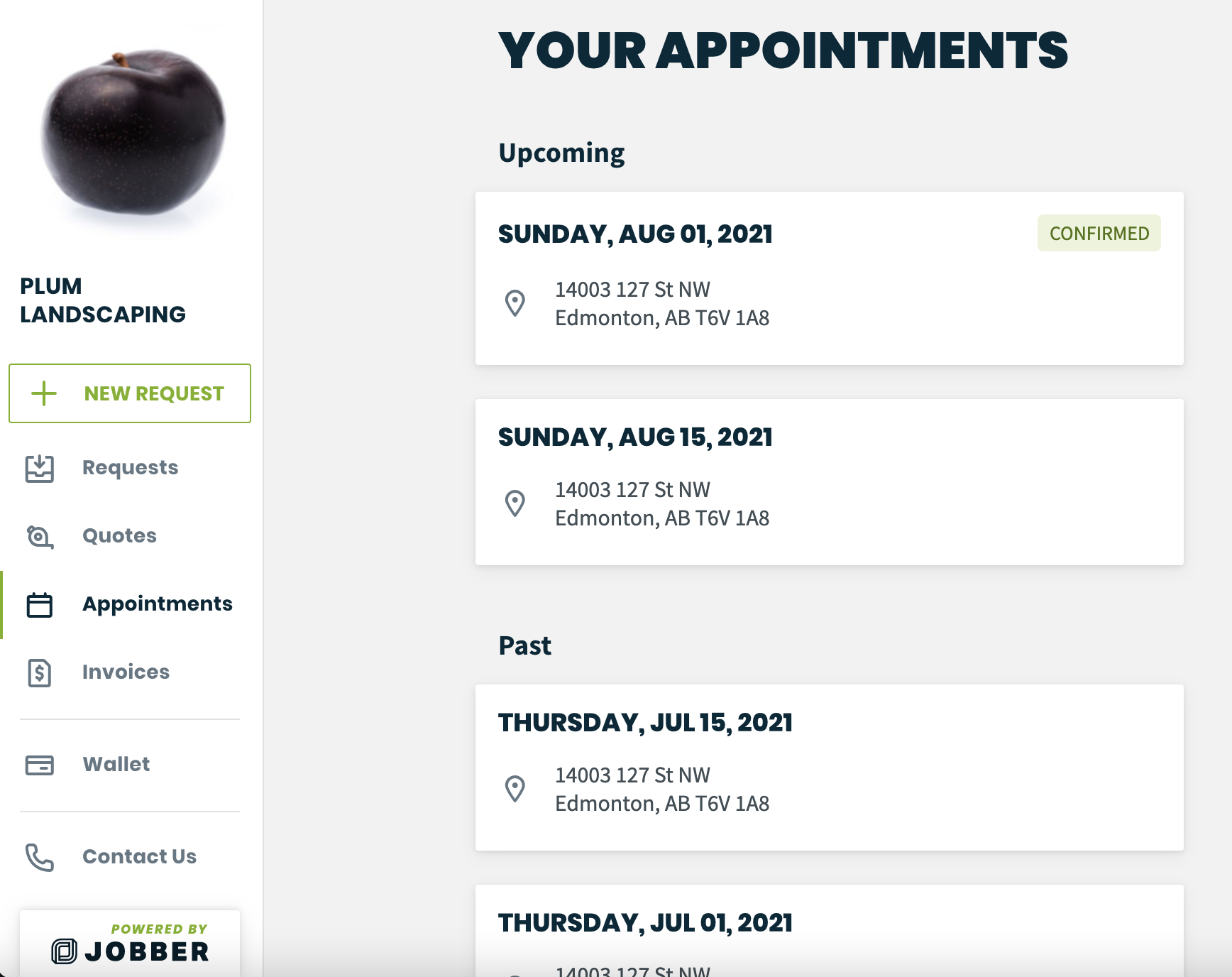 For scheduled assessments or visits, when your clients click into the cards, they will be able to see who's coming and when. For any upcoming or past appointments, they'll see the date, time, address, as well as the first name and photo of any team members assigned to the work. If the assigned team member doesn't have a photo, we will just show their initials.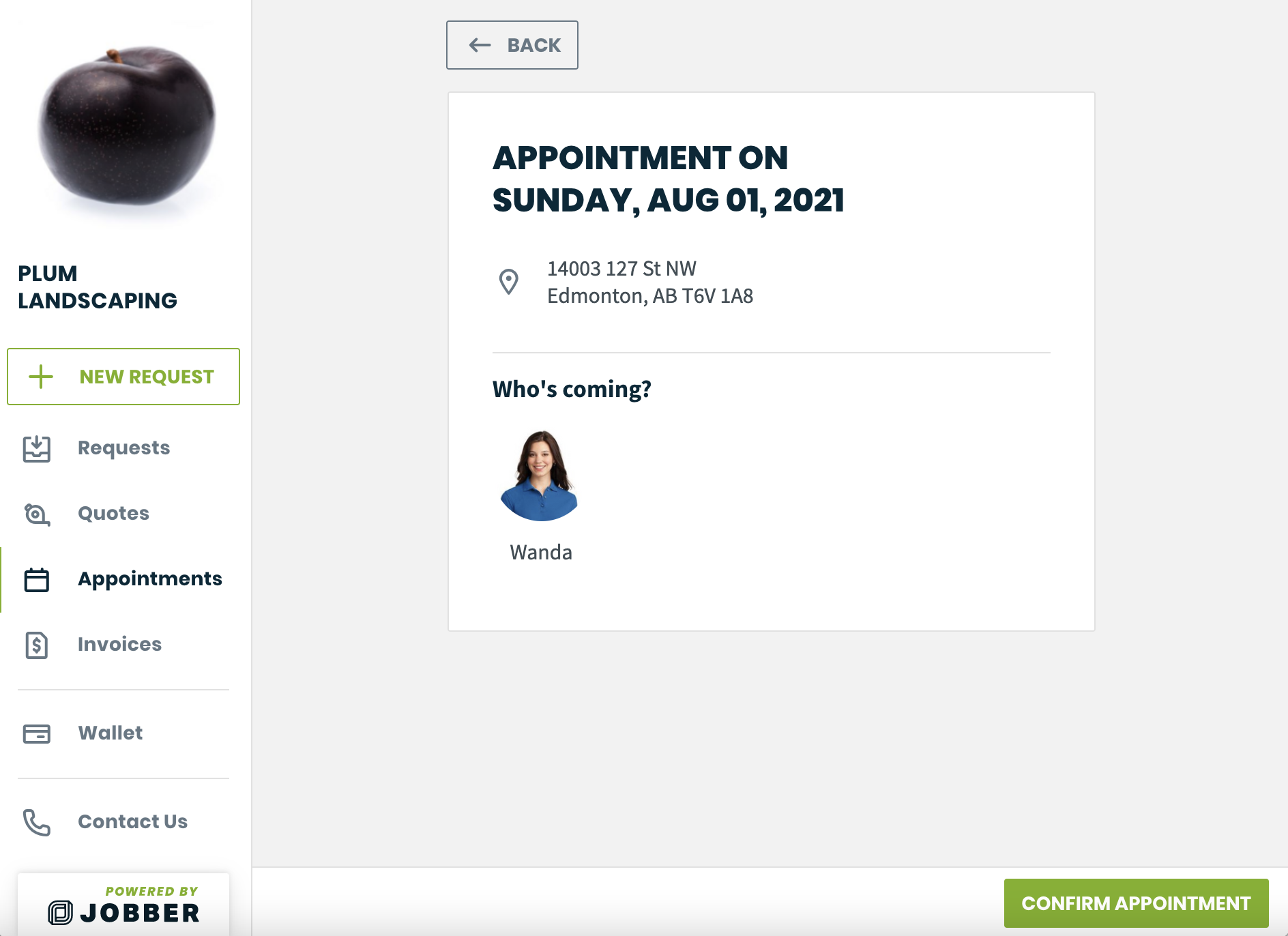 Invoices
Invoices that are Awaiting Payment, Paid, and Past Due will be visible to your clients. Draft and Bad Debt status invoices will not show.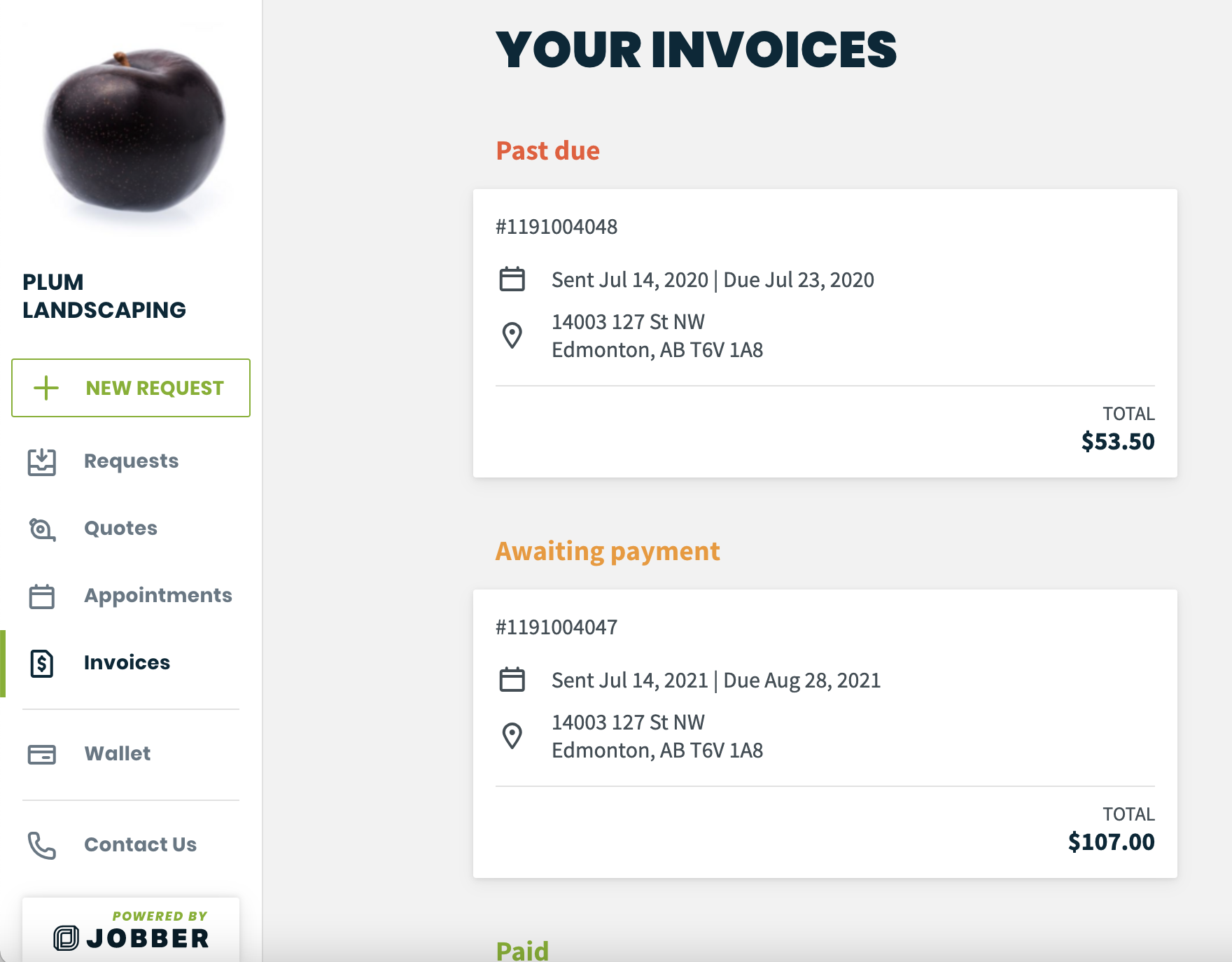 If you have Jobber Payments or any other payment integrations on, your clients can pay for any of their due invoices. The Pay Invoice button is on the footer of the page next to the invoice total when your client is looking at a specific invoice.
If your client would like to print any items from client hub for their records, they can click Download PDF for a printable version of their work or receipts.