Overview
Get paid on average 4x faster than checks when your clients pay with debit or credit. Securely save cards on file for future payments with Jobber Payments. Start taking payments.
Jobber Payments is our fully integrated payment processing platform that lets you manage client card information, payments, and deposits in Jobber.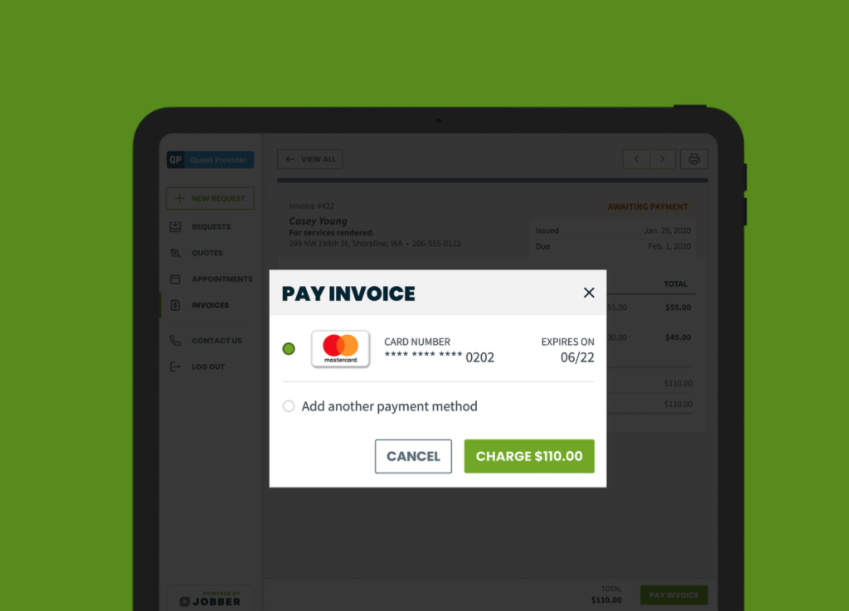 Jobber Payments offers:
A convenient payment option for your clients to make online payments through client hub.
The ability for both you and your clients to securely save credit cards on file. You can charge these as needed or set them up to bill automatically on a recurring basis.
Quote deposits can be paid internally by the client's saved card or by the client making a payment online.
Reports on transactions processed through Jobber Payments and payouts to your bank.
Refund processing directly within Jobber.
A card reader to collect payments on-site with a reduced rate for card-present transactions. Clients can pay with a swipe, tap, or by inserting their cards.
A tipping option for your clients.
Jobber Payments can process all major debit and credit cards. That means as long as the card has a Visa, Mastercard, Amex, or Discover logo on it you can accept the card. When paying through client hub, clients can also choose to pay with Apple Pay or Google Pay. With Jobber Payments the minimum payment is $0.50.
Jobber Payments is available in the UK, US, and Canada.
You can learn more about using Jobber Payments in the links below.
Jump to Jobber Payments settings
Jobber Payments is protected by two-step verification. With two-step verification, when making important changes to your Jobber Payments settings or following an unusual login you will be required to enter a verification code that is sent to your mobile phone via text message. While two-step verification is not required on every login, having to enter a code when making sensitive changes prevents anyone else from making changes to your account even if they know your password. This adds an additional level of security to your Jobber account.
Two-step verification can only be set up by account owners.
Important
For security purposes, your verification code should never be shared with anyone else. Jobber will never ask you to share your verification code with our team.
Getting started with Jobber Payments
How to Set Up Jobber Payments
This article will teach you how to activate Jobber Payments.
Jobber Payments Processing Time
Jobber Payments will be sent to your bank account on a two-business day rolling window once the first payment that you accept is deposited into your bank account. This first payment kicks off a five-business-day authorization period where any payments accepted during that time take five business days to deposit. The five-day authorization window ends when your first payment is deposited into your account. That's when the window shortens to two business days. Find more information from the link above.
Jobber Payments Reporting
Keep track of the transactions (payments, deposits, and refunds) you've processed and monitor when the funds are paid out to your bank account.
Jobber Payments Settings
Learn how to customize your settings for Jobber Payments. Account owners can also use this page to manage the bank account associated with both standard payouts and instant payouts.
Tip Collection with Jobber Payments
You and your team work hard and do great work, give your clients the opportunity to recognize that by leaving a tip with Jobber Payments when paying an invoice in client hub.
How Jobber Payments Fees and Payouts Sync to QuickBooks Online
Our integration with QuickBooks Online works behind the scenes to make sure your accounting needs are covered, while you use Jobber to power your day-to-day operations. Save time on reconciling your payments by syncing Jobber Payments payouts to QuickBooks Online, including the fees.
Saving and charging cards
How to Request a Card on File to use with Jobber Payments
Collect your client's card information upfront before the work starts. Having a card on file enables you to set up automatic payments or bill the client right away once an invoice is ready.
Adding and Charging a Debit or Credit Card with Jobber Payments
Learn how to save a card and then charge it through Jobber Payments.
Collecting Payments on Invoices with Jobber Payments
Charge a client's card to make either a full or partial payment on an invoice.
Automatic Payments
With automatic payments, you can create a recurring job that will automatically charge a client's card according to the billing frequency you determine.
Jobber Card Reader
The Jobber card reader allows you to quickly, easily, and securely take cards in person using the mobile app. Since this is a card-present transaction, we are able to lower fees for the transactions you process through Jobber Payments.
Jobber Payments Refunds
Learn how to issue a refund for a client with Jobber Payments.
Digital brochure
To learn more about Jobber Payments check out the Jobber Payments digital brochure. This brochure covers the benefits of using Jobber Payments, testimonials from real Jobber Payments customers, and a comparison chart so you can see the benefits of Jobber Payments against other payments solutions.
Jobber Payments is included with your monthly subscription and features competitive payment processing rates. Contact our Success team at support@getjobber.com or 1-888-721-1115 to learn more!