Jobber Payments settings
To customize preferences for Jobber Payments click on the Gear Icon > Settings > Jobber Payments. If Jobber Payments has already been setup by the account owner, you will see your Jobber Payments settings.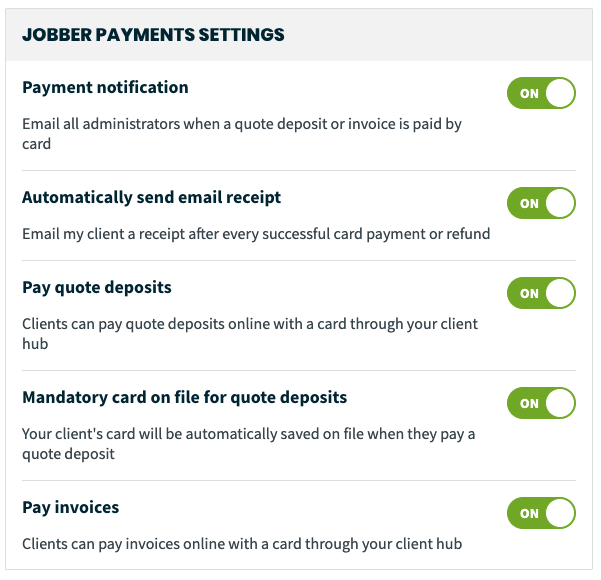 There are five main settings you can enable:
Payment notification will send a payment notification email to all of the admin users in the account, these are triggered when a quote deposit or an invoice is paid by one of your clients.
Automatically send email receipt will send your clients a confirmation email when a quote deposit or payment is successfully processed.
Pay quote deposits will give clients the option to pay a quote deposit online through client hub.
Mandatory card on file for quote deposits automatically saves a card on file for future use when your client pays a quote deposit. When this setting is turned OFF, there is no online payment option for quotes in client hub.
Pay invoices gives the option for clients to pay invoices online through client hub. When this setting is turned OFF, there is no online payment option for invoice in client hub.
Bank details
The bank details section is along the right side of the settings page. This is where you can view the connected bank account. There are also options to view your Jobber Payments payouts and transactions reports.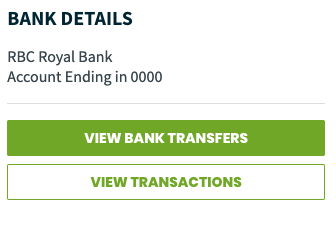 If you are using Instant Payouts, below your bank details is a section for Instant Payouts where you can manage the debit card where funds are paid out and view transactions.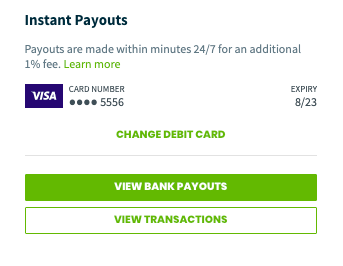 Disable Jobber Payments
If you would like to disable Jobber Payments, there is a link to disable Jobber Payments at the bottom on this page. Disabling Jobber Payments will remove the option for your clients to pay online on any outstanding invoices.