Quotes overview
Quotes allow you to send clients estimates for the price of your services. If a client would like to go forward on the quote, you can convert the quote to a job and schedule it.
You can find quotes and information about them on:
The Work Overview page


On the Client (in the client Overview box under the Quotes tab)


On the Quotes page. Here you can filter and sort all quotes from your Jobber account from the top of the page. You can also use the search bar to find a specific quote.

On the right of this page is a breakdown of the quotes overview, and options to be able to download and print a blank quote for offline use. This blank quote will be a PDF that includes your company branding on it.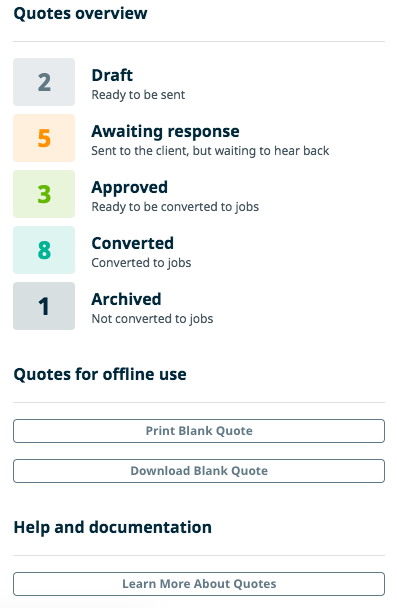 Quote statuses
There are 6 statuses a quote can be in:
Draft: This is a quote that has not been sent to your client yet, and is only visible to you.
Awaiting response: This is a quote that has been sent to your client, and is awaiting approval or a change request.
Changes Requested: This is a quote that a client is requesting changes on.
Approved: This is a quote that has been approved and signed by your client.
Converted: A quote that has been converted into a Job.
Archived: A quote that has been archived in the system. These are only visible to you in Jobber, not to your clients in Client Hub.
Learn more about Quote Approvals
Creating a quote
You can create a new quote from:
The More Actions button on the Dashboard
The More Actions button on a Client Page
+ New Quote on the Work Overview page
+ New Quote the Quotes page
When you create a new quote, you'll need to select the client and property. You will then be brought to the quote creation screen.
At the top, you can:
Include a Job Description for the quote. This is an internal field that only you will be able to see on the quote. When you convert the quote to a job, this description will transfer over for your records.
Click 'Change' beside the quote number to change it. By default, new quotes will count upwards from the highest existing quote number in Jobber.
Choose a rate opportunity to rate the likelihood of winning—or creating a job from this quote
Fill in or add in a new custom field for all quotes. Learn more about Custom Fields.

In the middle, you can:
Add line items from your services and products list and choose a quantity, unit cost, and total value per line item.

At the bottom, you can:
Add a Client message for the quote.
Change the Client view for what will be visible to the client on the PDF of the quote.
Add a Discount. This will transfer to the invoice that is created from the job that this quote is converted to. Discounts do not appear on jobs.
Edit the tax rate - making changes to the tax rate on a quote will only affect that one quote and not your full Jobber account. Learn how to create a default tax rate for your account.
Add a Required Deposit to be collected when your client approves the quote. If you have Jobber Payments enabled, clients can pay this deposit direct from their Client Hub. Learn more about Deposits on Quotes.

More actions on quotes
There are a number of actions that can be performed once a quote has been created. These can be found in the More Actions drop down in the top right corner of the quote: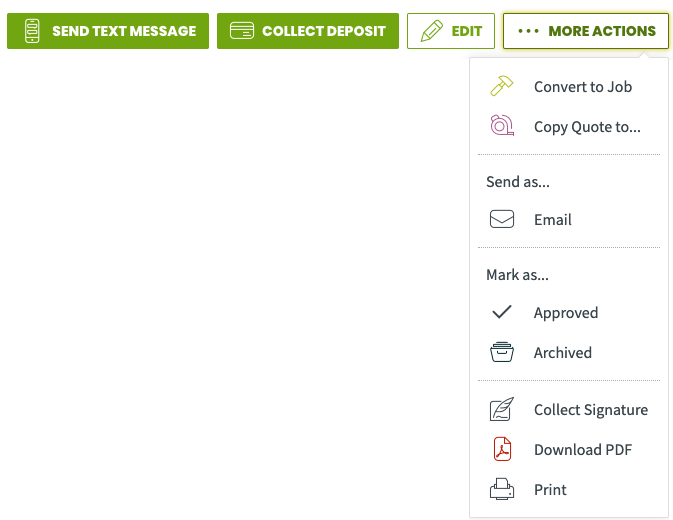 Under the More Actions drop down, you can select the following:
Edit: To change information for this quote.
Convert to Job: To convert this quote into a scheduled job—this will change this quote's status to Converted
Copy Quote to: This allows you to take this quote and copy it to another client and property.
Text Message: This option sends the quote to you client via text message, they will be able to view the quote online to request changes or approve and will also receive a PDF attachment for their records.
Email to Client: By emailing the quote to your client, they will be able to view the quote online to request changes or approve and will also receive a PDF attachment for their records.
Mark as Awaiting Response: If you print the quote to provide to your client, choose this option to change statuses so the quote no longer shows as a Draft.
Mark as Approved: This will change the quote status right to Approved, eliminating the need for your client to approve online. This option is perfect for those times where your client agrees verbally with the outlined work.
Download PDF: To generate a copy of what this PDF will look like when sent out to your client
Collect Signature: If your client is present and you require a signature to proceed, choose this option.
Note: You can edit the email and text message templates for quotes and quote approvals, by going to the Gear Icon > Settings > Templates.
Archiving quotes
If you have a quote in Jobber that doesn't end up getting converted to a job, you can archive it. This will change the quote's status from Sent to Archived. To do this, go to the quote and click More Actions > Archive Quote. This option will only be available if the quote is no longer showing as a Draft.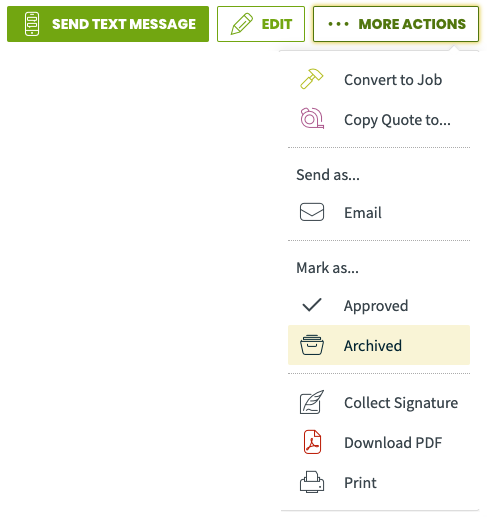 The quote will be saved and kept on the client's profile and in the Archived section for quotes.
Quote PDFs
You can customize certain things about your quote PDF including making custom fields visible to your client and adding a contract/disclaimer. The contract/disclaimer will appear in the bottom left corner of each quote PDF you send out and you can use it to add agreement verbiage or terms and conditions to your quote.
You can find that setting by going to the Gear Icon > Settings > Branding. On this page there is an option for open PDF style. This will open a pop-up that has a tab on the top for Quotes where there is a field for the contract/disclaimer field as well as other settings for your quote PDFs.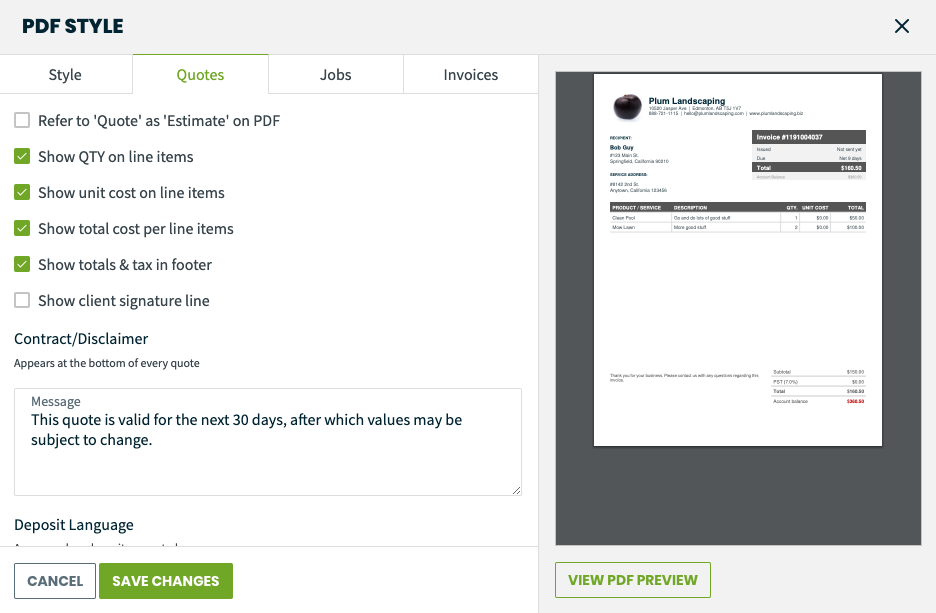 Quotes reporting
You can view reports on your quotes by going to Management and selecting either the Quotes created or Quotes converted. In each report you can set the date range at the top, and add columns on the right. Learn more about Reports.