Overview
If you need to collect money upfront from your client, you can add a Required Deposit to quotes. Clients will see that there is a deposit on the quote so they know how much to pay you. When a deposit is recorded on a quote, it will transfer to the first invoice created for this job generated from the quote.
If you are using Jobber Payments, clients can pay the required deposit online using a card.
Add a required deposit to a quote
To add a required deposit to a quote, go to the quote and click More Actions > Edit. Under the quote total click Add Required Deposit.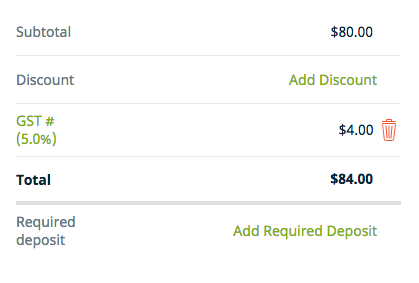 After this is saved, you'll see the required deposit at the bottom of the quote. Your client will then see in client hub and on the quote PDF that a deposit is required to begin the work.
Record deposits on quotes
If you are using Jobber Payments, you can email the quote to the client and they can pay the deposit amount via a button on the email. You can also click Collect Deposit to charge their credit card through Jobber Payments.
If a client pays by a different method, you can click More Actions > Record Deposit on the quote. A box will pop up for you to record it.
Note: Collect Deposit will appear when you are using Jobber Payments, Record Deposit will appear for other payment integrations as you are recording that a deposit was accepted outside of Jobber.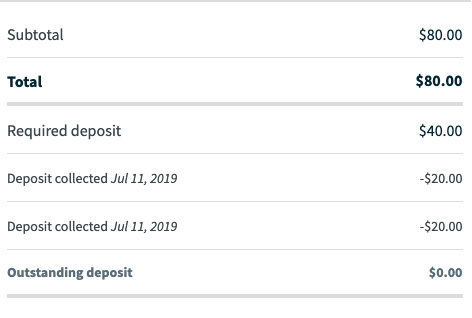 Deposits appear in the client's billing history box and update the account balance.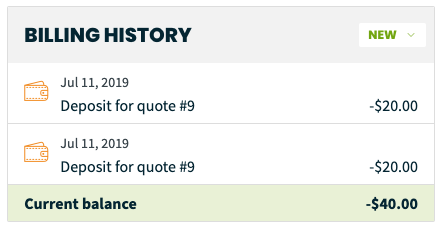 If you click on a deposit in the billing history box, it will give you the ability to send a receipt to the client, show the details of the deposit, and which quote it is associated with.
Once the full amount of the required deposit has been recorded, the required deposit on the quote will say PAID beside it.