Quote approvals
Using Quote Approval, you can seamlessly have your clients approve a quote through a digital signature, or request changes to the quote before approving. First you'll need to have your quotes created, learn more about Quote Basics.
Sending quotes to clients
Once you have a quote created for your client it will show as a Draft.
You can send the quote to your client for approval either via text message or email. To do this you can select "Send Text Message" beside the More Actions button, or from the More Actions drop down you can select either "Send as... Text Message" or "Send as... Email".
Sending the quote to your client will change the status from Draft to Awaiting Response.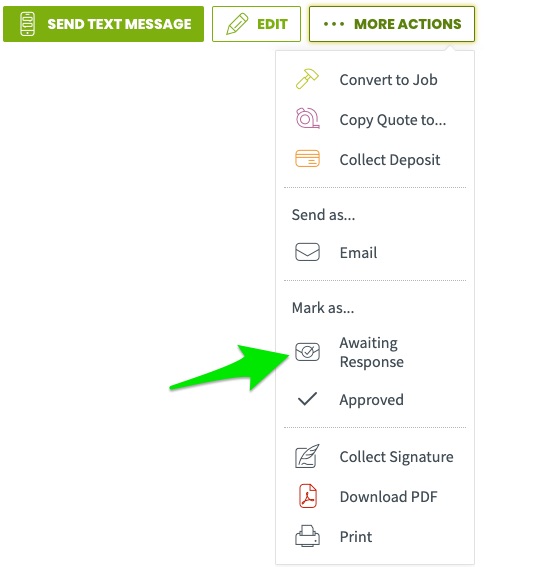 Quote approval email
When you email a quote to your client, it looks like this: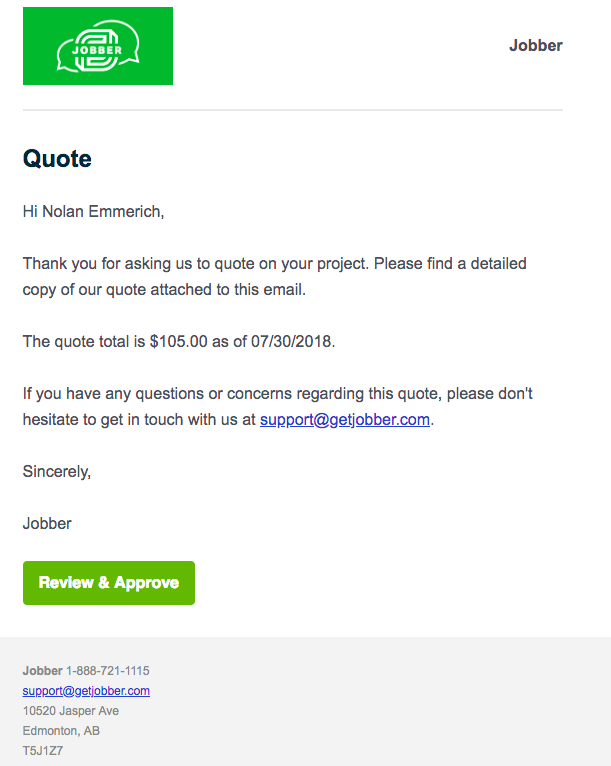 This message can be customized by going to the Gear Icon > Settings > Email Templates.
Quote approval text message
This is a preview of the text that your client will receive. The link takes your client to the client hub where they can review and approve the quote. This link expires after 24 hours, but after that your client can still access the quote by entering the last 4 digits of their phone number in order to sign back into the client hub. This message is not customizable.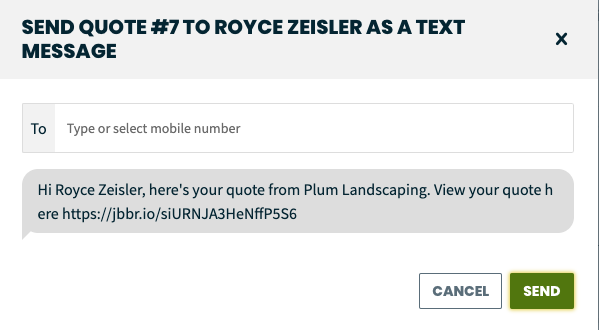 Your client's primary phone number will be the default recipient as long as it's SMS enabled. You can also enter another phone number or add multiple numbers.
Approving a quote
To approve the quote, your client will need to click view the quote from the client hub where they have an option to approve in the bottom left corner. The client is directed to the client hub either from the "Review & Approve" button in the email or from the link in the text message. When they click this a pop up will appear which will allow them to either draw or type their signature to approve the quote. The signature will be saved at the bottom of the quote and the status will change from Awaiting Response to Approved. This signature will save as a note on the quote page.
When a client approves a quote they will automatically receive an email notification for this approval indicating next steps. You can customize the message in your Email Templates.
Note: when a client approves a quote through the client hub, all admin users are sent an email notification.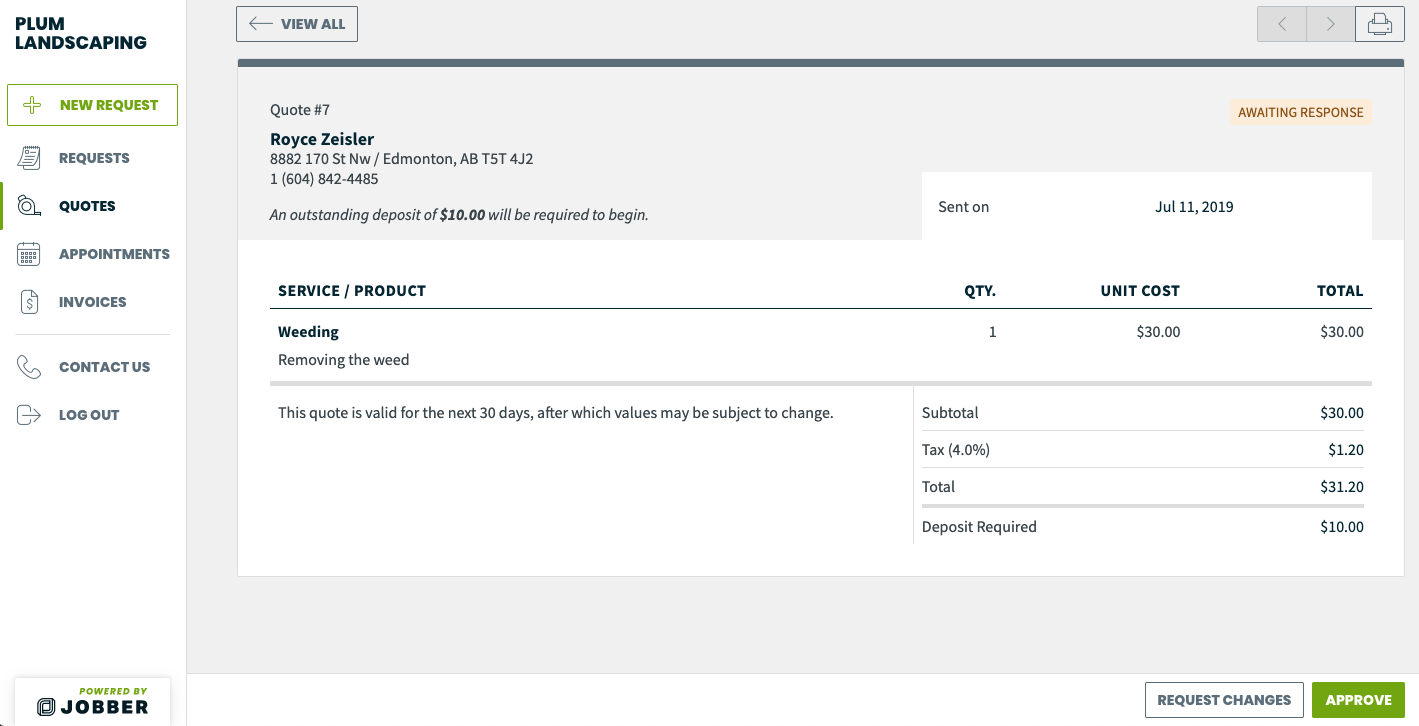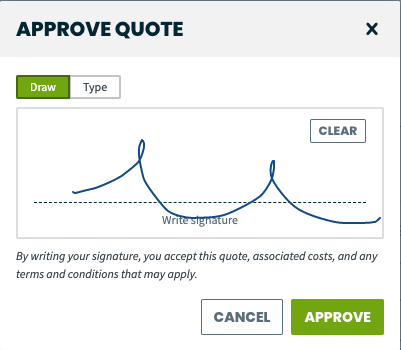 If you do not require signatures for quotes and have turned that option off, your client can simply click on the 'Approve' button at the top of their page. They will be asked to confirm the approval before the quote status will change.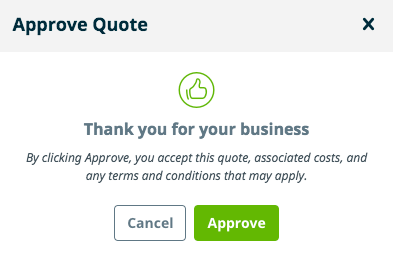 If client hub has not been turned on in your account, or the option for Client Visibility has been turned off, Clients will only have access to the quote that has been sent to them, no other historical items from their client page will show.
Approve and pay for a quote deposit
Please note that you can only approve and pay for deposits through a Jobber Payments or Stripe payment integration.
Learn more about Jobber PaymentsWith client hub. If you have a required deposit set on a quote that is sent to a client, they can approve and pay for a quote by clicking Approve & Pay. This will bring up a popup where they can sign, approve, and pay for the quote deposit all in one step. Submitting this will send an email notification to Jobber administrators, and will change the quote status to Approved.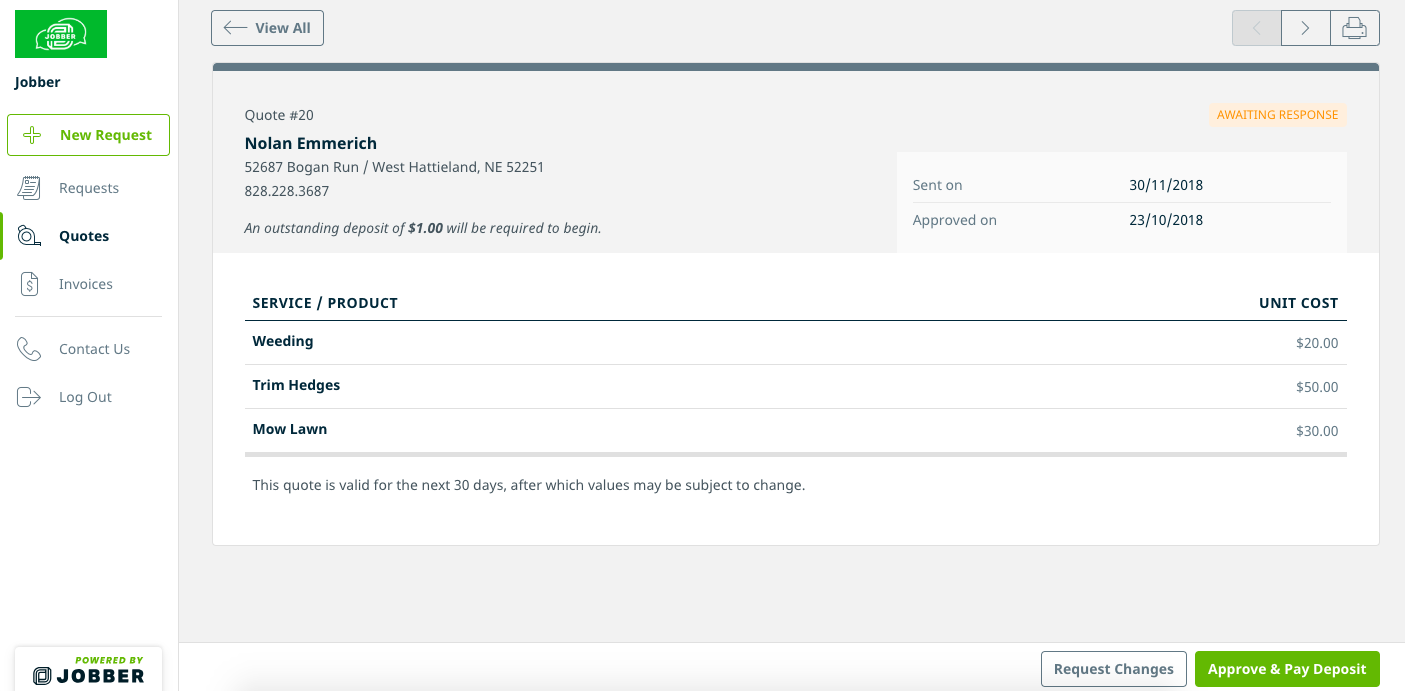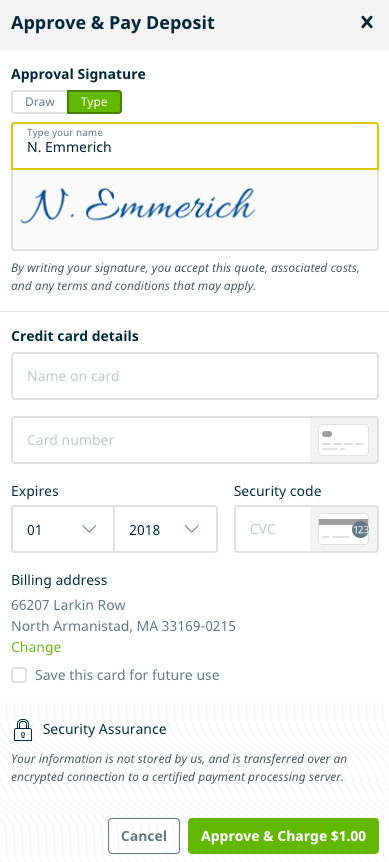 Requesting changes
When a client clicks Request Changes next to the Approve button, a popup will appear where they can type in their request. Clicking Send Request will submit the changes, sending an email notification to Jobber administrators, and change the quote status to Requested Changes.
The quote will no longer be visible in the client hub when changes have been requested. This quote will remain invisible to the client until you amend the quote and either email it back to the client, or mark it as Awaiting Response. They will then be able to see the quote again, with the updated quote details.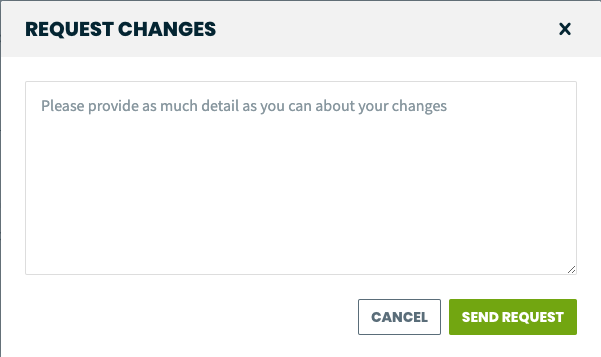 Requested changes submitted by your Clients will also show on the bottom right of the quote page:

Approving a quote in the Jobber app
To collect your client's signature in person, open the Jobber App to the quote, and tap on Sign and Approve in order to collect their signature. This will open up to a signature pad where they can sign. Tapping on 'Save' at the top right of the signature page will update the quote to Approved and will save the signature on the quote in Jobber online.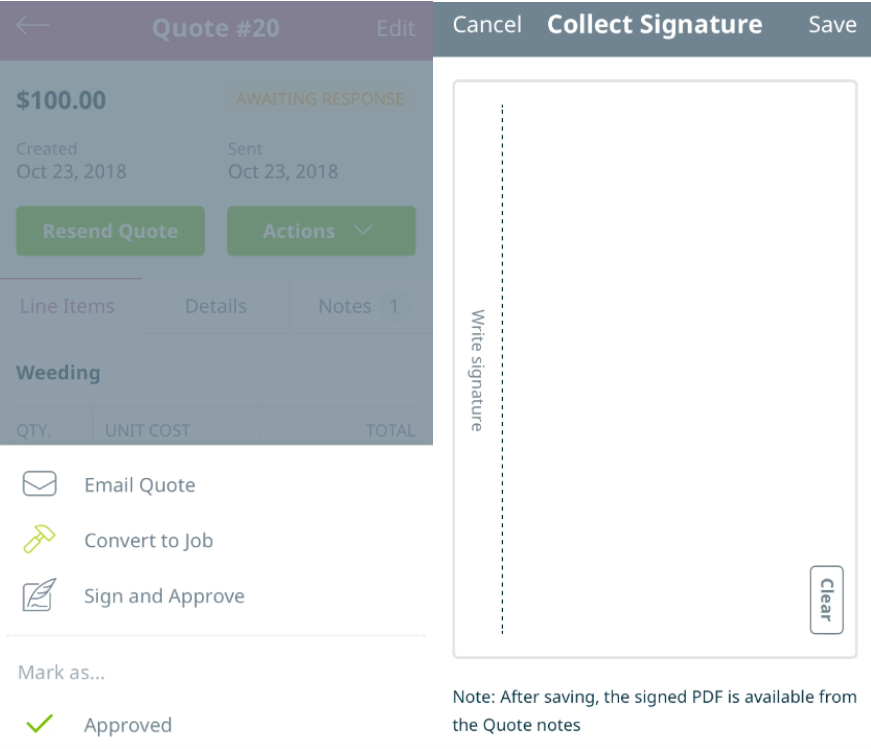 Converting a quote
To convert an approved quote to a job, click Convert to Job from the top of the page, or find the same option under the More Actions dropdown. This will allow you to create a job from the quote.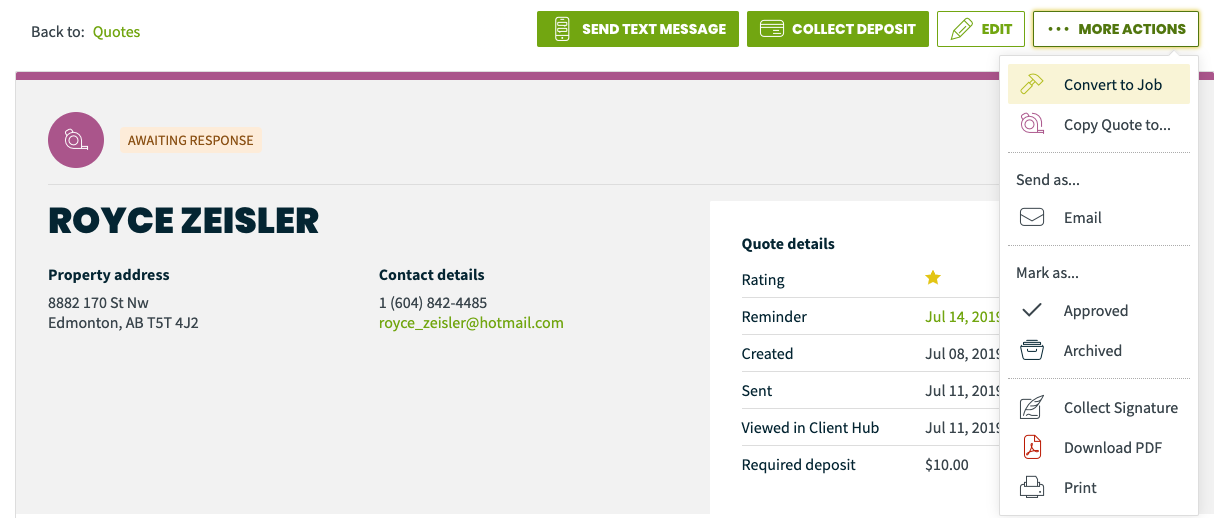 Turning off client signatures
You can manage your Quote Approval settings by going to the Gear icon > Settings > Client hub. Here you'll have the ability to set your client's visibility overall for client hub and whether or not they can sign to approve quotes or request changes on quotes.
Quote reminders and follow-ups
Quote follow-ups are available on select plans. Quote follow-ups will automatically send out a reminder after a certain number of days after the quote was originally sent.

A quote reminder can be set to help keep track of quotes that have been sent out. This reminder will appear on the calendar in red, like an invoice reminder, and will be automatically assigned to the user who created the quote. This reminder is a prompt to follow up with your client, we recommend using the general email template to contact to your client to follow up, that way you will have a record of this reach out in Jobber.
To turn on and set these reminders click onto the Gear icon > Settings > Work Settings.