Overview
Give your clients a self-serve experience where they can view their quotes online and approve them with a signature via client hub. You'll be notified when the quote is approved so you can move onto the next step of the work. Clients can also request changes online and pay a deposit using Jobber Payments while approving the quote.
First you'll need to have a quotes created so you can send it off for approval. To learn more about creating a quote, check out Quote Basics or to level up your quotes further, Quoting on the Grow Plan.
Sending quotes to clients
Once you have a quote created for your client it will show as a Draft.
Quotes will stay in draft status until they have either been sent to the client via text message or email or marked as approved.
The primary action on a draft quote is to "Send Text Message" with a button beside the More Actions button. If you prefer to send your quotes via email, click More Actions > Send as... Email.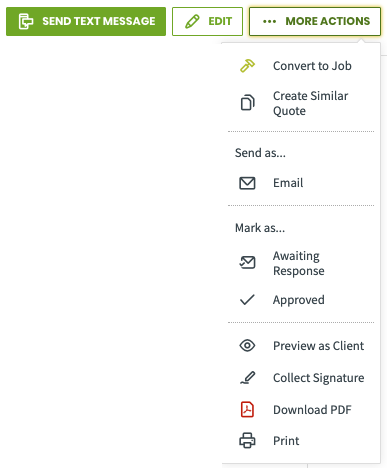 Sending the quote to your client will change the status from Draft to Awaiting Response.
Via email
When you email a quote to your client, it looks like this: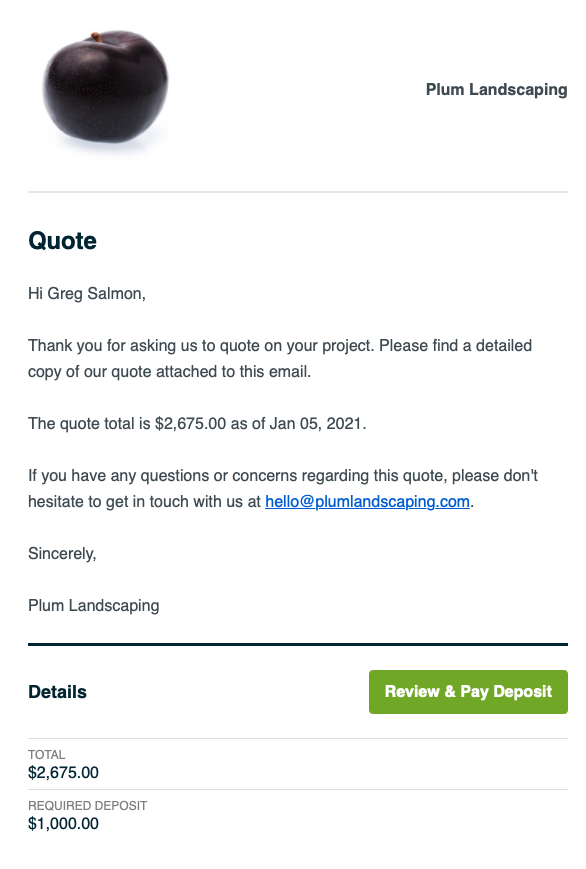 If you are using Jobber Payments and your quote has a required deposit, the button to view the quote says Review & Pay Deposit. If you are not using Jobber Payments, the button says View Quote. In both cases, clicking the button will open the quote in client hub.
This message can be customized in your settings by going to the Gear Icon > Settings > Email and Text Messages. The template for the email or text message that is sent along with your quotes is found in the "Getting the Work" section. When you click Send Text Message, the text isn't sent right away. There is a preview screen first for you to review and edit the text before sending.
Via text message
This is a quote sent via text message: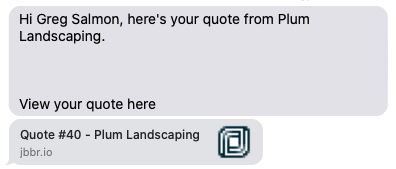 The link takes your client to client hub where they can review and approve the quote. This link expires after 24 hours, but after that your client can still access the quote by entering the last 4 digits of their phone number in order to sign back into the client hub.
Your client's primary phone number will be the default recipient as long as it's text message enabled. You can also enter another phone number or add multiple numbers.
What your client sees: approving a quote in client hub
Whether you've sent the quote via email or via text message (or both!), your client will be able to view the quote in client hub where they have the option to approve the quote, among other options.
The client can approve the quote by, clicking Approve in the bottom right corner.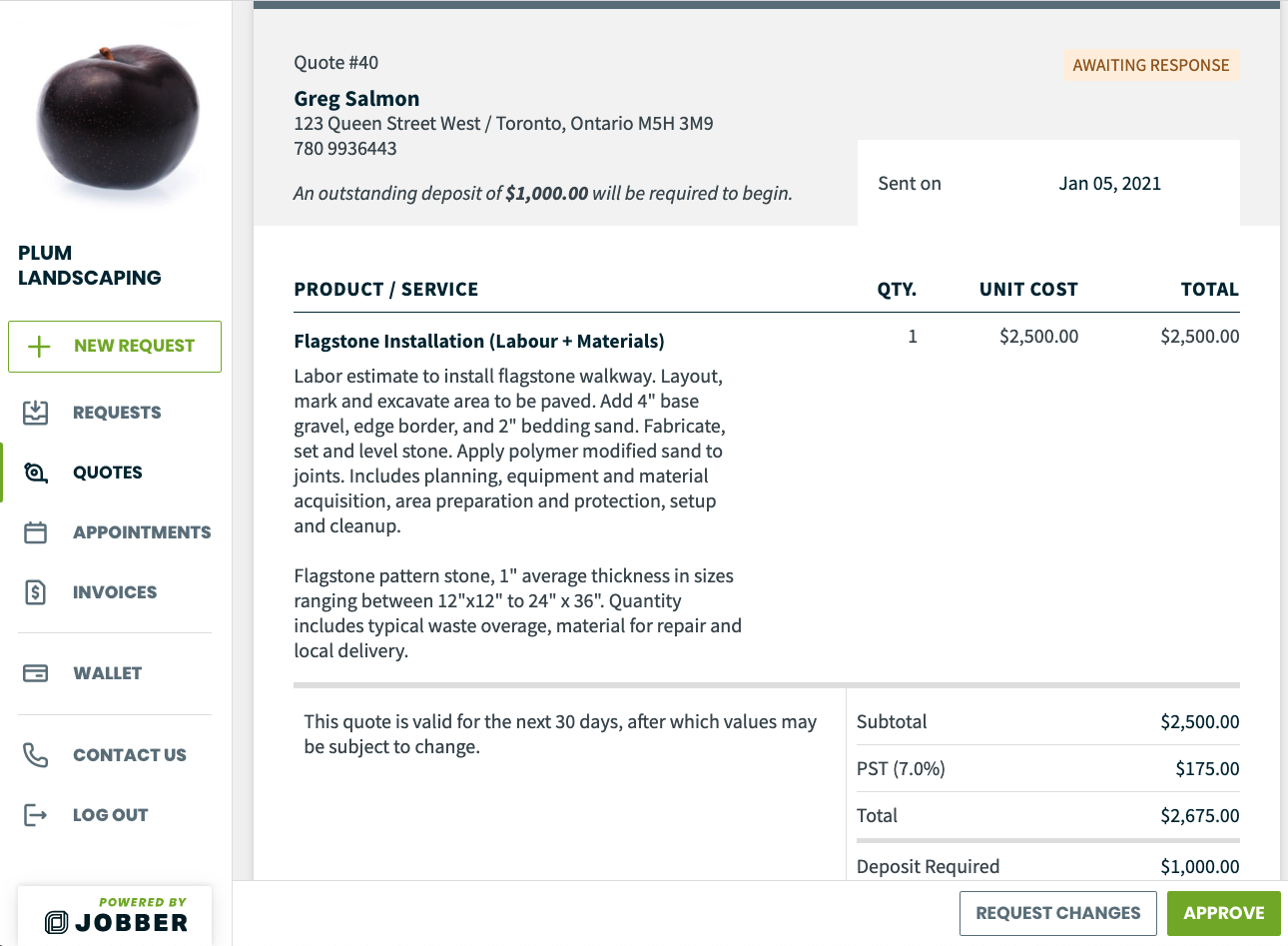 After clicking Approve, the client will be prompted to sign the quote. They can select to draw or type their name to approve the quote.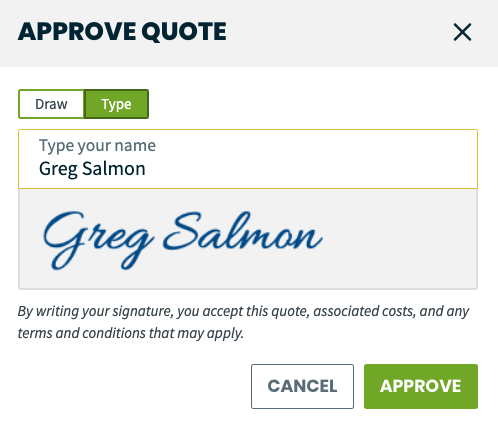 The signature collected here will be saved at the bottom of the quote and the status will change from Awaiting Response to Approved. This signature will also save as an internal note on the quote in your Jobber account.
The client automatically receives an email notification that the quote has been approved with next steps. This message template is customizable from the Quote Approval template found in Settings > Templates.
Internally, when a client approves a quote via client hub, the team member set in Settings > Text Messages and Email Settings as the person to receive replies for quotes will receive an email letting them know a quote has been approved. The quote approval also appears as an item in activity feed.
Depending on your account settings, you client may also see some additional options in client hub when approving a quote.
Jobber Payments and quote deposits
If you are using Jobber Payments to collect quote deposits, instead of Approve, the button will say Approve & Pay Deposit. This gives your client the opportunity to approve the quote and pay the deposit at the same time.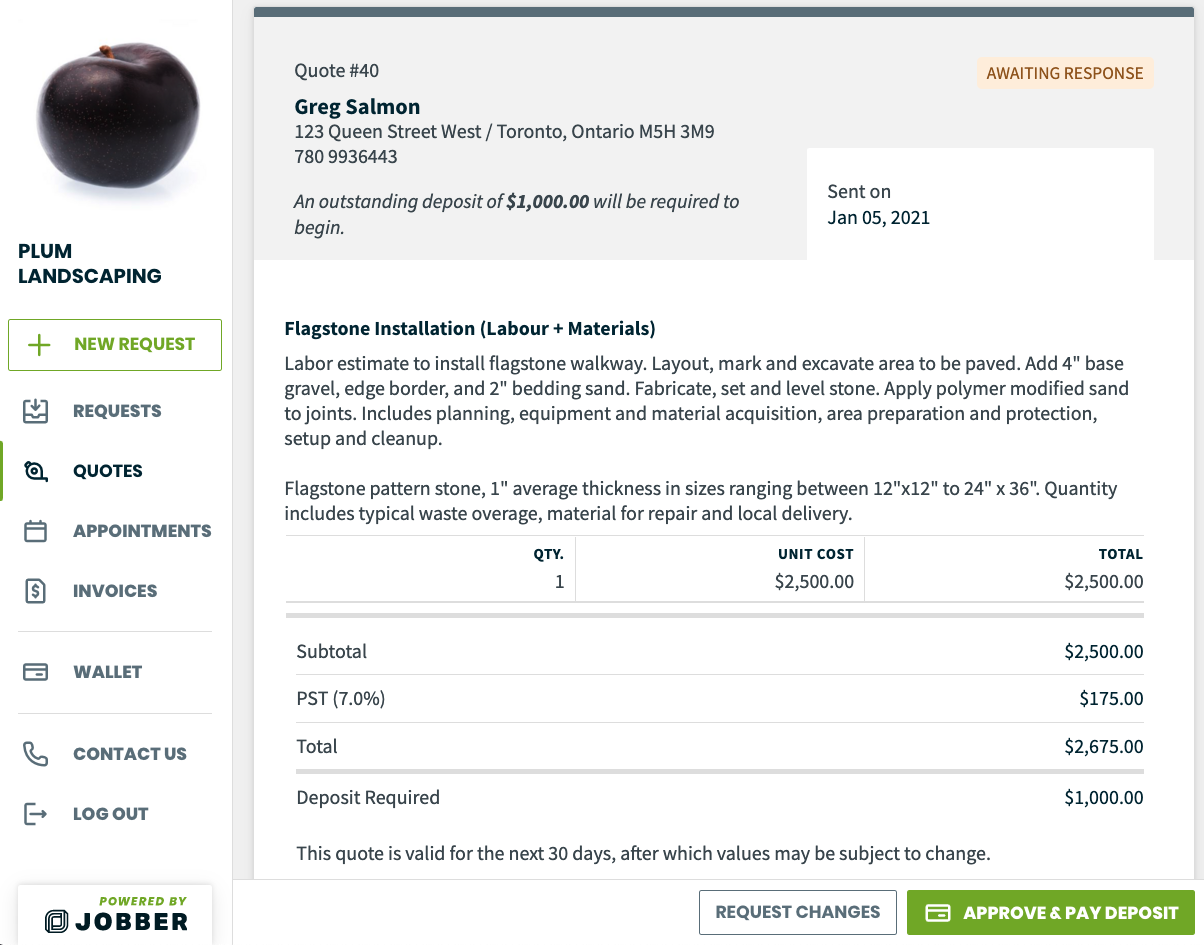 When clicking Approve & Pay Deposit, they can select to draw or type their name to approve the quote. They will also be prompted to enter their payment details such as their credit card number, expiry, and CVC.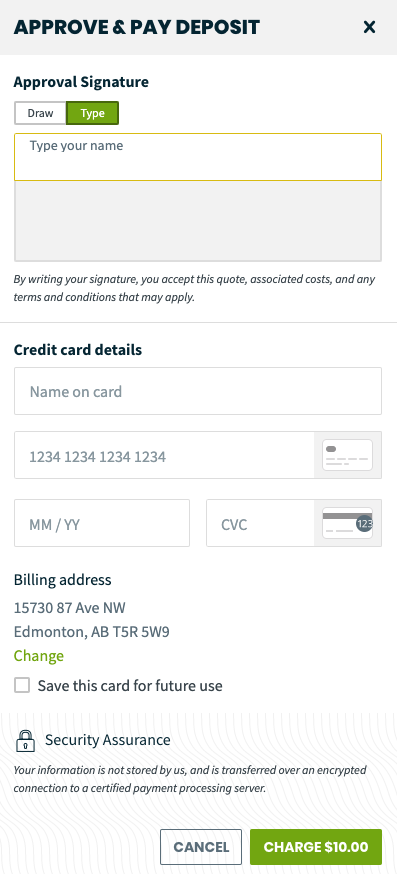 To learn more about quote deposits and securing a payment upfront before the work, check out our article on Quote Deposits and Jobber Payments. This article covers different options to save a client's card upfront before the work starts so that it's ready to go on file for recurring work or when the work is completed.
Client hub settings
There are a couple general settings for client hub that change your client's experience with quotes in client hub. These settings are found by going to the Gear Icon > Settings > Client Hub.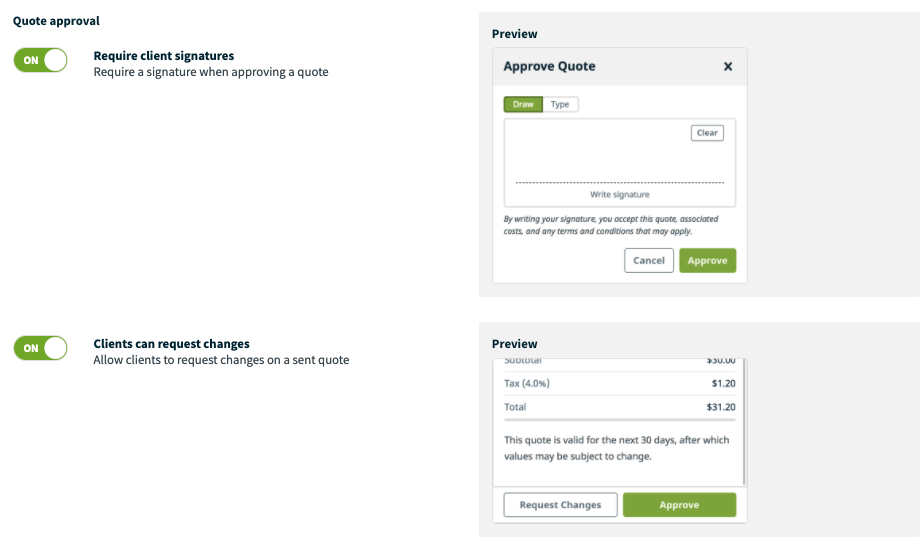 Require client signatures
The setting for Require client signatures makes a signature mandatory when a client approves a quote when toggled ON. If you do not require signatures for quotes and have turned that option off, your client can click on the Approve button at the top of their page. They will be asked to confirm the approval before the quote status will change.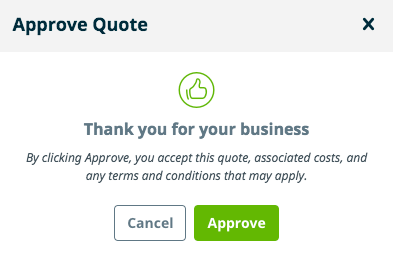 Request changes
Another setting that affects quote approval is Client can request changes, toggling this option to ON gives clients a button to Request changes where they can write a description of changes they'd like made to the quote before they'll approve it.
When a client clicks Request Changes next to the Approve button, a popup will appear where they can type in their request. Clicking Send Request will submit the changes, notify the team member who receives replies about quotes, and change the quote status to Requested Changes.
The quote will no longer be visible in the client hub when changes have been requested. This quote will remain invisible to the client until you amend the quote and either email it back to the client, or mark it as Awaiting Response. They will then be able to see the quote again, with the updated quote details.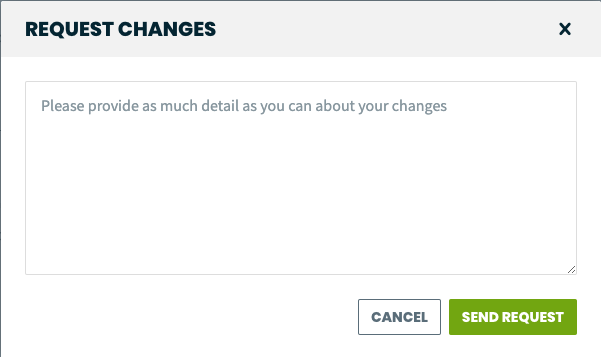 Requested changes submitted by your clients will also show on the bottom right of the quote page in Jobber:

Manually approving a quote
If your client lets you know verbally that they approve the quote you can manually mark the quote as approved in Jobber. From the quote click More Actions > Mark as... Approved.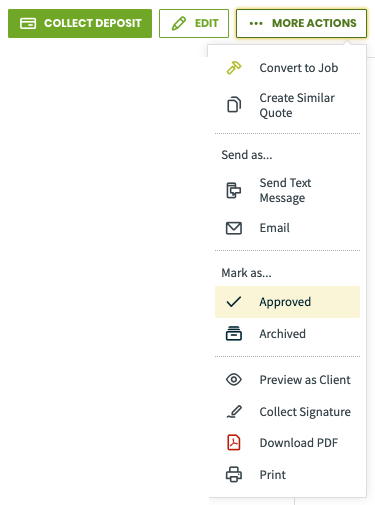 Converting a quote
Now that the quote is approved, the next step is to convert it into a job to set up the schedule and get the work on your calendar. To convert an approved quote to a job, click Convert to Job from the top of the page, or find the same option under the More Actions dropdown. This creates a job based on the line items approved on the quote.
Following up on a quote
There are a couple follow-up and reminder options to help you get your quotes approved.
Quote reminders
Quote reminders are available on all plans and can be set to help keep track of quotes that have been sent out when you are following up manually. This reminder will appear on the calendar in red, like an invoice reminder, and will be automatically assigned to the user who created the quote. This reminder is a prompt to follow up with your client, we recommend using the general email template to contact to your client to follow up, that way you will have a record of this reach out in Jobber.
To turn on and set these reminders click onto the Gear icon > Settings > Work Settings.

Quote follow-ups

Quote follow-ups are available on select plans. Quote follow-ups will automatically send out a reminder after a certain number of days after the quote was originally sent if hasn't been approved yet.