What are requests and online booking?
Attract new customers when you let them book new work through your website and Facebook page—and receive a notification as soon as it happens.
Online Booking is available on select plans.
Requests are online forms hosted by Jobber that allow your clients to request work to be done. These forms can be put on your website, social media pages, or clients can use the form by logging into client hub.
Online booking allows your clients to select a preferred time for their appointment by selecting a date from the calendar.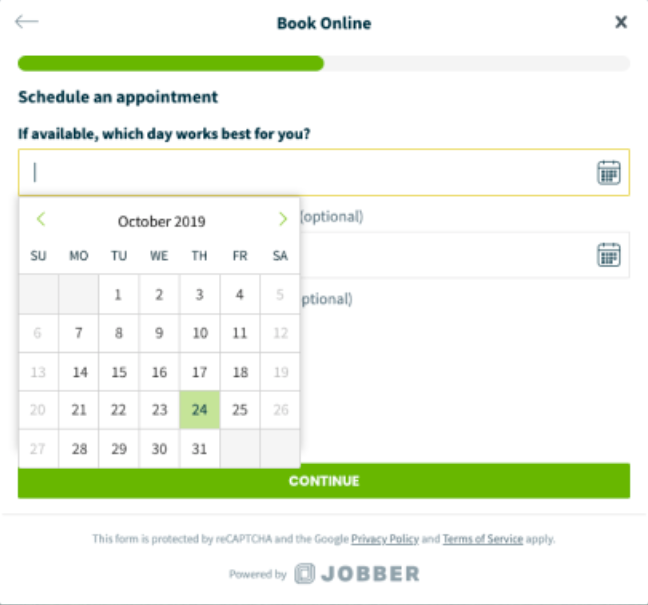 Request settings can be found by going to Gear Icon > Settings > Requests.
Customize your form
Let's start by creating a request form. This is the form that your clients will see when they submit a request online as well as the form that you will fill out if you create a request internally. To edit the form, click Customize Form.

You can customize a Client Message that will appear at the top of your form. This is where you can introduce your company, or add verbiage about information that you'd like your client to include.
Next will be the Client's contact details. The address that is submitted will be created as a property under the client. Existing customers can sign in via the client hub and select their already entered address or add a new address for a new property.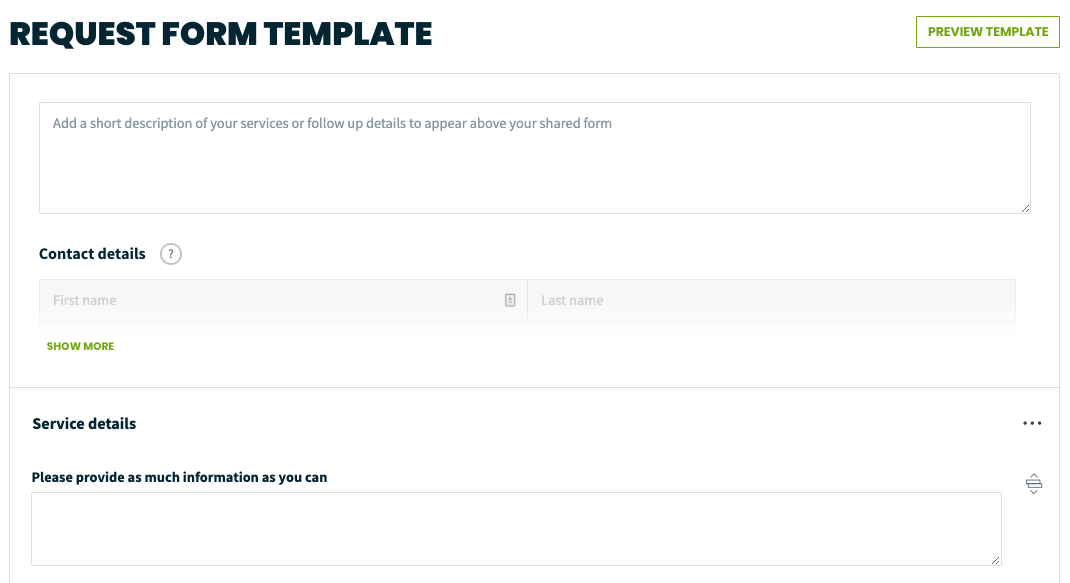 Then, you can add either add a new section or an add online booking section.

If you add a section, you can add in add some questions to collect information about what the services the client would like. You can add checkboxes, short answer text fields, long answer text fields, and dropdown menus. This means that you can add inputs for anything from "number of bedrooms" to "size of yard" to "special instructions".

Switch the Required toggle option to 'ON' below a field to make it required for your client to fill out. This is a great way to make sure you're receiving specific information up front if needed. When you make a field required, your clients won't be able to submit a booking request if that field is left blank, they will receive a message prompting them to fill out that section before being able to submit.
If you add an online booking section, there will be questions about which date and times work best for booking in the client. They will be able to select from a date picker the date that they would like to have this service done. For arrival times, you can customize this. Maybe you'd prefer to display AM or PM, or maybe you'd rather not offer evening ability. These options can be customized.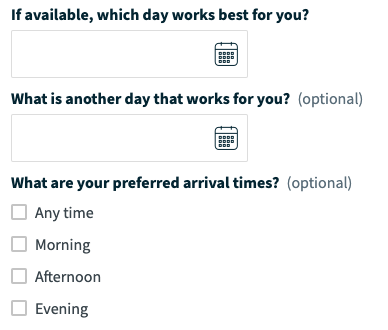 Click the Preview Form button at the top right to see what your clients will see from client hub.
Sharing your request form
Now that we have a form created, let's share it so that your customers can access it and fill it out.
From Settings > Requests, there is a section for Share Request Form. There is a toggle switch that makes the request form accessible to clients where they can submit requests through the client hub, your website, and on social media.

This setting makes the request form visible in the client hub where it is hosted. The next step is setting up touch points on your website and social media to direct your clients to fill out the form.
Add a booking request form to your website or social media
You can add links and buttons so that your clients can access the booking request form right from your website or social media pages.
How do clients submit a request?
Once the form is set up, your clients can click on the request button now on your social media page, website, or in client hub. They can then fill out a form to request work by entering their contact information and service address, and filling out the different fields you've created before clicking 'Send Request'.
If you have business hours set up for your account. When filling out the online booking section, the days that you are unavailable will appear greyed out. This will prevent clients from requesting work when you are unavailable.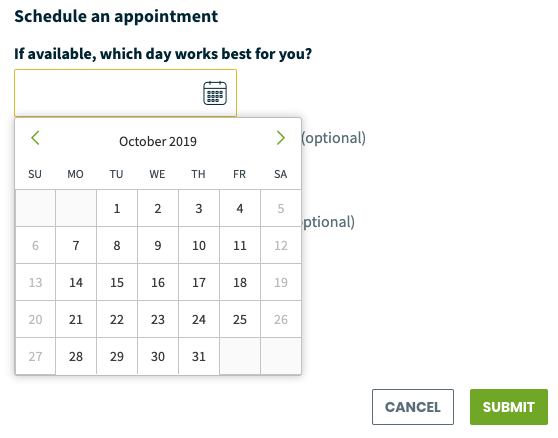 After a client has submitted a request they will be emailed a copy for their records, and all admin users will receive an email notification about the new request. You can customize this email response from Settings > Email Templates.
Creating a request internally
Your clients can submit requests, but you can also create requests internally. An internal work request might be used when a client calls to book work. If you need to collect details upfront and schedule a time to do a quote, creating a request with an assessment is a good first step to get client on your calendar.
You can create work requests internally from several places in Jobber including the client page, calendar, and requests page. To make a new request, click More Actions > Request. Here you can fill out the information relevant to this client's services and availability.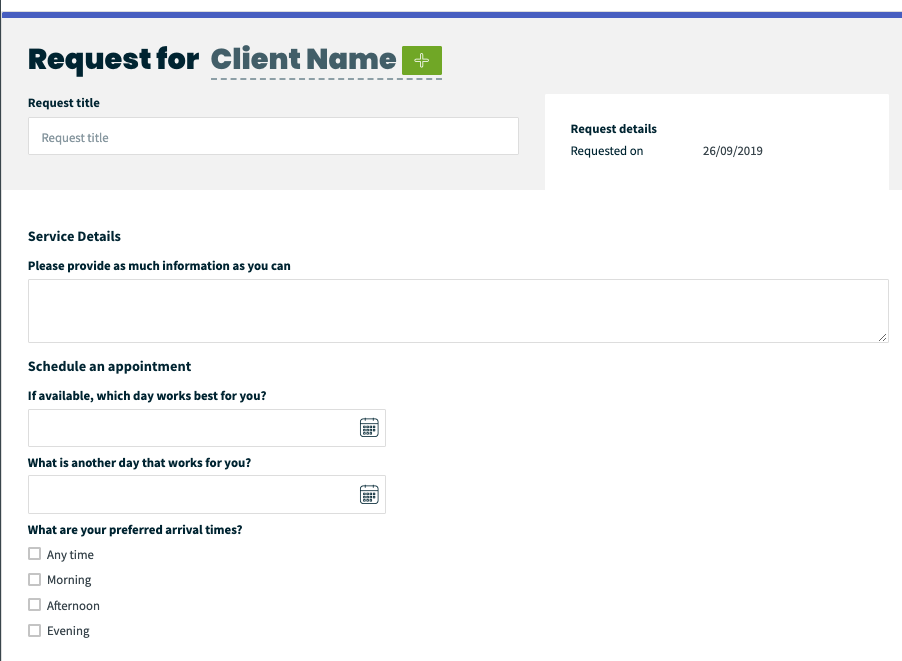 By clicking More Actions on the saved request, you can convert the request into a quote or job. You can also make edits, archive, or print the request.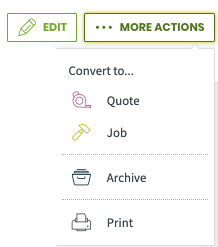 Note:
New requests that you directly add into Jobber will not be visible in the client hub.
Fields that were created as required will not be mandatory if you create a new request from your account, however, if you edit a request your client submitted you must still keep those required fields filled in.
Viewing requests in Jobber
There are many ways that requests can be made; they can come from your client's facebook page or website, the client hub, or you can create them internally. All these requests can be viewed from the dashboard, requests page, and directly on each client in your account.
You can think of the requests page as the inbox for all your requests. They will show here no matter how they were created.

You can see all your requests ordered by date. To view the details of a request, click on it.
Like you see with other work items, requests have a field for notes and attachments when you view them online. The notes in this field are internal only, so if there is a message that you need to communicate to your team or photos that need to be included, this is a great place to enter them.

Request statuses
When a booking request is first created it will go into the status Pending. From the More Actions button, you can choose to convert the request to a quote or a job which will change the status to Converted, or you can choose to Archive the request.
If you edit the request you can schedule it to the calendar as an assessment. Learn more about scheduling, completing, and converting requests.
Who has access to requests?
Request permissions will automatically match the same permission level as Clients and properties when you select a preset permissions option. To manually edit requests, click on 'Show advanced permissions' under the presets.