Overview
If your role in the company involves sales or you're in charge of completing on-site assessments or writing up quotes, these are the features that will help you in your day-to-day. Since you're out on-site, you might be using a hybrid of the Jobber mobile app as well as jobber.com on a desktop computer.
This article is part of a series on how Jobber Works for Different Roles in a Company. This article covers a sales role, but check out our other articles that cover:
Sales roles (you are here

📍

)
Complete assessments
When you're on your way to a property to do an assessment, send the client an on my way text from the Jobber app to let them know your ETA. Once you get there, if you need to take any photos, log them as a note so you can reference them later.
On my way text message
Using the Jobber app, users can send an On My Way text message to the client based on their scheduled appointments for the day. The message lets your clients know roughly when you will be arriving with a team member selecting how many minutes away you are into an already created message.
To send an On My Way message, navigate to a request from the schedule tab in the app. On the request, tap the speech bubble icon.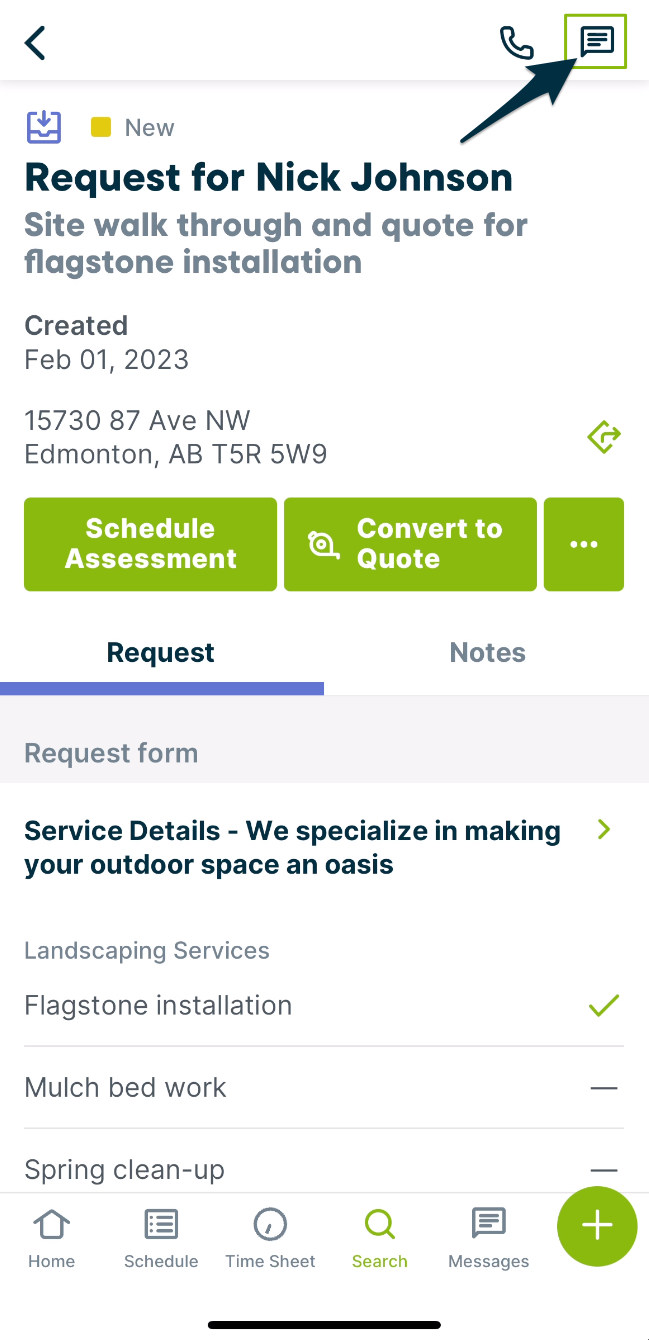 If you are using two-way text messaging (available on select plans), after selecting the speech bubble icon, you will see a menu with options to either send a text message or on my way text message. Tap Send on my way text.
From the Send on my way text screen, select how many minutes away from arrival you are. The options are:
5 minutes
10 minutes
15 minutes
30 minutes
45 minutes
60 minutes
Note: The number of minutes you select will be saved as pre-selected next time you send an "on my way" text message.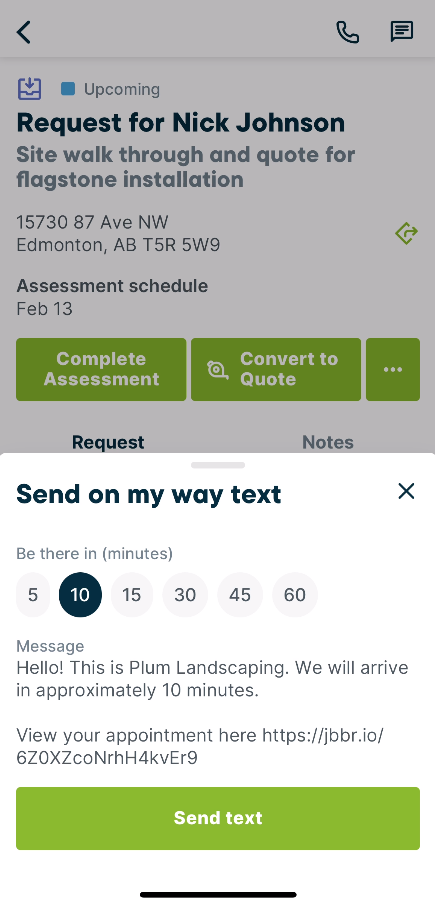 Complete the assessment and leave notes
Depending on which screen you create the request from, some of the information (such as client) might already be filled out for you, but let's take a look at a completely blank work request created from the quick create menu.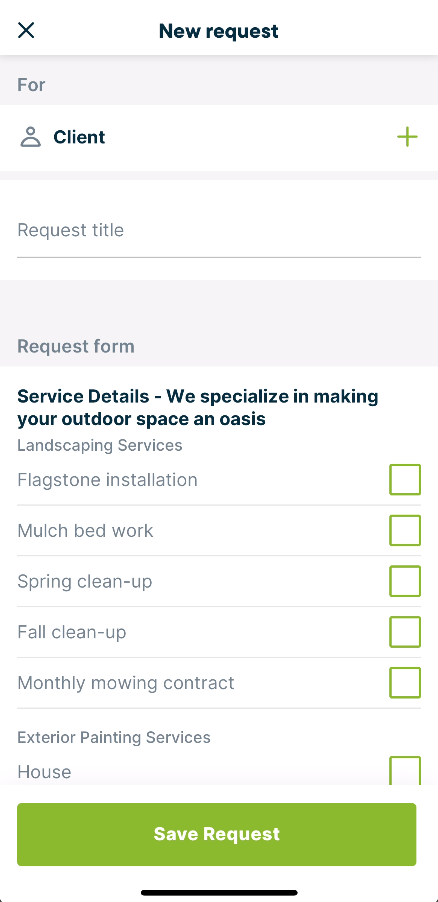 The first part to fill out is the client's name. Tap the + icon to either select an existing client or create a new one. To be able to save a request, you need to enter a client but all the other fields are optional. From there we can add a Request title, this is usually a short description of the kind of service this client is looking for.
Next are the request form question. These are set up in jobber.com from Settings > Requests. These questions appear both for leads who are filling out the request form online or for you when creating a request internally.
If you've added an online booking form to your website, you'll see a section for Schedule an appointment. This is where you can indicate what the client's preferred availability is. If you are ready to schedule an assessment, from the assessment details section tap + to add a schedule.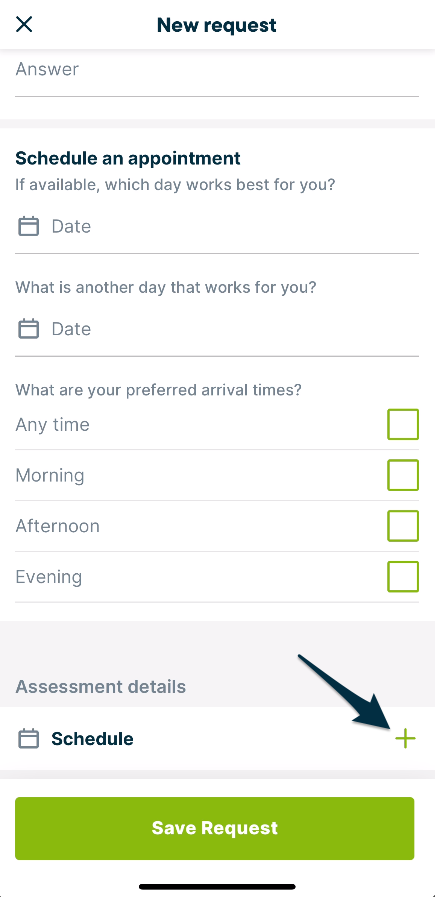 Adding a schedule is what gives the request a date and time which lets you see it on your schedule in Jobber. If you have to go to a property to look at it before creating a quote or a job, on-site assessments are a good way to set aside that time.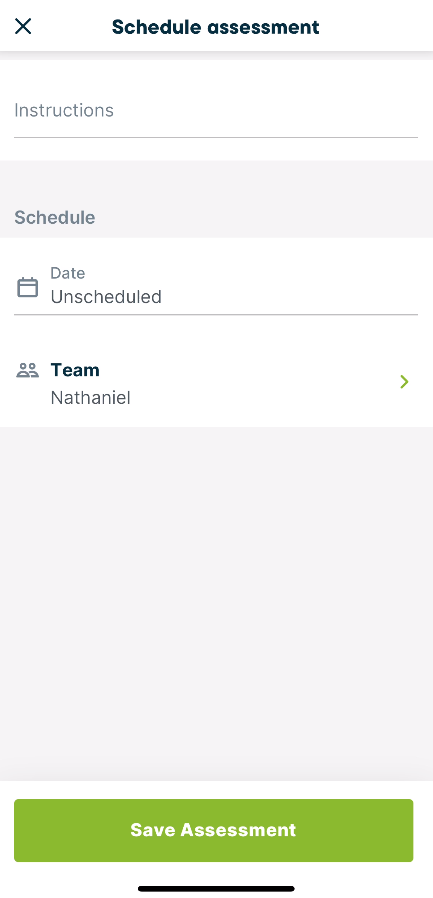 When scheduling an assessment, add Instructions. The instructions are an internal description for the assigned team so this is a good spot to leave details for your team about what needs to be done while on this assessment or if there's anything to watch out for.
Select a date for this assessment. Once a date has been selected, add a scheduled time or leave it as anytime. Then assign team members to this assessment. The assigned team members will see this assessment on their schedule. Once you're done, tap Save Assessment.
Once you've created your request, there is a notes tab on the request where you can add any additional notes while at the property. The notes left here are internal only. This is a good spot to leave yourself details for later, attach images, or flag items for the team back in the office. Notes left on the request can be linked to the quote so you can have that information handy, in case you need to reference it.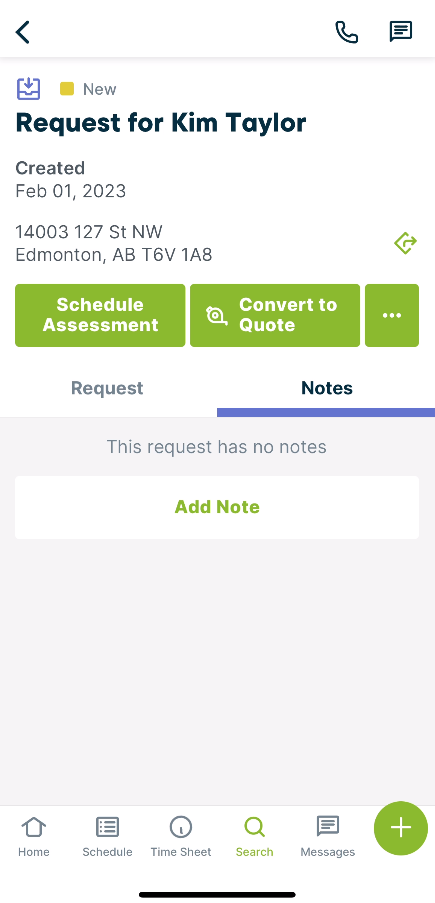 Create a quote
While out on the assessment, you might put together a quote. Convert the request to a quote from the app, then start building out your quote right from the site.
Create a quote from jobber.com
You can create a new quote from:
The

More Actions

button from Home
The

More Actions

button on a

Client Page
+ New Quote

the

Quotes

page
When you create a new quote, you'll need to select the client and property. You will then be brought to the quote creation screen.

When creating or viewing a quote, there is a progress bar that appears to the right of the quote details to let you know where the quote fits in the workflow. Items that are colored show that the quote has progressed through that phase of the workflow. Items that are grey have yet to be created.
Note: It's possible that your workflow won't include every step. For example, you might choose to go start from a quote rather than from a request and that's ok! Seeing the request icon greyed out doesn't mean you've made a mistake, it just means that there's no request associated with this quote.
At the top, you can:
Include a

Job Description

for the quote. This is an internal field that only you will be able to see on the quote. When you convert the quote to a job, this description will transfer over for your records.
Click Change beside the quote number to change it. By default, new quotes will count upwards from the highest existing quote number in Jobber.
Choose a

rate opportunity

to rate the likelihood of winning—or creating a job from this quote
Fill in or add in a new

custom field

for all quotes.

Learn more about Custom Fields.

In the middle, you can:

At the bottom, you can:
Add a Client message

for the quote.
Change the

Client view

for what will be visible to the client on the PDF of the quote.
Add a

Discount. This will transfer to the invoice that is created from the job that this quote is converted to. Discounts do not appear on jobs.
Edit the tax rate - making changes to the tax rate on a quote will only affect that one quote and not your full Jobber account.

Learn how to create a default tax rate for your account.
Add a Required Deposit to be collected when your client approves the quote. If you have Jobber Payments enabled, clients can pay this deposit directly from their Client Hub.

Learn more about Deposits on Quotes.

Create a quote in the Jobber app
You can create a quote in the Jobber app from three different areas:
From a request
Quick create menu
Client page
The first thing you will need to do on a quote is select the client that it's for.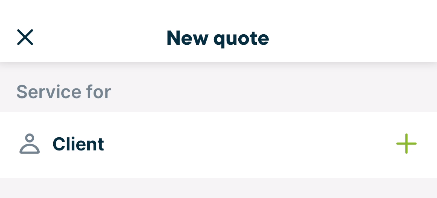 If you've created the quote from the client's profile, they will already be selected for you. However if you are creating the quote from the quick create menu you will need to pick a client. Tap the green plus sign to select an existing client or add a new one. You will see the clients scheduled for today as options, but you can also use the search bar to pull up any client in your Jobber account.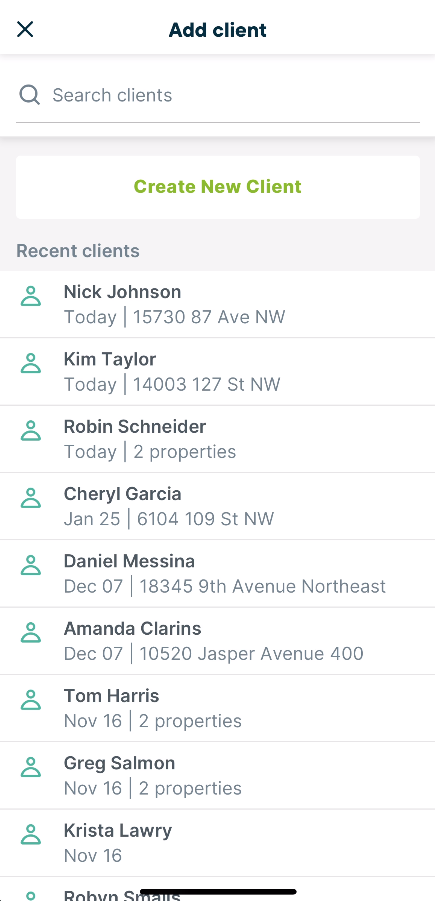 Next, you can add a job title for the job that is being outlined in this quote. If you have custom fields on the quote level, you will see them under the heading for Overview.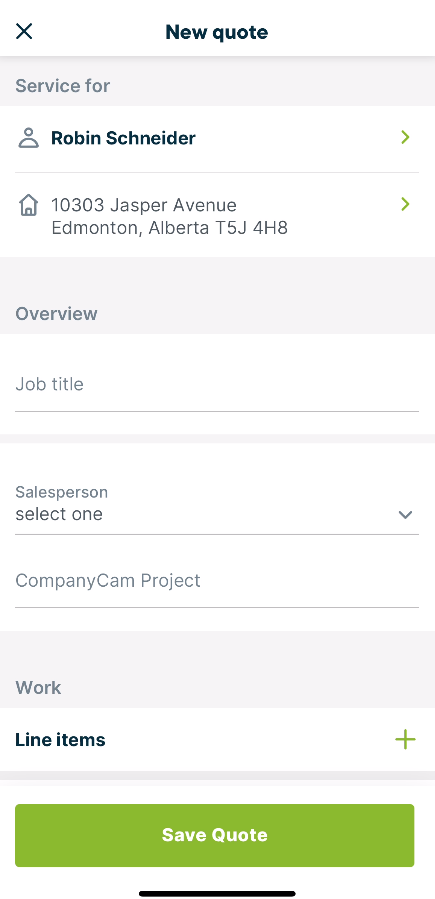 To add products or services into the quote, from the Work section tap + to add line items.
The Add Line Item screen displays 100 line items in the same order that they have been sorted from jobber.com in Settings > Products and Services. Services appear at the top of the list, with products at the bottom. The search function will pull up all line items, so if a particular item doesn't appear in the list of 100 or you need to find it quickly, typing the item name into search will pull up the line item.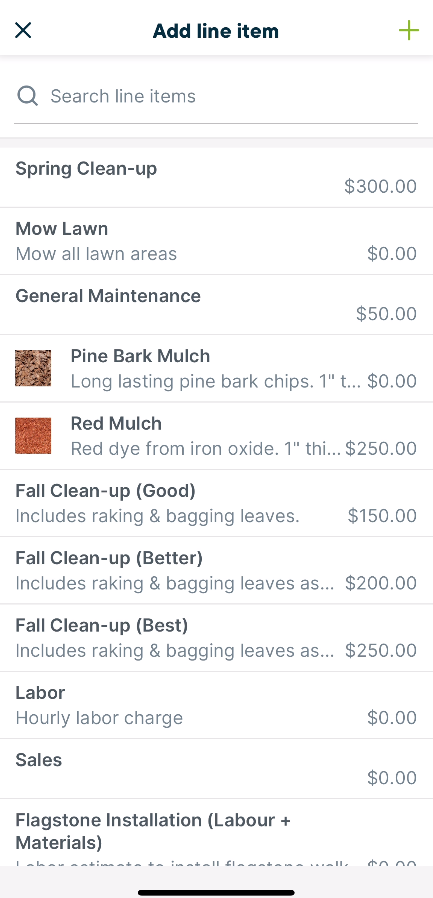 To create a new line item, tap + in the top right to add a new line item to the quote. While creating the new line item, you'll be prompted to enter the line item details such as item type, name, description, unit cost, and tax-exempt status. Admin users will have the option to add the new line item to their default products and services list.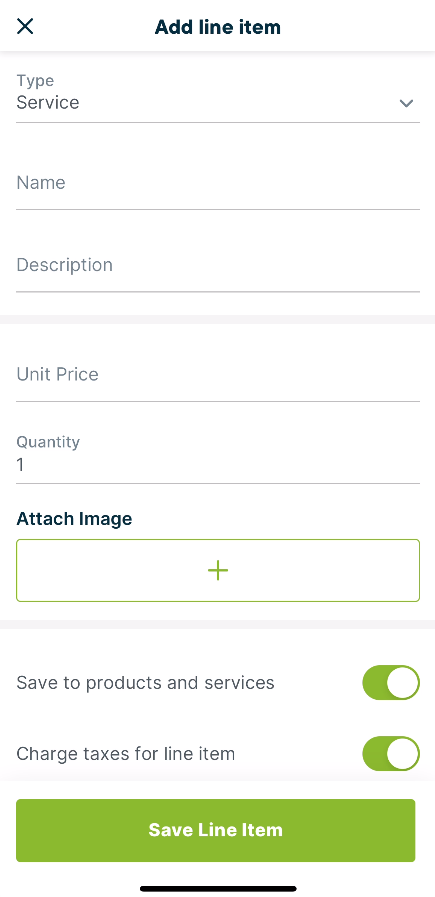 On the Grow Plan, there are additional options for your quote line items including Add Optional Line Item and adding line item images.
Optional line items provide clients with extra products and services they can choose to add onto their quote. Maybe these are items that would complement the items that you're already quoting, or maybe you'd like to offer your client a selection of items. With optional line items, clients can check off which extra products or services they'd like, then approve the quote including those items they added. To add optional line items in the app, when creating or editing a quote tap the button for Add Optional Line Item.
To add an image to a line item, when adding a line item tap Attach Image to take a photo using your device's camera or upload an existing photo.
If a line item added from your products and services list already has an image associated with it, adding the line item to your quote will add the image as well.
After you've selected the line items for the quote you can add a discount, tax rate, required deposit, and a client message by tapping on those fields.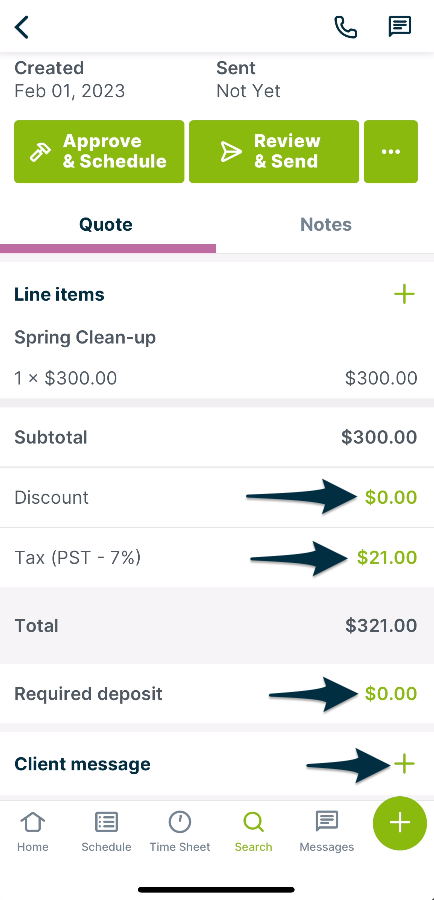 Track quotes on desktop and follow up
Once your quotes have been sent, you want to stay on top of them so you can win the work. Track your quotes using the quotes report where your quotes are sorted by different statuses. Follow up on quotes automatically with quote follow-ups where reminders are sent to your client about their quote based on a schedule you set up. If you choose to follow up manually, you can be reminded to do so with quote reminders on your calendar.
Quotes reports
You can view reports on your quotes by going to Reports and selecting either the Quotes created or Quotes converted. In each report you can set the date range at the top, and add columns on the right. Learn more about Reports.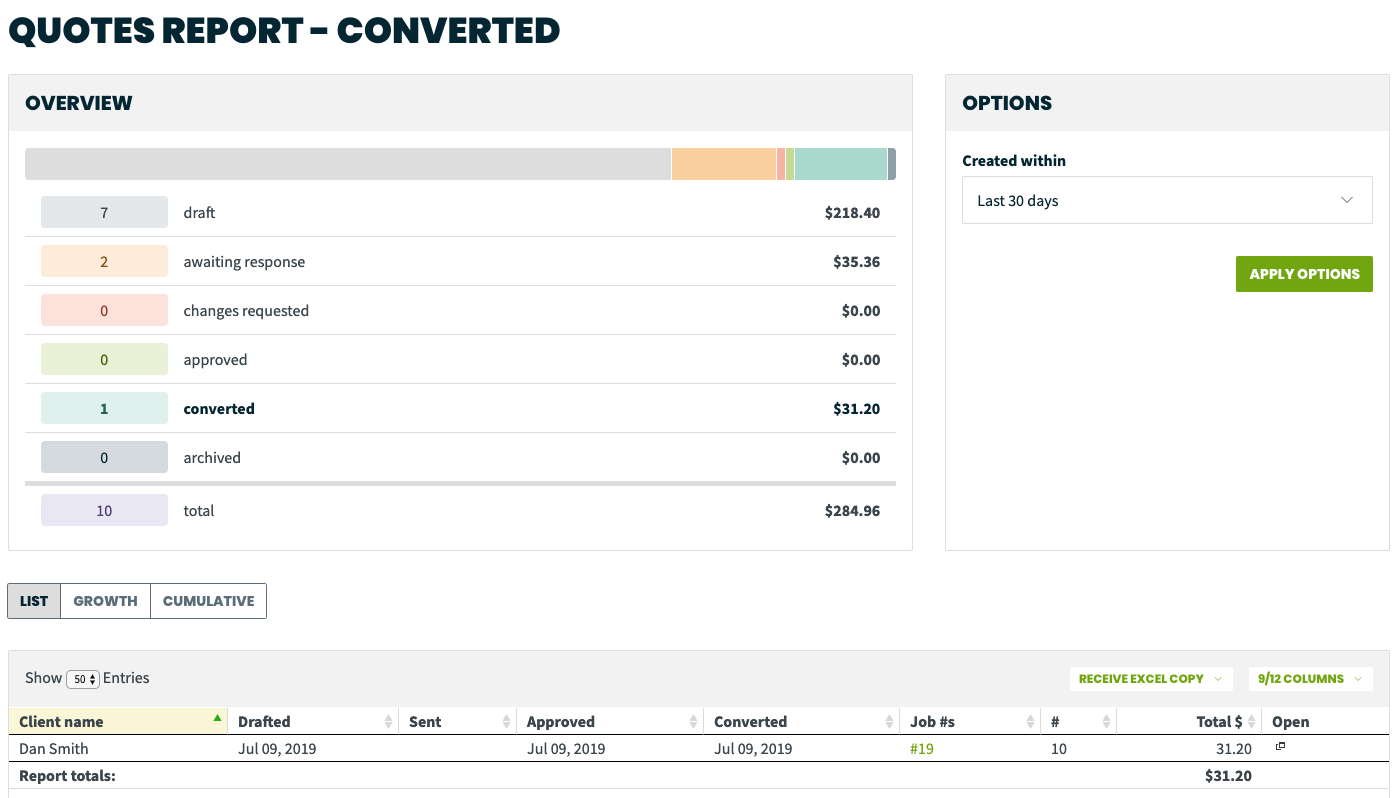 There are 6 statuses a quote can be in which you'll see on the report:
Draft:

This is a quote that has not been sent to your client yet, and is only visible to you.
Awaiting response:

This is a quote that has been sent to your client and is awaiting approval or a change request.
Changes Requested:

This is a quote that a client is requesting changes on.
Approved:

This is a quote that has been approved by the client, or has been marked as approved manually.
Converted:

A quote that has been converted into a job.
Archived:

A quote that has been archived in the system. These are only visible to you in Jobber, not to your clients in client hub.
Quote reminders and follow-ups
If you've sent a quote to a client but haven't heard back yet, you'll likely want to follow up to see if the client has any questions, or if they've thought about the quote.
There are two ways to follow-up on quotes in Jobber: using quote reminders; or on select plans, using quote follow-ups.
Quote reminders are a great tool to remind you to reach out to the client. These can be set up or edited under Settings > Work settings.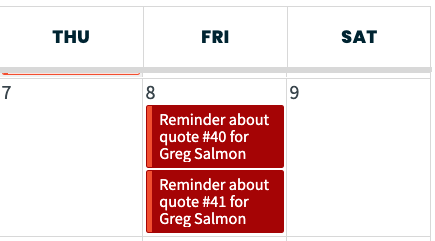 You will see the red quote reminders generated automatically on your Jobber schedule as a prompt that you'll have to contact the client. By default, these reminders will be created three days after a quote has been sent with no response, but the number of days can be edited.

Another option to follow up on quotes is by using Quote Follow-ups, with this feature you can set up a notification that is sent automatically to your client to remind them about their quote. These follow-ups are sent the same way the quote was sent according to a schedule you set up. So if you originally texted the quote to your client, the follow-up will also be sent via text according to your selected number of days. These schedules are set up in Settings > Notifications.
You can schedule up to two automated follow-ups. Meaning you can remind your client twice at different times if you haven't heard back about the quote.
The settings for quote follow-ups are found by going to the Gear Icon > Settings > Emails and Text Messages. Quote follow-ups will be found in the section for Getting the Work. This is where you can this turn this feature off/on and by clicking Edit, choose when the reminder is sent out and at what time of day.
Also on the Edit screen, there are templates for both emails and text messages that allow you to use variables to customize the message. The way you set up the template will be what your client receives along with a link to the client hub where they can access the quote.
Checklist
Now that you've read about the features that support your sales or quoting role, it's time to get comfortable using them. Use this checklist to familiarize yourself with the tools that will support your day-to-day. Add yourself as a fake client in your account to practice.
✅ From an assessment in the app, send an on my way text message, and upload a photo as a note on the request.
✅ Convert the request to a quote, add a couple of line items, then send yourself a quote.
✅ From the quote you received, view it in client hub, and approve it.
✅ Open the quotes converted report and locate the quote you've just approved.
✅ Set up quote follow-ups in your notification settings and customize your templates.
Book training
Want some 1:1 help to get up and running with Jobber? Our product coaches can work with you and your team to ensure everyone is comfortable using Jobber for their roles. Start a chat with us or send us an email at support@getjobber.com and we can get you booked in for a training session.