What is Jobber Payments?
Fast, simple, convenient payments with no hidden fees.
Jobber Payments is our fully integrated payment processing platform. It allows you to accept credit card transactions in person with our app or card reader as well as payment options for clients to pay online or for cards to be saved and charged. Having Jobber Payments enabled also gives you access to automatic payments. Studies have shown that having an option for your clients to pay online means that you can get paid up to 10x faster than with a check.
Jobber Payments offers:
A convenient payments option for your clients to make online payments through client hub
The ability for both you and your clients to securely save credit cards on file. You can charge these as needed or set them up to bill automatically on a recurring basis
Quote deposits can be paid internally by the client's saved card or by the client making a payment online
Reports on transactions processed through Jobber Payments and payouts to your bank
Refund processing directly within Jobber
A card reader to collect payments in person that is compatible with Apple Pay and Google Pay
Dedicated support during the event of a disputed payment
Jobber Payments can process all major debit and credit cards. That means as long as it has a Visa, Mastercard, Amex, or Discover logo on it you can accept the card. When making a payment through client hub, clients can also choose to pay their invoice with Apple Pay or Google Pay. With Jobber Payments, you can process a minimum payment of $0.50 up to a maximum payment of $999,999.99 in a single transaction.
Jobber Payments is available in the UK, US, and Canada. This article goes over setting up Jobber Payments in North America. To learn more about Jobber Payments in the UK, check out Setting up Jobber Payments in the UK.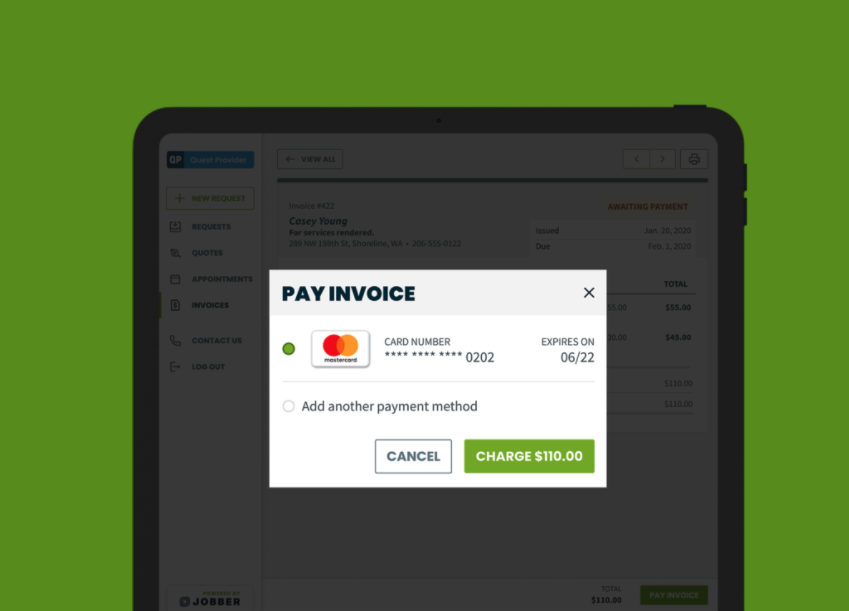 Setup
To set up Jobber Payments go to the Gear Icon > Settings > Jobber Payments.
There are two steps to setting up Jobber Payments:
Verify business details
Set up the bank account where you will receive your deposits
Note: Only account owners can fill out the business details and bank account.
Verify business details

Click the button to Get Started to start the sign up process where you will be taken to a form where you will be asked for your business info. This form is hosted by Stripe, which is the platform Jobber Payments are processed through. You will need to fill out the fields in this form so that your business is able to be verified. This form asks for your legal business name and SSN, so make sure to have those handy. This information is required as part of Know Your Customer regulations.
Note: If you are Canadian, we'll require your SIN rather than a SSN.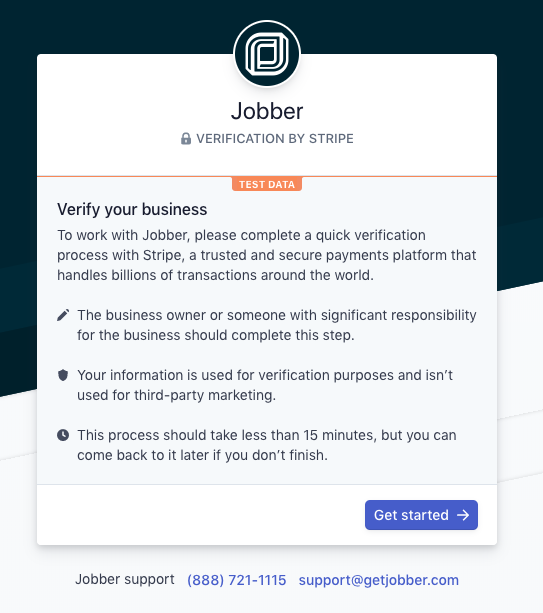 To verify your identity you will be asked to provide additional verification details. You will be asked to enter your EIN and upload a photo of your ID.
Note: If you're Canadian, we'll need your Business Number (BN) rather than an EIN. A BN is a nine-digit number given by the Canadian Revenue Agency (CRA) as a unique identifier for businesses and self-employed persons.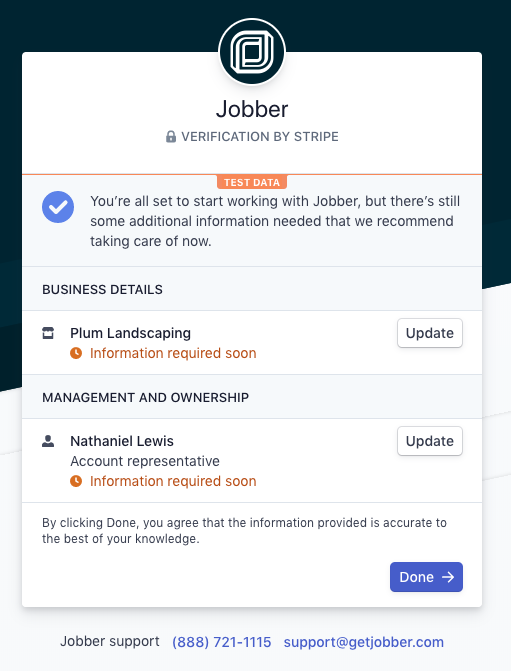 Note: You will need to submit information about who owns the company. In the case that more than one person are owners, just enter the name of the person who is the majority owner of the company. In the future, the person entered here will need to undergo a verification process where they will be asked to submit ID to verify their identity.
Connect your bank account
You'll be able to start charging cards without entering a bank account, however to receive the funds you will need to connect a bank account so we know where to deposit the transactions you've processed.
Note: if you don't connect a bank account for Jobber Payments within 90 days of signing up for Jobber Payments, the funds will automatically get refunded to the your client.

We connect directly to your bank account through a company called Plaid. When you click the option to Connect, you will be prompted to authorize Plaid to link to your bank.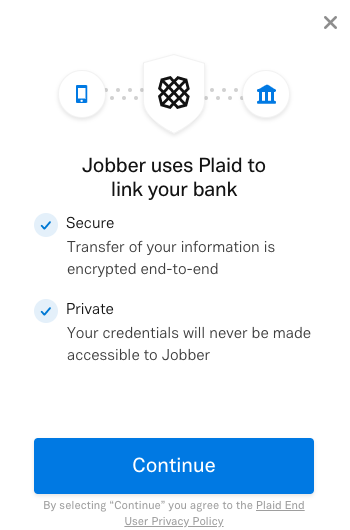 You will then need to pick your bank from the list and enter your online banking credentials.
Tip: We suggest connecting your bank account using this method instead of doing it manually. Connecting through your online banking makes sure that your bank details are correctly entered.
Manually connect your bank account
If you don't have online banking or would rather manually connect your bank account, there is an option for that too! Choose the option to Connect Manually.

You will be prompted to enter your full name, transit number, and account number.
Your routing number is normally the first 9 digits on a check from your bank.
Your account number is normally the second set of numbers (usually 10-12 digits) on a check from your bank.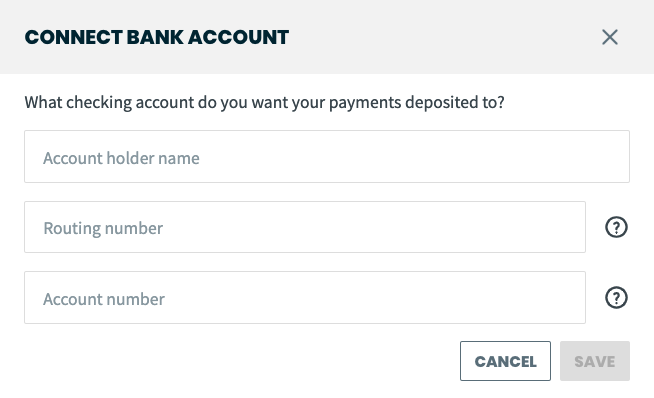 Note: If you are connecting your bank account manually, it is possible in the future we will need to verify your bank account. In that situation, we will ask you for a void check to verify your bank details.
Jobber Payments settings
Once your business details are entered and your bank account is connected, you will see your Jobber Payments settings. This is where you can view the bank details including your Jobber Payments transactions and transfers reports.