Overview
Save time scheduling by offering your customers the ability to self-serve their appointments. With online booking, clients and leads can select the services they want online through your booking page and their selections will create, schedule, and assign a job into your calendar automatically.
Configure your online booking settings
Your online booking settings are managed from the Gear Icon > Settings > Online Booking.
From your online booking settings there are sections to manage your:
Set up services for online booking
This is where the number of services that are available for online booking will be displayed. To add a new bookable service, select Manage Services then select +Add. Your bookable services can also be managed from Settings > Products & Services as existing services can be edited to make them bookable or new services can be added.
Note: There is a maximum of 100 services that will be displayed when your clients are booking online. This keeps the online booking experience for your clients streamlined and easy to navigate.


To add a service to your list of bookable services, from the bookable services section of the online booking settings page, select Manage Services. From here, you will be able to select from your existing products and services list or select Create New to add a new product or service.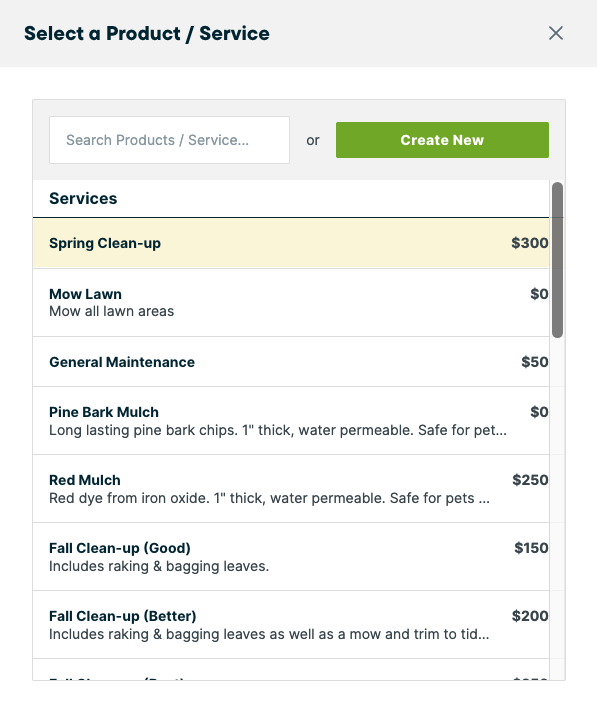 On your selected service, there is a section for online booking where the service duration and if your clients can select a quantity for this item. If your client increases the quantity of the item, the service duration and unit price will scale for the quantity they've selected.
To add a duration for the service, select a length of time from the drop down. There are options from 15 minutes to 12 hours in increments of 30 minutes, 1 hour, 2 hours, 3 hours, or 4 hours. The service duration selected here is the duration that shows to your customers for the service and is used to calculate the duration of the appointment.
To give your clients the ability to add a quantity of this item, check the box for Allow customers to select quantity. This will expand options for the minimum and maximum quantities that your client can select.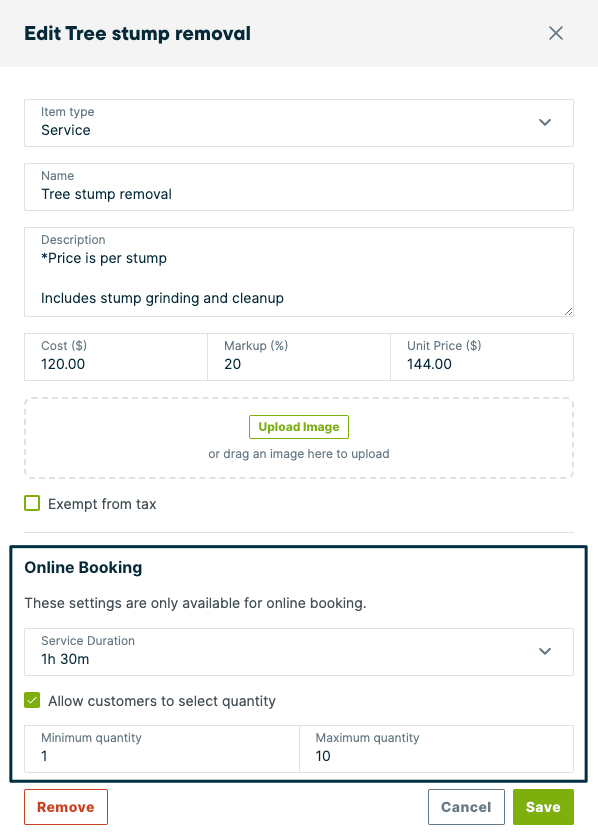 Durations and quantities can also be added to services from Settings > Products and Services when adding or editing a product or service. Learn more about products and services.
Set up your booking availability
From the booking availability section you can manage your availability including:
From the booking availability section, you can also choose to limit bookings to a service area.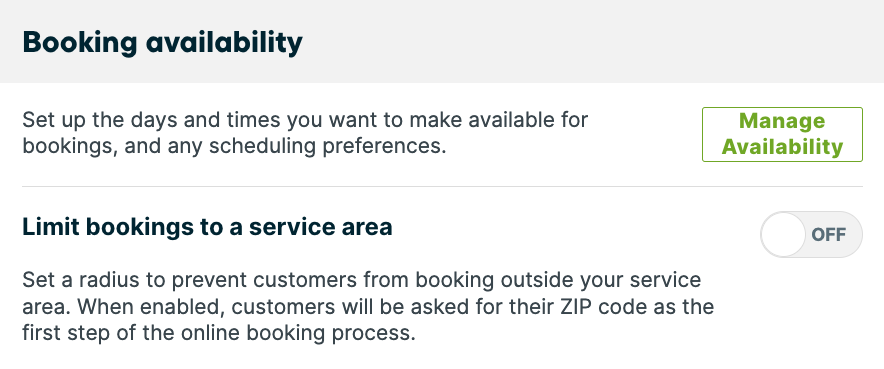 Bookable team members and bookable hours
This is where you'll select which team members can be booked for appointments. Their schedules will be used to determine available time slots and they will be automatically assigned. If a team member will be on vacation, a task can be added to the schedule and assigned to them to record their time away and block them from being booked through online booking.
If more than one team member is available at a given time slot, the appointment will be assigned randomly. Select the + icon to add a bookable team member or X to remove a bookable employee.

Employee availability is set from the user's profile in Settings > Manage Team. Select Edit to change the time for each day of the week the employee is available.
Bookable hours are populated from your business hours set up in company settings.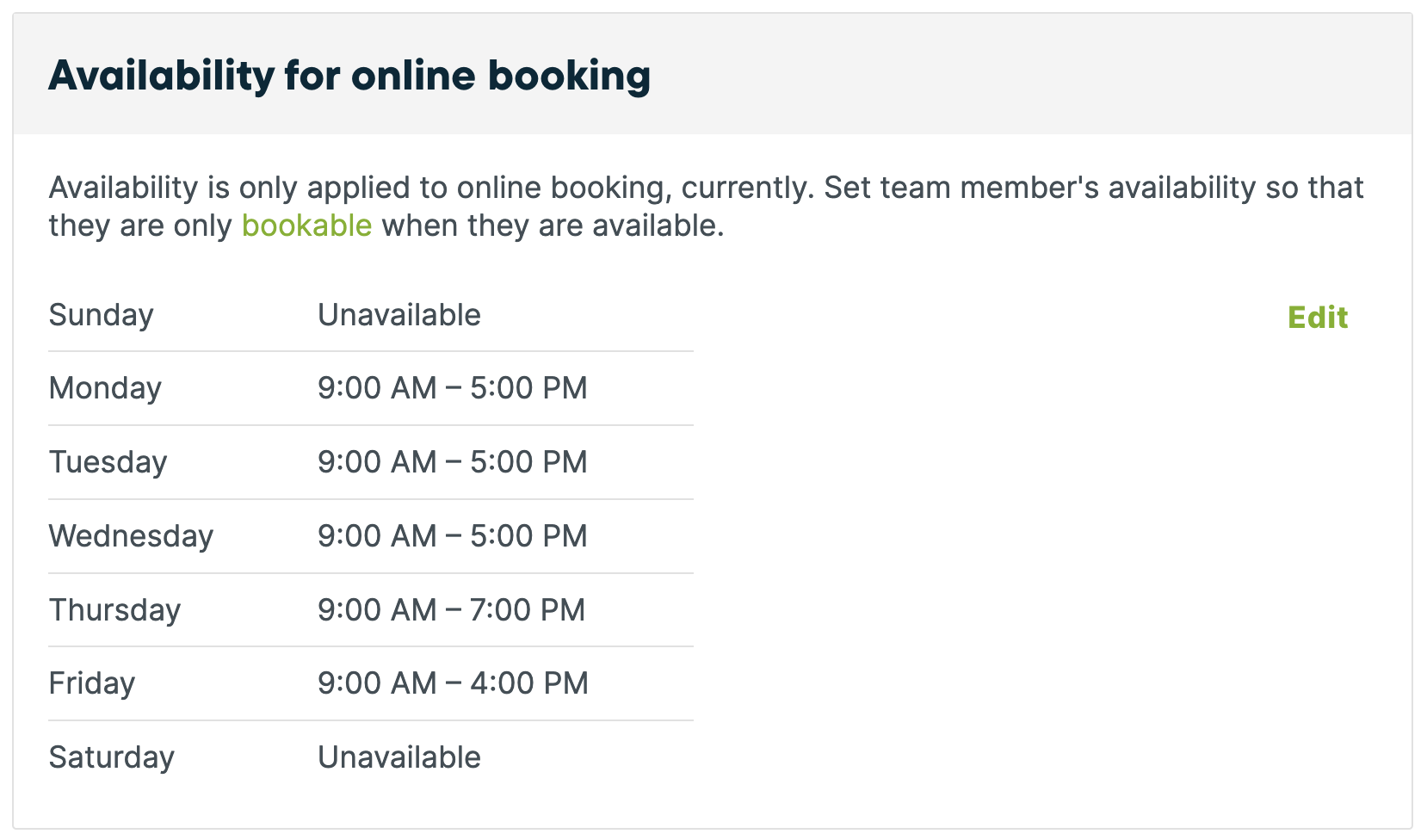 Scheduling preferences
Within your scheduling preferences, there are multiple options:
Earliest availability: Enter the earliest date your clients can select an appointment when booking online. Enter the number of business days away that you would accept an appointment. This setting is to prevent clients from booking with too short notice.

Time between appointments: Buffer times can be added between appointments to ensure you have enough time for anything you need to do between bookings. There are different options available:
Fixed buffer time: With this option, you can set a 30 or 60 minute window between appointments. These buffer times are fixed and do not account for the client's location.
No time restrictions: If you're not concerned about time between appointments, select this option to allow your clients to book back-to-back appointments.
Set a maximum drive time: This setting factors in the client's location and estimated drive time so you can minimize the time spent driving between appointments. Enter the number of minutes away you're willing to drive to only show appointments that are geographically close to existing appointments.

Some notes about drive time:

Drive time between appointments is calculated by a service called TravelTime which is available in select countries including the United States, Canada, United Kingdom, and Australia. View the full list of supported countries.

Drive time is calculated using historical traffic data. That being said, things happen and traffic conditions may be different in reality than predicted.

Team members assigned to online bookings are random, however with drive time the team members assigned to bookings will be folks who are within the maximum drive time

Drive time works with the service area feature. Your service area limits all of the appointments to within your selected radius, while selecting a maximum drive time ensures you aren't driving all over the place within that service area.

If your client is within your service area but you don't have any appointments scheduled yet for the day of their booking, they will see all available time slots when on the day of their booking regardless of where they are. Once their booking is complete, their appointment will be used to calculate drive time from their location on that day.

The drive time resets at midnight (in your local time zone), so if you have overnight appointments that go past midnight (and your team members are bookable after midnight), your schedule from the previous day won't be taken into consideration for bookings.
Arrival windows: Potential clients will see your estimated arrival windows when selecting appointment times. If no arrival window is set, exact times will be shown for appointment times. Your current arrival window set up will be displayed here.

Booking time slot intervals: Available time slots will be bookable in increments from the start time in your business hours. For example, appointments will be scheduled on the half hour at 9:00 AM, 9:30 AM, 10:00 AM, etc.

The increment options are:

30 minutes

1 hour

2 hours

3 hours

4 hours

How to limit booking availability to a service area
From the Gear Icon > Settings> Online Booking, navigate to the Booking availability section and locate Limit bookings to a service area from within that section.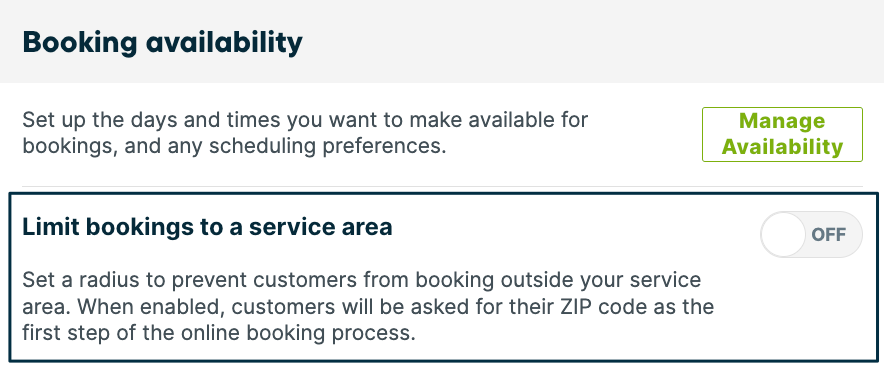 If you serve a specific area or region, you may wish to prevent customers from outside that area from booking into your schedule automatically. When set to ON, your customers will be prompted to enter their zip code as the first step in the online booking process to ensure they are within your service area. By default, limiting your bookings to a service area is turned OFF.
To set up a service area, set the toggle to ON.
Next, set the radius that you serve. The central point will be your company's zip code (this is set in your Company Settings) however if you'd rather use a different point, enter a zip code or address that's central to the area you serve, then use the slider to expand the radius from that point.
Note: If you do not have an address in your Company Settings, the service area will default to the center of North America, which you will need to adjust.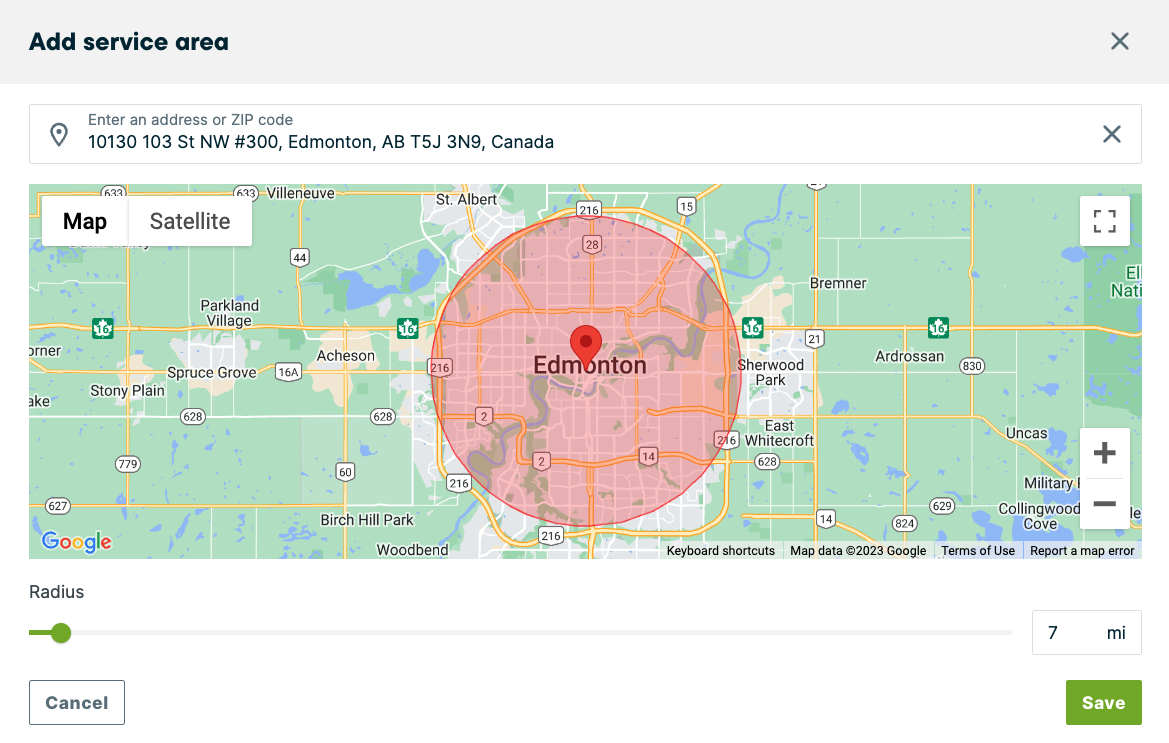 The areas highlighted on the map in red will be your service area. Once you're happy with the selected service area, select Save.
Booking page settings
This is where you can find settings for:
Appointment notes - This is a field for clients to add additional notes for their appointment. Their submission is added to the Instructions field on the visit.
Note: There is no Edit option for appointment notes.
Message - Add a message that is viewable on the review & confirm page when online booking. This message shows alongside the appointment details.
Terms and conditions - Add a l

ink to terms and conditions. This appears on the review & confirm page alongside the appointment details.
Select Edit to customize these settings.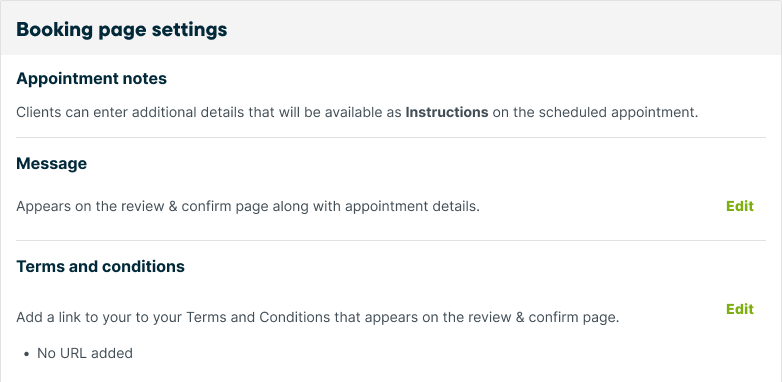 Share booking page
This is the link that can be shared publicly on your website and social media, or directly with clients. At least one service is required for this link to be usable. Set the toggle to ON to enable online bookings.
To share your online booking form, select Copy link. This link can be added to your website and social media, converted to a QR code, or shared with clients directly. Learn more about sharing your online booking form.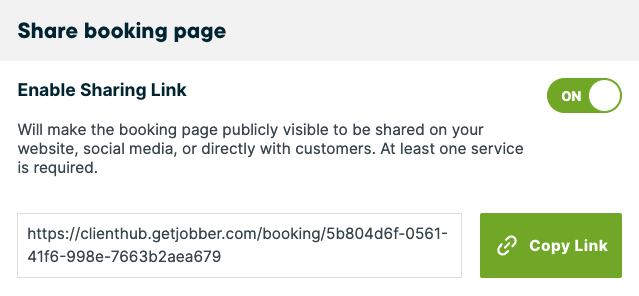 When your online bookings are disabled, clients will see that the form is unavailable if they access the link. What do online booked jobs look like in Jobber?
When a new online booking comes in, admin users will see an activity feed notification and receive an email letting them know there is a new online booking. The email will contain details including:
Scheduled date and time
Assigned team members
Booking summary including services and costs
From the email, tap the View Booking button to see the job in your Jobber account. The job will match the details submitted by your client with a scheduled visit already on your calendar.
Any appointments that were booked through online booking will be indicated with this icon:

This icon is visible on jobber.com from the schedule and jobs page as well as in the Jobber mobile app from the schedule.
When a client enters notes into the Enter additional details field, they will be added to the Instructions field on their appointment.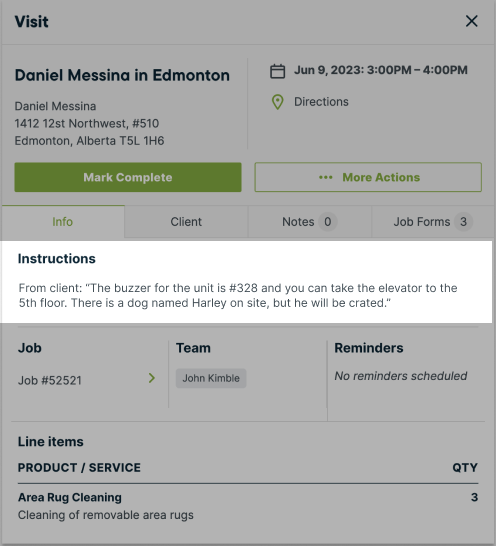 Reporting
If online booking is enabled, the one-off jobs beta report will display whether your customer made their booking through online booking allowing insights into which customers booked services online.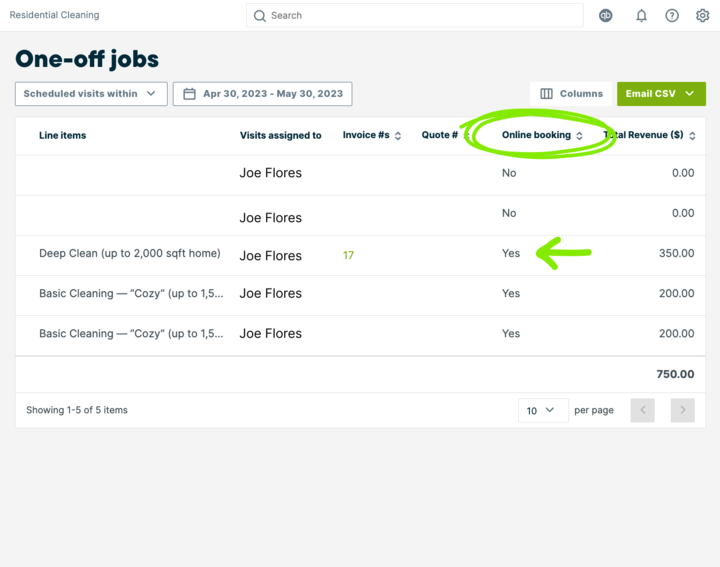 What do your clients see when booking online?
You can view your online booking form by navigating to your online booking link or by selecting Preview from Settings > Online Booking. Online booking (including the preview) is available when Enable Online Booking is toggled ON in your settings.
If you have a service area enabled, when clients and leads navigate to your online booking page they will first be prompted to enter their zip code to verify that they are located within the area that you serve. If they are outside of your service area, they will see a message that states online booking is unavailable for this area and to reach out by phone or email for assistance.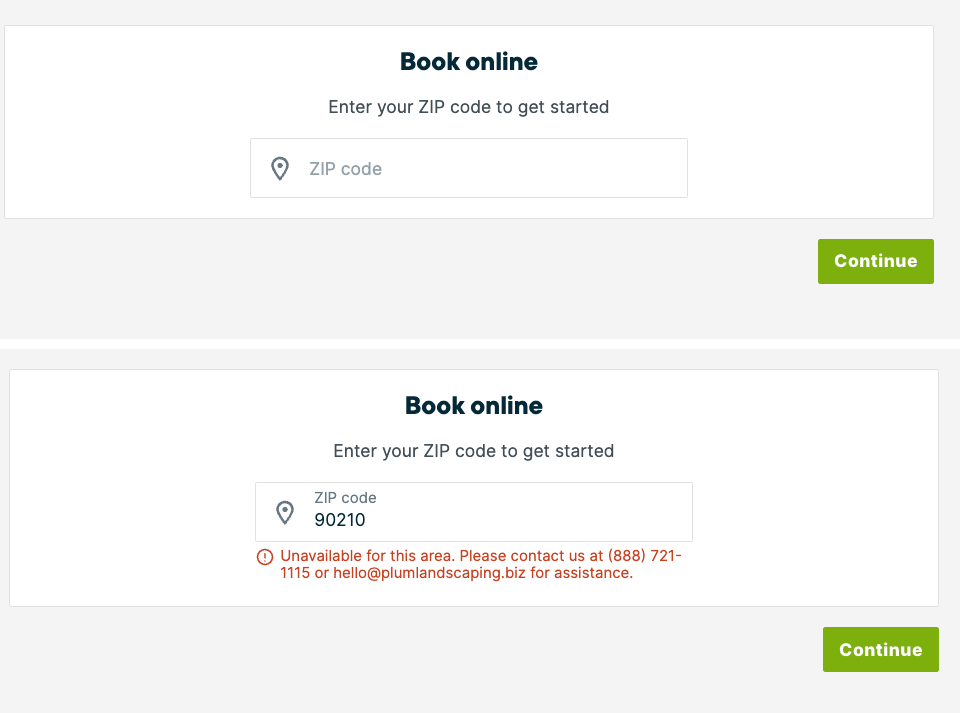 If your client or lead is located within your service area, upon selecting Continue they will land on a list of the services you're offering including the service description, estimated price and duration. If a service has a long description, selecting Show more will expand the full description.
To add a service to their booking, they will select + Add. If this is an item where the quantity can be selected, they will be able to select the quantity of the service up to the maximum quantity.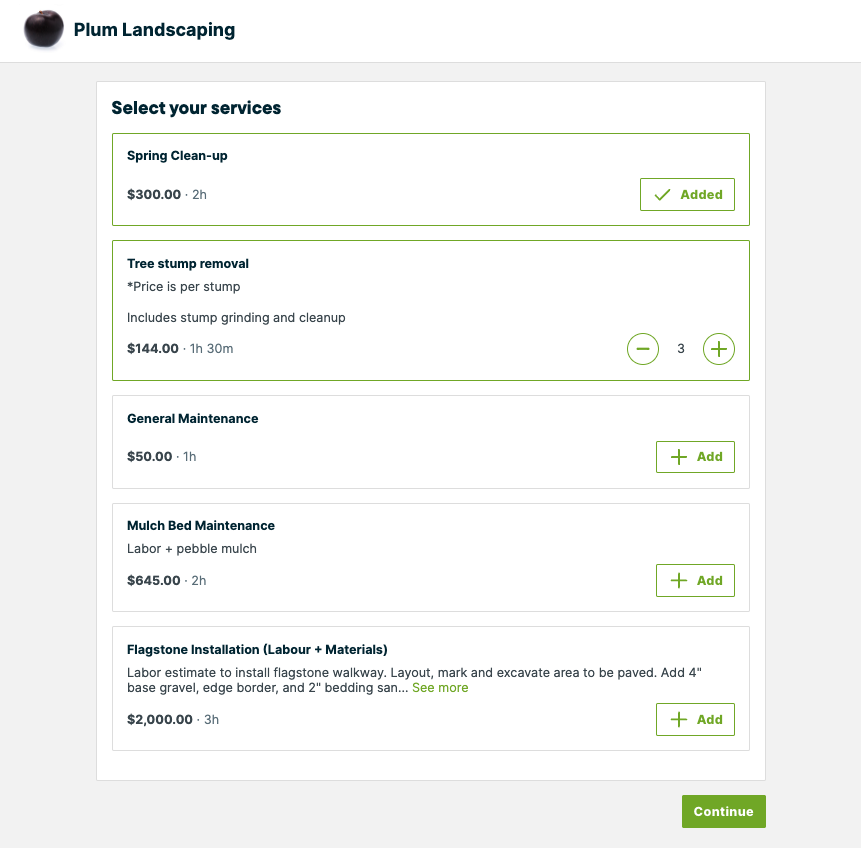 Once they have made all their selections, Continue will bring them to the contact details portion of the online booking form.
The required contact fields they will have to provide are:
Name (first and last name, or company name)
Email
Phone number
Property address

Street address
State
Zip code
Country
There is an optional field for Enter additional details. Any notes entered in this field will be added as instructions for the appointment.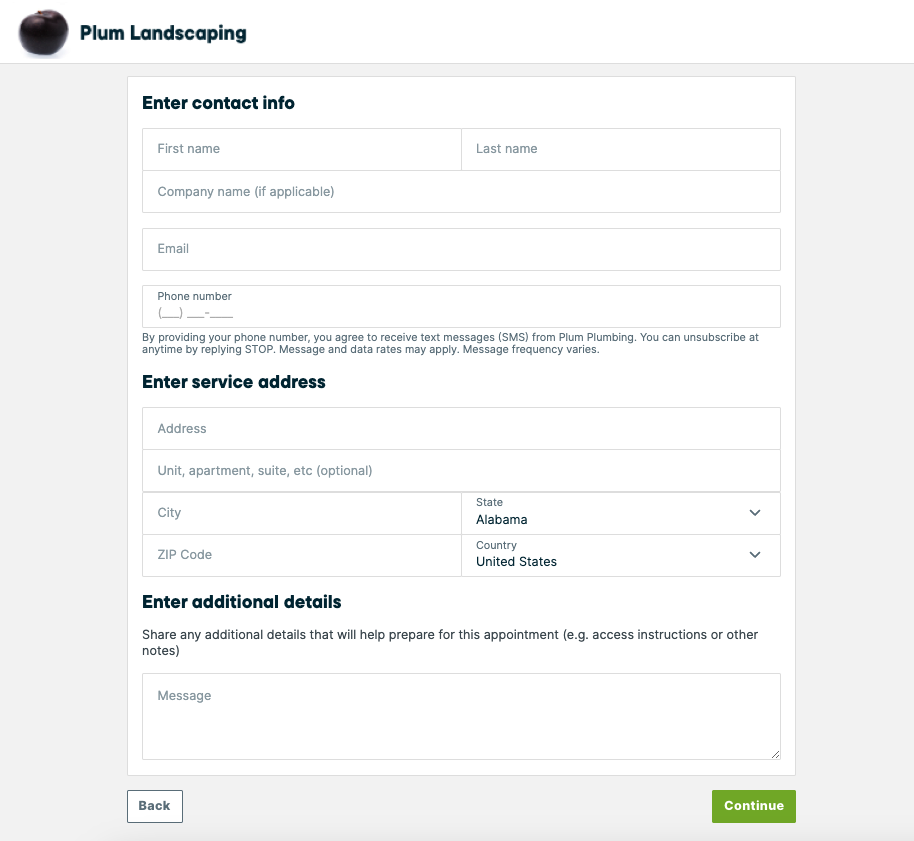 In the footer of the contact information page are your company details. If you have added any social media links in your branding settings, the app icons will appear below as a shortcut. Your company contact information from company settings will also appear below so that your customers can reach out if needed.

Select Continue to move onto the appointment booking section.
This is where the customer will select a date and time for the appointment from the calendar. Available days will be highlighted in light green with their selected date highlighted in dark green. Your settings for booking availability (set up from Settings > Online Booking) are what determines the earliest available day that customers can book into your schedule. The approximate duration of the appointment is calculated based on the selected services.
Below are the available appointment times. If you are using arrival windows your arrival window settings will determine the arrival time displayed for the appointment times. The times displayed are in the timezone that the client is in based on their device settings. Once an appointment has been selected, your client will click Confirm Appointment Time to give their selections one last look over before locking their booking in.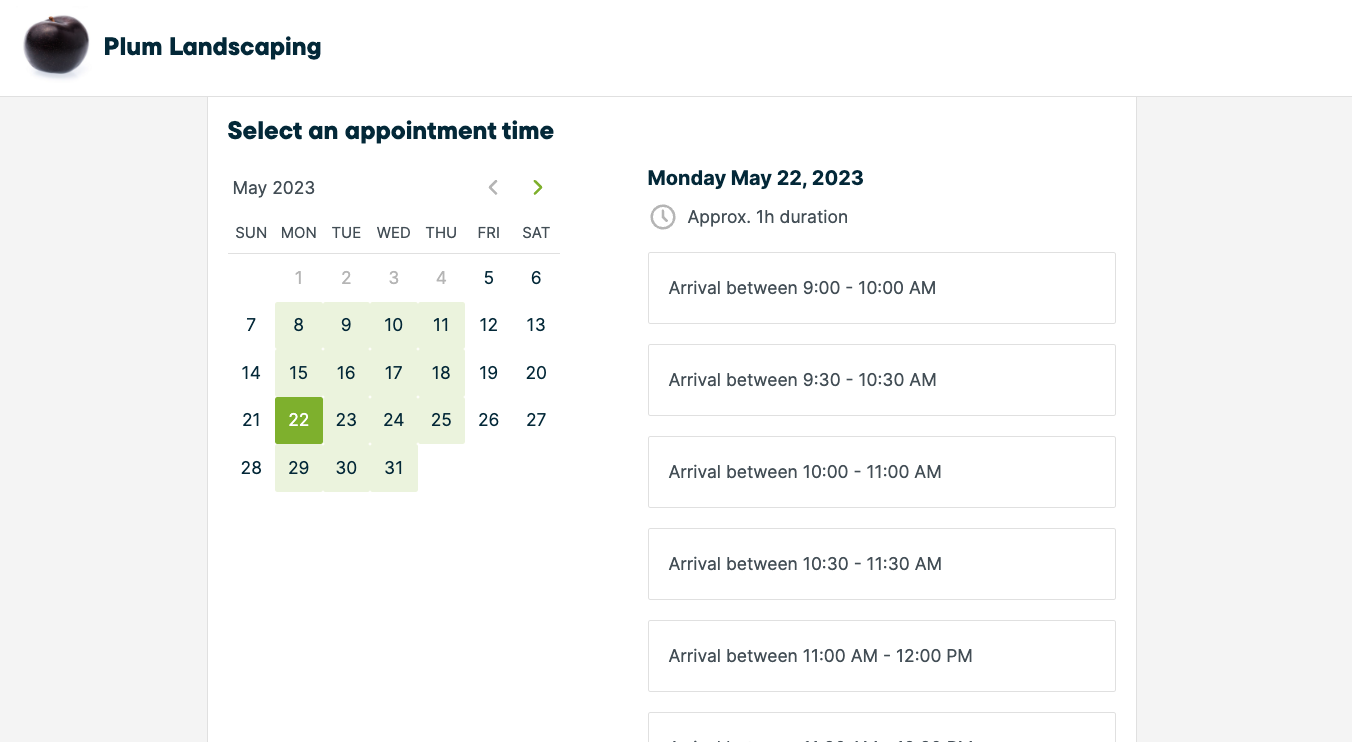 If all the displayed information is correct, selecting Confirm Booking will create a job and add this appointment to your schedule. If they need to go back and make any changes, the Back button will bring them back to a previous screen.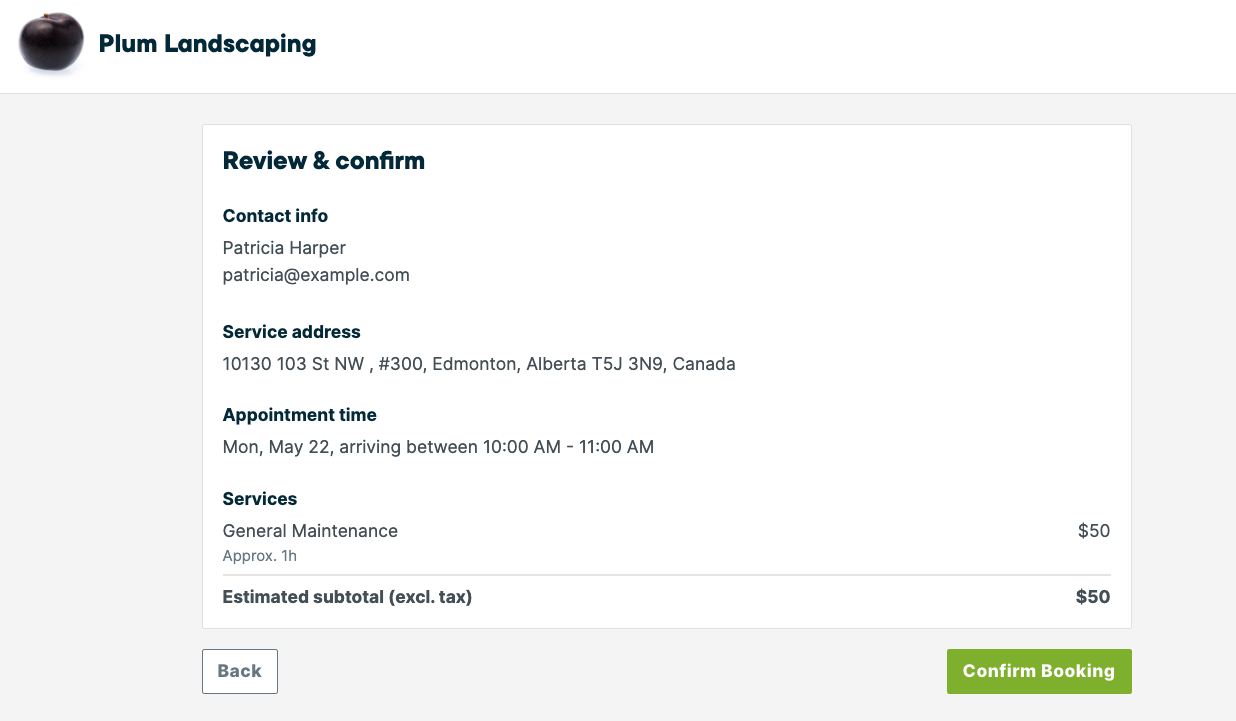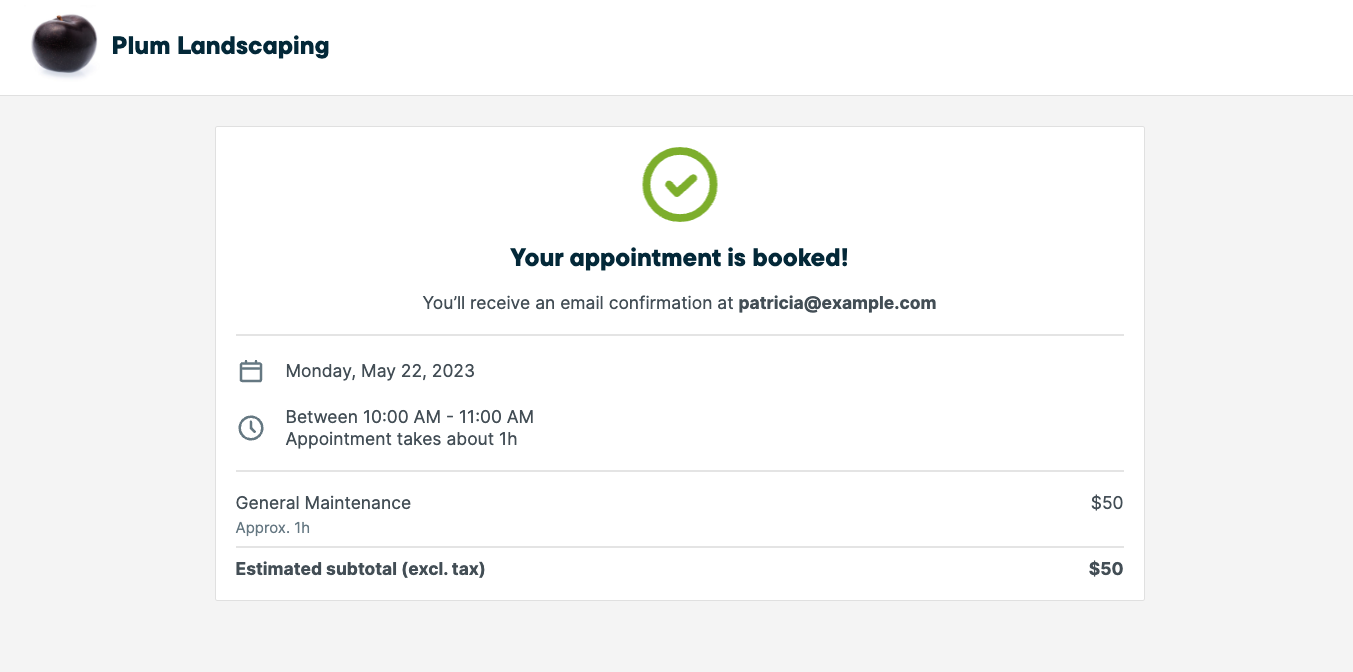 Now that everything is booked in, your client will see a confirmation screen with the booking details and they will also receive an email confirmation about the appointment with a button to view the appointment details in client hub. Client hub is where they will see appointment details including:
Appointment date
Arrival time
Estimated duration
Property address
Services + cost
Who's coming (assigned team members)