Overview
Let your clients know ASAP that you've got them in your books by sending them a booking confirmation that their work has been booked. They will receive an email or text message that lets them know their work has been scheduled as well as details about the date of their upcoming work. Booking reminders can be sent for both jobs and scheduled assessments for requests.
With a booking confirmation notification, you can keep your clients in the loop about their work as soon as it's booked and then pair it with appointment reminders to automatically let your customers know each time you'll be visiting their property. The booking confirmation is typically a one-time email or text to let your client know about their booking, whereas appointment reminders are ongoing for all their upcoming appointments.
Booking confirmations are available on select plans. View our current pricing plans.
To check what plan you're on, navigate to the Gear Icon > Account and Billing. If you have any questions about your plan's features or pricing, our support team is here to help!
Sending a booking confirmation as a text message is currently available in the United States, United Kingdom, and Canada, however email reminders can be sent anywhere.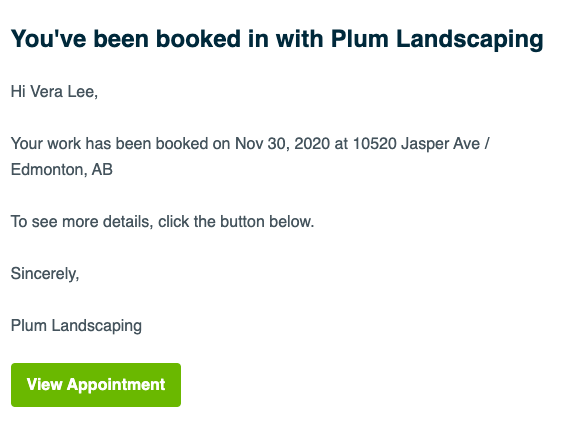 Send a booking confirmation
Booking confirmations can be sent on one-off and recurring jobs as well as requests with a scheduled assessment. However, if a job has no scheduled visits or if there is no assessment for the request, a booking confirmation cannot be sent since there will be no appointments in client hub to show your client.
Booking confirmations are sent manually. To send a booking confirmation, start by navigating to a job or request. Most likely you will be sending a booking confirmation fairly quickly after hitting Save on a brand new job or request, but you can also send a booking confirmation on an already created job or request. Text Booking Confirmation will appear as the primary action, when the job or request is in "upcoming" or "today" status. If the job is in a status such as "requires invoicing", the option to send a booking confirmation won't be available.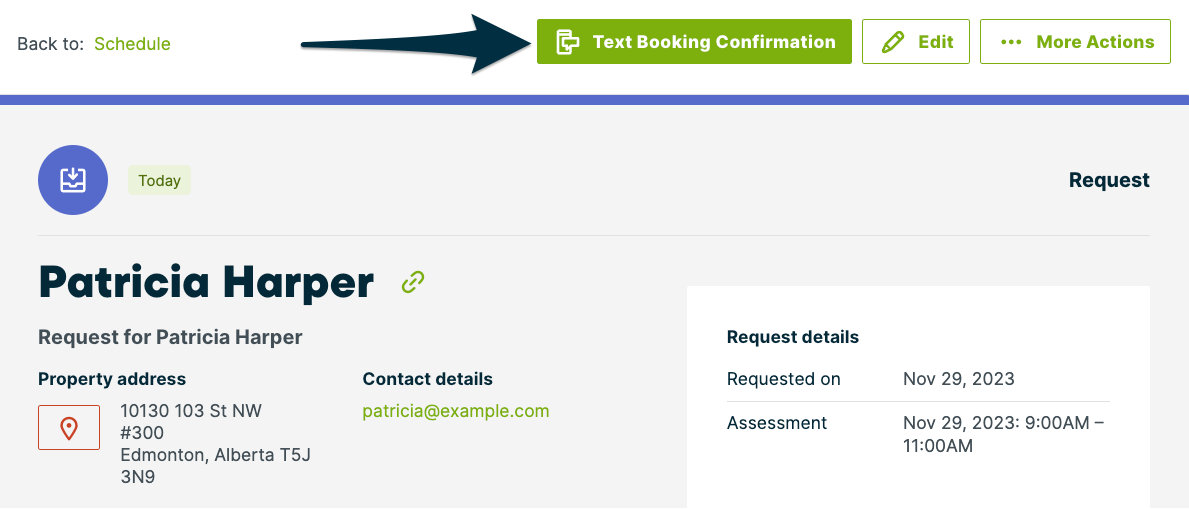 Click Text Booking Confirmation.
Sending the booking confirmation by text message is the primary action, but the booking confirmation can also be sent as an email. Click More Actions > Email Booking Confirmation to notify your client via email that they are now on your books.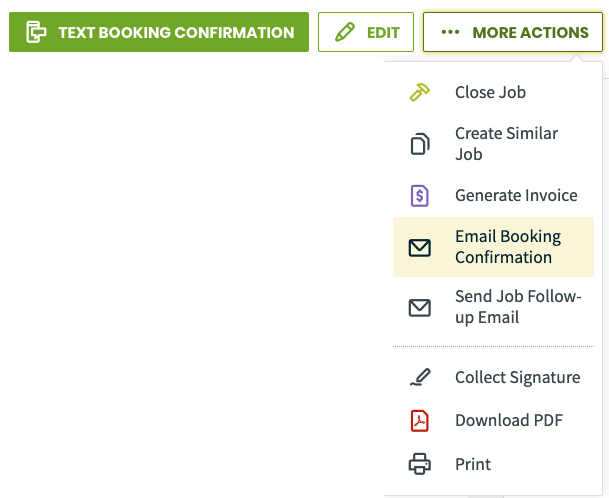 If you are sending the booking confirmation via text there is a preview before the message is sent. If the client has a text message enabled primary phone number, it will already be selected in the To field.
The text message can be customized for this job or request, or set up as a template in Settings > Emails and Text Message.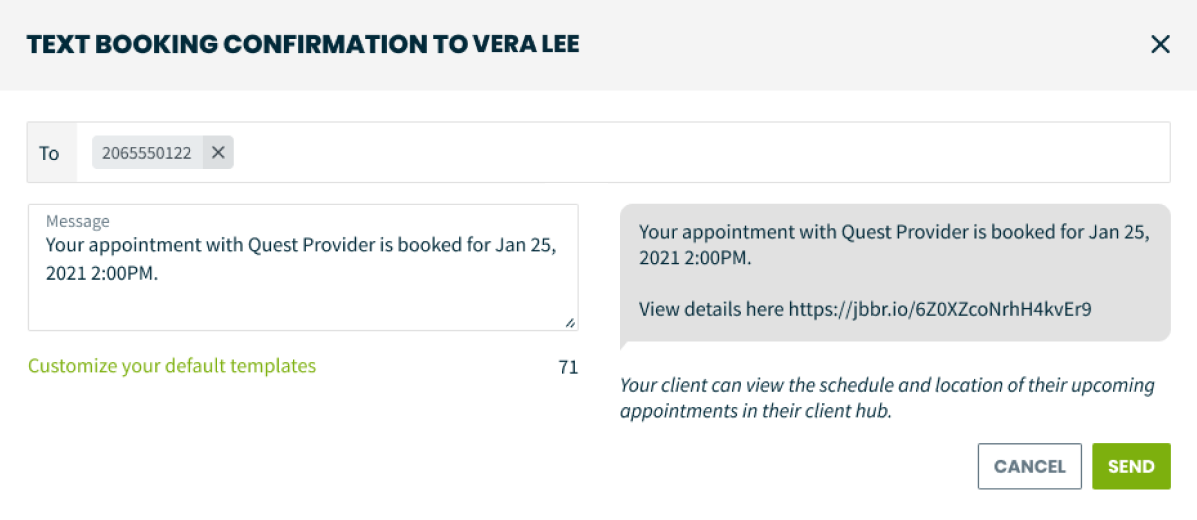 If you are sending the booking confirmation by email, there is an opportunity for you to look over and edit the text in the email. The date and location of the upcoming work will show in the email by default, according to the template for this notification but can be removed. If you need to add any additional details, attachments, or a thank you message, now's the time to add it in.
Note: The template for booking confirmations can be customized in Gear Icon > Settings > Emails and Text Messages.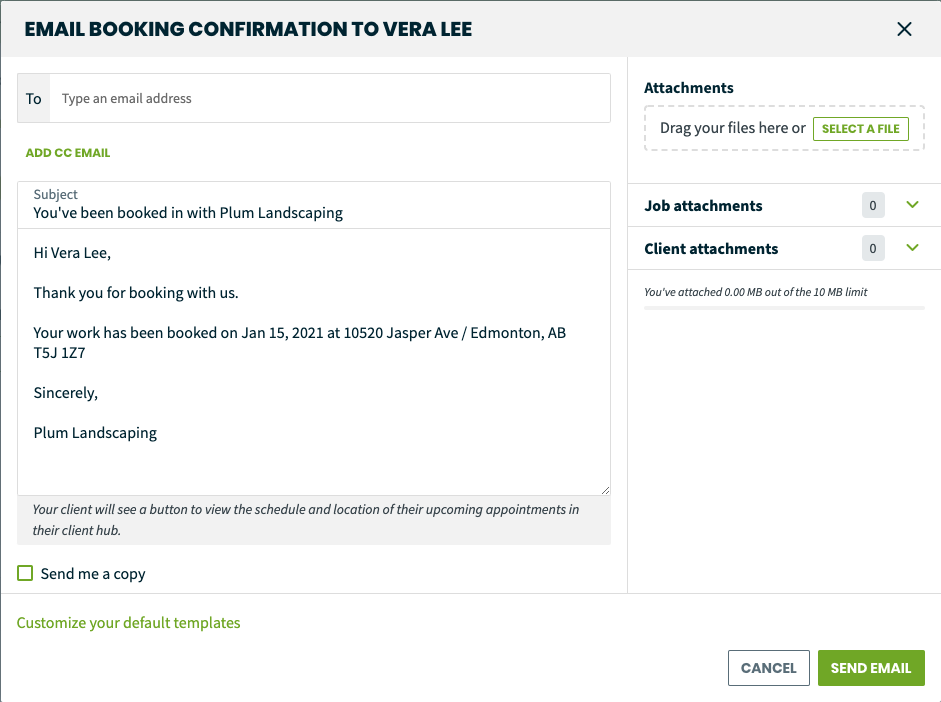 If you would like a copy of this email, check the box for Send me a copy. This option sends a BCC of the email to the user who sent it.
Once the email is exactly how you want it, click Send Email.
Save and...
While creating a job or request, to save time once all the fields are filled out you can skip a step between saving and then sending the booking confirmation, by saving and sending the booking confirmation all in one go with the Save and... option.
Click Save and... to save and send the booking confirmation with the delivery method of your choice.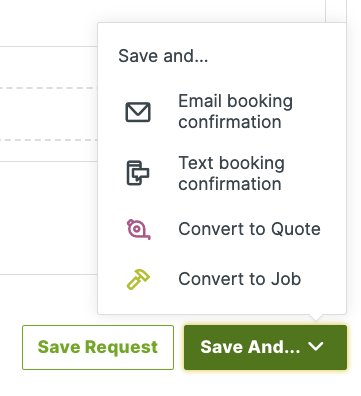 What your client sees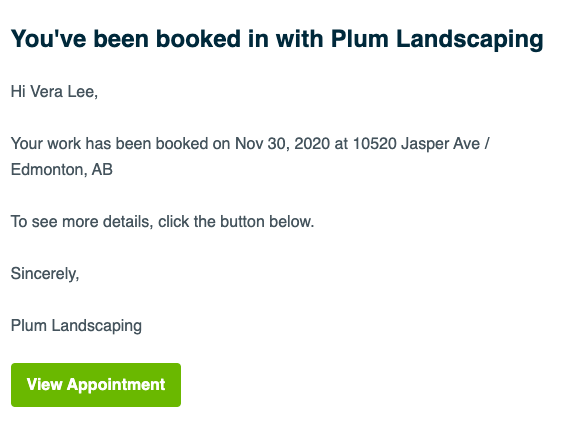 Your client will receive an email or text with either a button (email) or link (text message) to View Appointment, which opens to the appointments section in client hub. If you have scheduled your client for several appointments, they will be able to see their upcoming schedule. Appointments for today show first, with the next five upcoming appointments showing next as long as they fall within the next 60 days. If your client has any past appointments, they can see the past five visits with a button to Show More.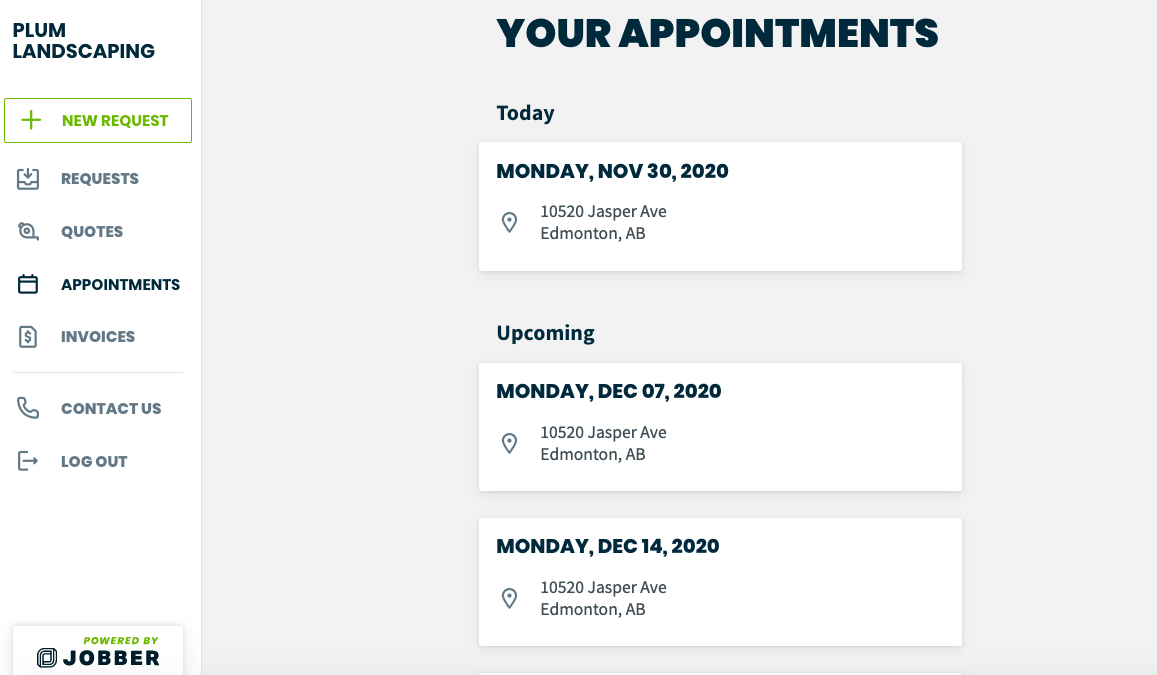 Clicking into each appointment will show more specific details about that appointment such as which team members will be doing the work as well as the date and time. Clicking Confirm Appointment changes the status of this appointment to "confirmed" so that you know this time works for the client.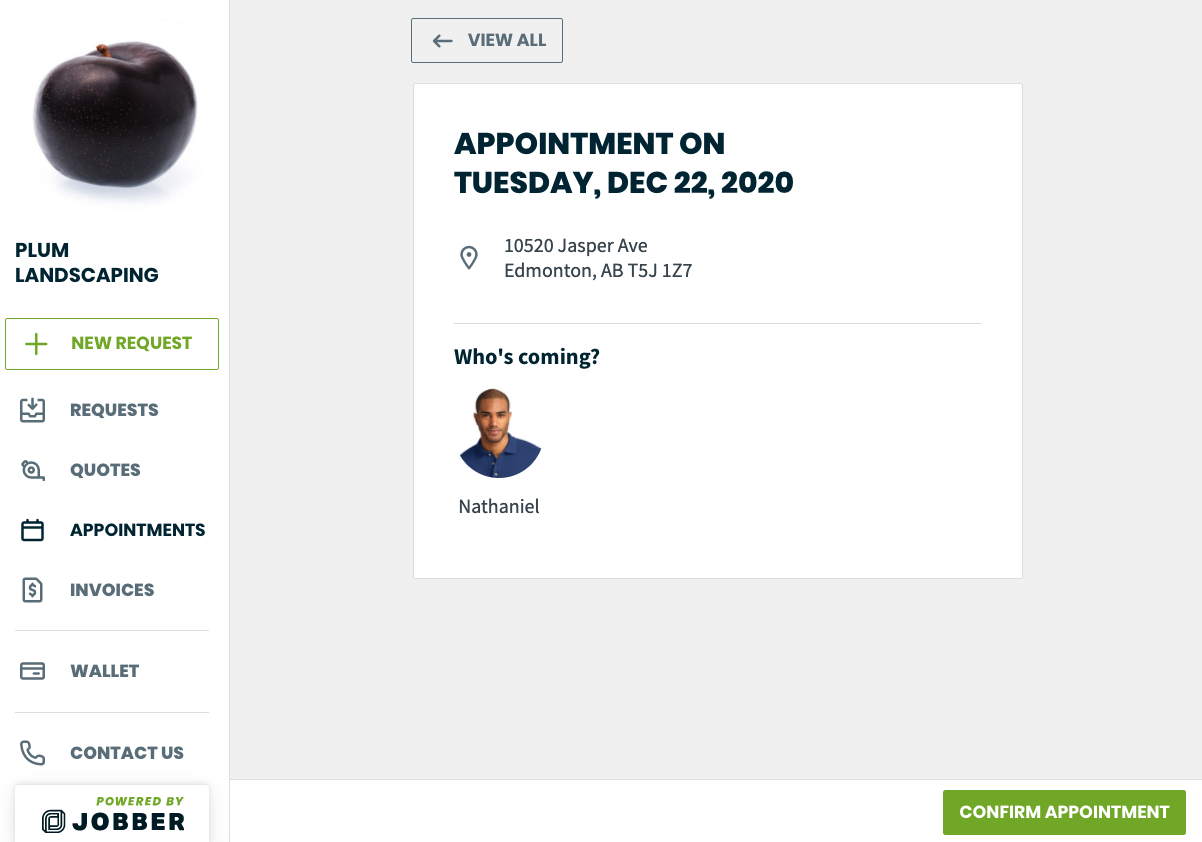 How a confirmed visit appears in Jobber
Once the appointment has been confirmed by your client, the visit will appear as confirmed in Jobber. This is visible in various places in Jobber where the visit is shown. Activity feed: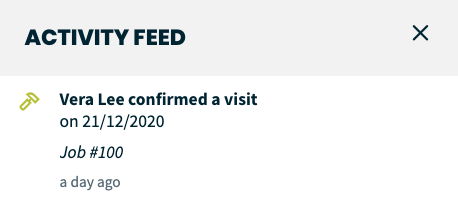 List view of the calendar:


Client profile from the Schedule section:

Visit section of a job (jobs only):

Appointment details: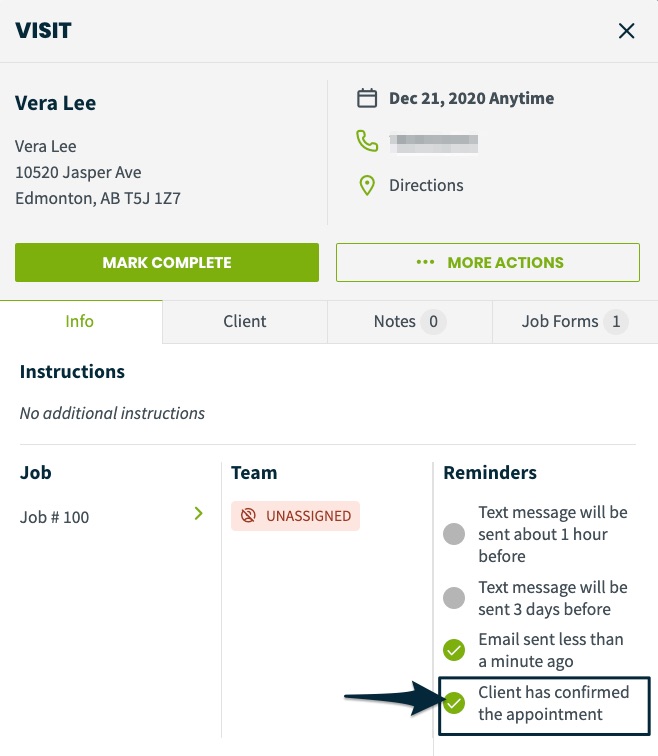 Reporting
Booking confirmation emails will appear both in the client communications report and on the client's profile in the Last client communication section.
The client communications report displays the delivery status of the booking confirmation email in the status column. If an email fails to be delivered, admin users will also receive an email letting them know there was an issue sending the email.