Overview
You've done the work, now it's time to invoice and get paid!
Invoices are a tool to ask your clients for the money they owe for your services.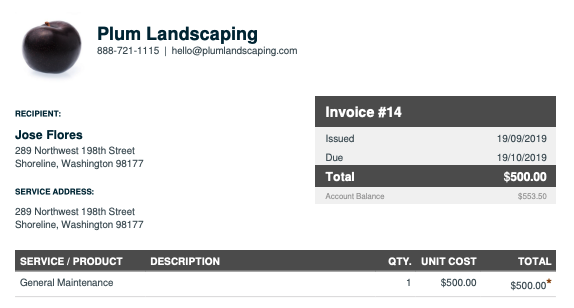 Invoices in Jobber can be created from:
Creating an invoice
From the dashboard or client page
To create an invoice from the dashboard or a client page, click More Actions > New Invoice.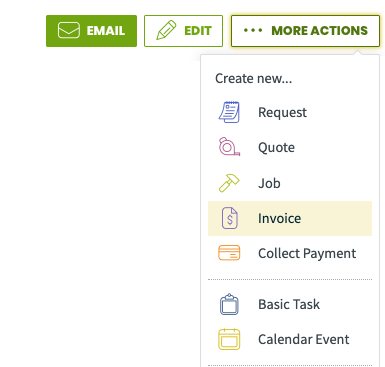 From an invoice reminder
To create and invoice from an invoice reminder, select the reminder from your calendar or job page and click Create Invoice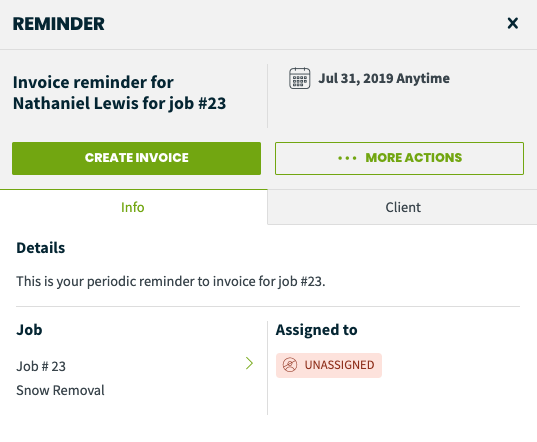 From a job
To create an invoice from the job page specifically you can click on More Actions > Generate Invoice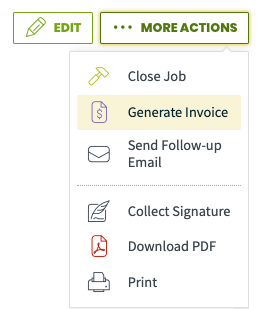 If the job already shows as 'Requires Invoicing', this option will be its own button beside More Actions.

The next page you see will allow you to select what jobs you'd like to invoice for. Check them off to include them on the invoice, or uncheck them to not include them.

After you click 'Next Step', you will be taken to the invoice creation screen where you can fill out the details for the invoice.
Invoice edit screen
At the top, you can:
Include a subject for the invoice
Click 'change' beside the invoice number to change it
Click on 'date sent' beside issued date to change it to a different day
Click on the payment net terms to change when the payment is due
Fill in or add in a new custom field for all invoices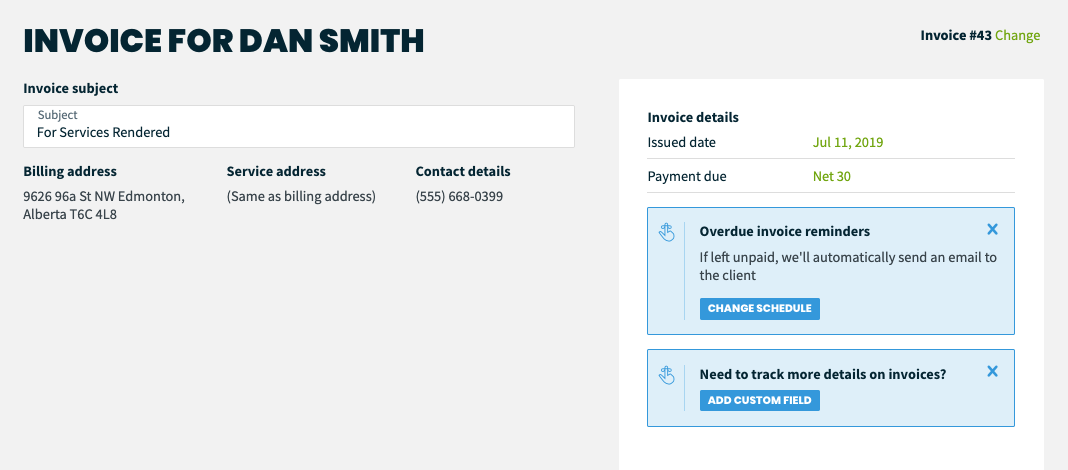 In the middle, you can:
Add line items from your services and products list
Set a service date for those line items

At the bottom, you can:
Add a client message for this invoice
Change the client view for what they can see on the PDF of the invoice
Edit the tax rate for the invoice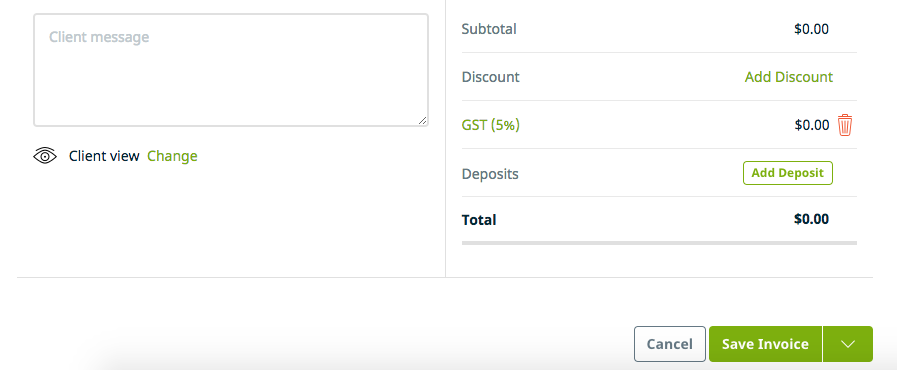 Once you have the invoice set up how you need it, you can save the invoice. If you click onto the arrow next to the 'Save Invoice' button you will see other options to 'Save and' - here you can simultaneously save this invoice and collect a payment. If you collect the full balance of the invoice, the status will show as PAID and the balance will change to $0.00.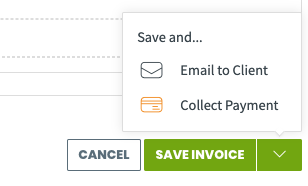 Sending the invoice

Now that the invoice has been created, the next step is to send it to the client. Invoices can be sent either by text or by email. You can text the invoice with the Send Text Message button in the top right, or you can email it by clicking More Actions > Send as Email. Once an invoice is sent (or marked as sent from the More Actions button), it moves out of draft status. Once an invoice isn't a draft, a payment can be collected on it.
Getting paid
To enter a payment, click Collect Payment.

This will launch a pop-up where you can enter the details of the payment. You can edit the payment method and amount. Depending on the method there are other relevant fields as well such as check number. If the client has just made a partial payment, you can enter a partial amount and the invoice won't show PAID until the invoice has been paid in full.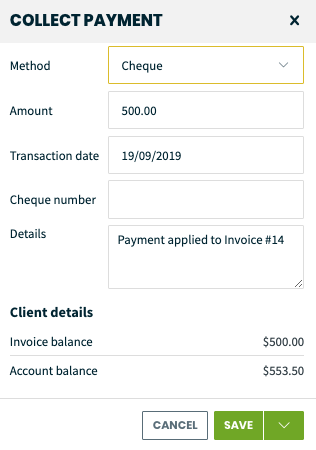 When a payment has been recorded in Jobber it will be listed at the bottom of the invoice and will show the payment date and amount paid. You will see the remaining balance of the invoice, as well as the client's full account balance.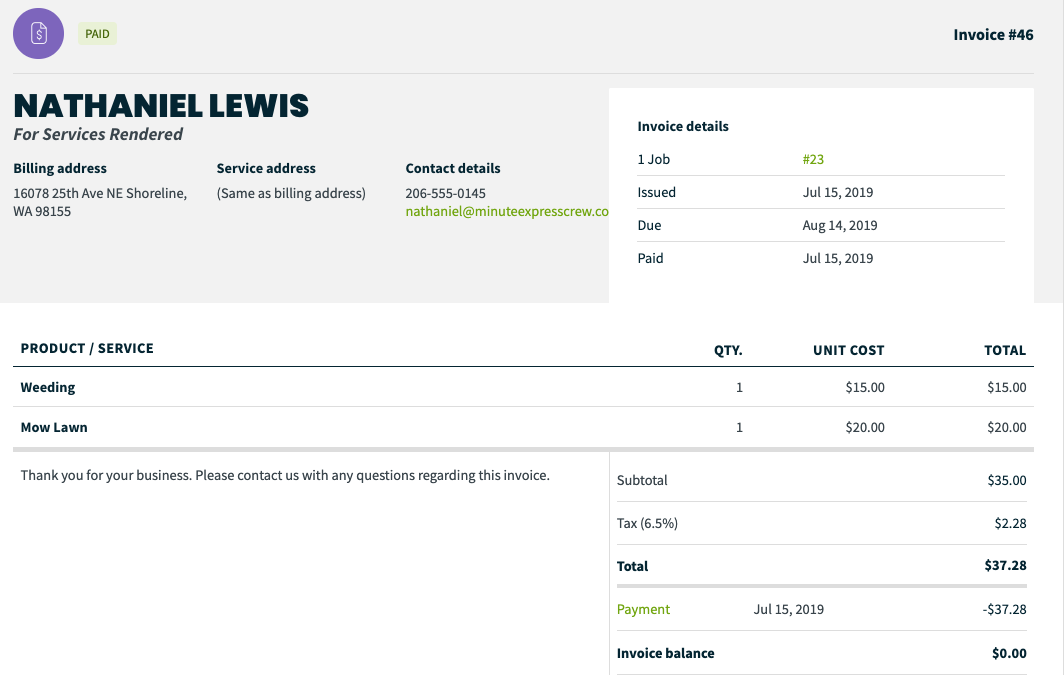 Invoice statuses
When an invoice is first saved, it will be in Draft status. It will not yet be included in your client's billing history, or visible in their Client Hub.
The next step is to select More Actions > Email to Client or Send Text Message located next to the More Actions button. This will send a copy of the invoice to your client with an option to view that invoice online. You can also click More Actions > Mark as Sent if you are printing a copy or the client doesn't need a copy. Marking an invoice as sent will remove it from draft status.
After an invoice is emailed, texted, or marked as sent its status will change to Awaiting Payment.
When you receive a payment from your client, you can click Collect Payment beside the More Actions button. When the invoice has been paid in full, the status will change to Paid. If the invoice is not paid within your payment terms it will show as Past Due.
If you are unable to collect a payment from the client, you can choose to mark the invoice as Bad Debt from More Actions > Bad Debt. This will write off the remaining balance on the invoice so the client no longer shows as owing, it will also remove that amount from reports within Jobber.
Learn more about Invoice Statuses.
Invoice reminders
Invoice reminders are what trigger jobs to go into "requires invoicing" status. They are generated based on your settings when you create a job on how frequently you would like to invoice. You can set up jobs to remind you to invoice at the correct times using invoice reminders.
There are different invoicing options for one-off jobs and recurring jobs. One-off jobs will prompt you to invoice once the job is closed, whereas recurring jobs can be set up to remind you to invoice at different points throughout the duration of the job such as after each visit or at the end of the month.
How to remove a job from "Requires Invoicing" status
If you have closed a job but it is in "requires invoicing" status, there will be an outstanding invoice reminder for this job which is prompting you to invoice. You will need to either delete this invoice reminder or create an invoice in order to get the job out of this status.
To check, go to the job. Then, scroll down towards the bottom of the page to the "billing" section. Click on the overdue invoice reminder. If you want to invoice, click "create invoice". If you don't want to invoice, click Edit > Delete. This will put the job into archived status.
Automatic payments
With automatic payments, clients who have a card stored on their profile through Jobber Payments are able to be automatically charged at the billing frequency that is set up upon job creation. Invoices will be automatically created and charged using Jobber Payments. Learn more.
Invoice follow-ups
Invoice follow-ups are a feature available on select plans.
These follow-ups automatically remind clients their invoice is past due by email or text and using Jobber Payments, give them an easy way to pay.