You've done it! You've created a Jobber account, but now that you're here how do you navigate around?
Side navigation

The side navigation tool allows you to quickly jump to various places in Jobber. You can minimize it from the arrow in the bottom left corner. Minimizing the side navigation will only show the icons rather than the icon and the name.
Create: Options to create a new client, request, quote, job, or invoice.

Home: Jobber Home gives you an overview of everything going on under the hood. This is where you can see each step of your workflow, incoming Jobber Payments, and today's appointments as they progress through the day.
Schedule: This takes you to your most recently viewed schedule view.
Clients: View an index of people and properties.
Requests: View an index of requests.
Quotes: View an index of quotes.
Jobs: View an index of jobs.
Invoices: View an index of invoices.
Chemicals: When chemical tracking is turned on, chemicals appear as an option in the side navigation. Go here to record chemical treatments and view previous chemical records.
Expenses: When expenses are turned on, expenses appear as an option in the side navigation. This is where recorded expenses appear.
Reports: This page contains over 20 reports in 3 categories: financial reports, work reports, and client reports.
Time Sheet: This is where time sheets can be viewed and edited, approved, and payroll confirmed.
Apps: View App Marketplace to see the different apps that can be connected to your Jobber account.
Navigating with a keyboard
If you prefer to navigate Jobber using your keyboard or using assistive tech like a screen reader, there is an option to Skip to Content in the side navigation. This option skips all the links in the side and top navigations so you can navigate right to the page content.
Press the tab key when you first land on the side navigation to show links one after the next. Press tab once to jump straight to the page content, then press tab again for an option to Skip to Search to move your selection into the search bar. Press tab after that to move your selection back into the main list of menu items.
Note: If you are navigating Jobber with a mouse, you will not see this option.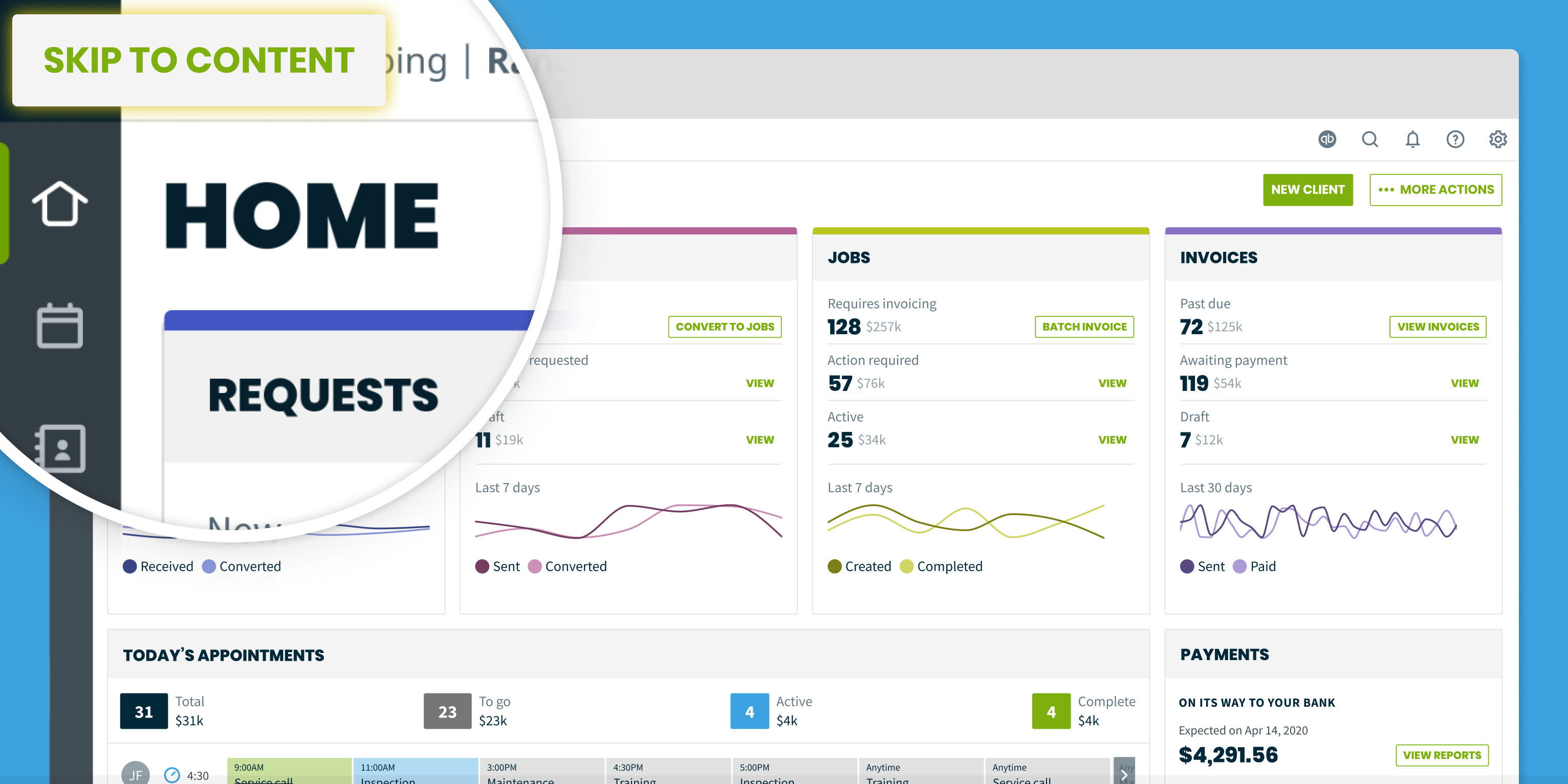 Top navigation icons

You will find the global actions in the top right of your Jobber account. Clicking each of these icons will show more options.
The icons that you might see are:
QuickBooks icon
Search bar
Bell icon (activity feed)
Message center icon (two-way text messaging)
Question mark icon
Gear icon
Note: Depending on your plan, integrations, or permission settings, you might not see all of these icons in your account.
QuickBooks icon
If your Jobber account is integrated with QuickBooks Online, you will see a QuickBooks icon. Clicking the icon will show a drop down. Clicking Sync & Settings will take you to Settings > Connected Apps > QuickBooks. Clicking Go to QuickBooks Online will open QuickBooks in another tab in your browser.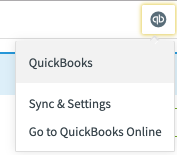 Search bar
In the center of the top navigation is a search bar that we call the global search as it searches your full Jobber account. The keywords that can be used in this search bar are:
Client name and contact information (email addresses, phone numbers, and billing address)
Property addresses
Quote, job, and invoice numbers
Line items names on quotes, jobs, and invoices

Note: Only line item names will pull up results, line item descriptions will not.

Titles of quotes and jobs
Subject lines on invoices
Custom field inputs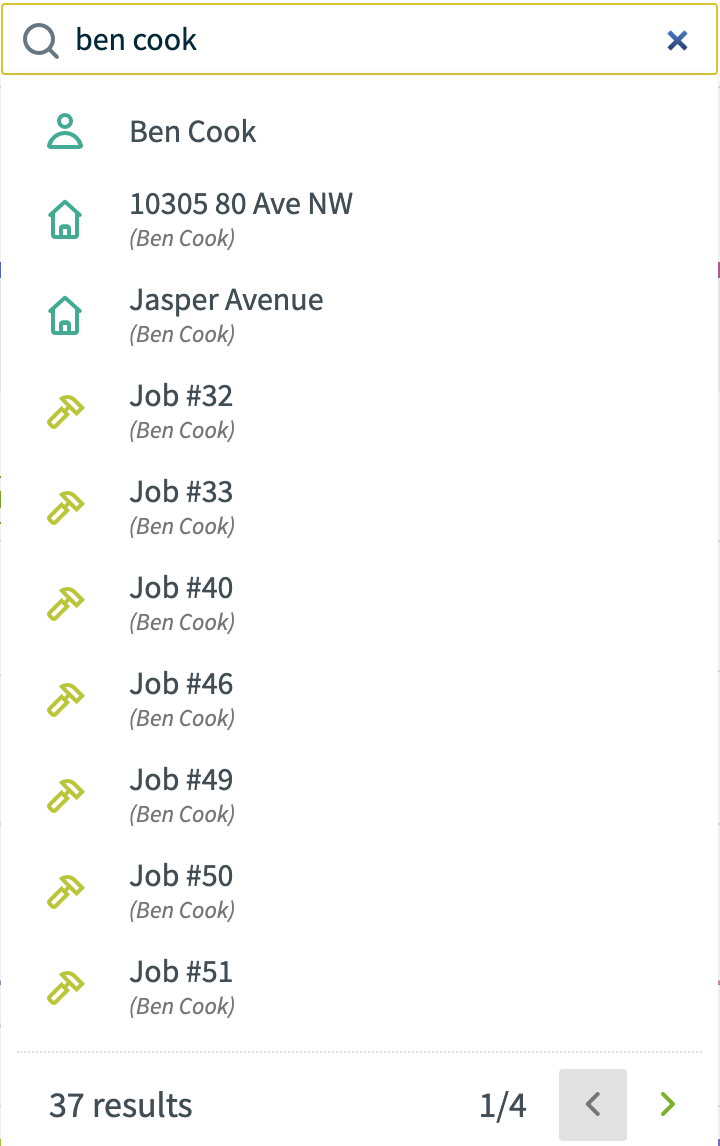 Bell icon (activity feed)
Admin users on select plans will see an icon for activity feed. Activity feed shows a stream of actions happening in your Jobber account, including the user, and when the action was taken. Activity feed is a great way to stay on top of what your teams are doing, without actually having to be there with them.
Learn more about Activity Feed.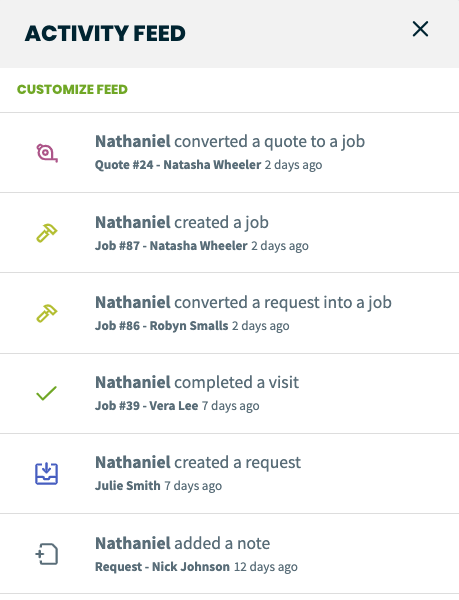 Message center icon (two-way text messaging)
Available on select plans, two-way text messaging allows you to start and carry on a conversation with a client directly in Jobber so you can continue to work without switching between programs. On Jobber subscriptions where two-way text messaging is available, there is no additional cost to you associated with the messages you send through Jobber. Once the conversation starts you can have unlimited back and forth with that client.
Clicking the message center icon from the top navigation opens your messages with your clients.
Learn more about Two-Way Text Messaging.
Question mark icon
The question mark icon opens a drawer to help you out if you need support. This is where you can search the help center (hey! you're in the help center right now) and see a few recommended articles for the page you're viewing in Jobber.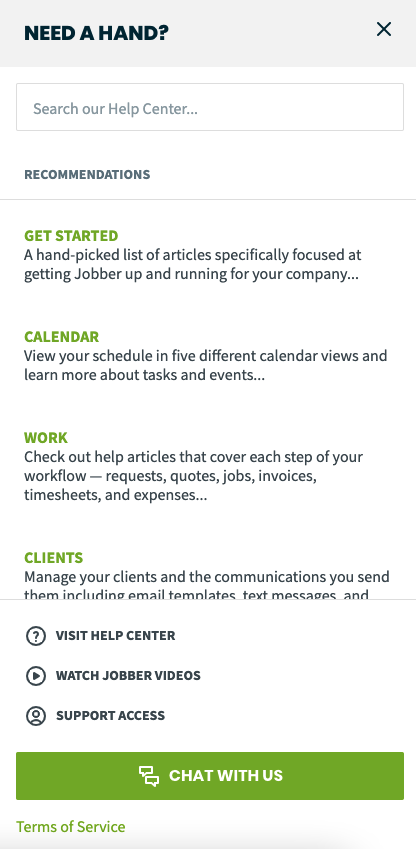 There are also links to our YouTube channel, our terms of service, and support access. Clicking support access will allow you to approve or deny a request from Jobber support for access to your account. You can also view previous support requests to access your account and when they expired. To start a live chat with our Success Team, click Chat With Us.
You can launch a live chat with our Success Team by clicking the question mark icon, then selecting Chat With Us.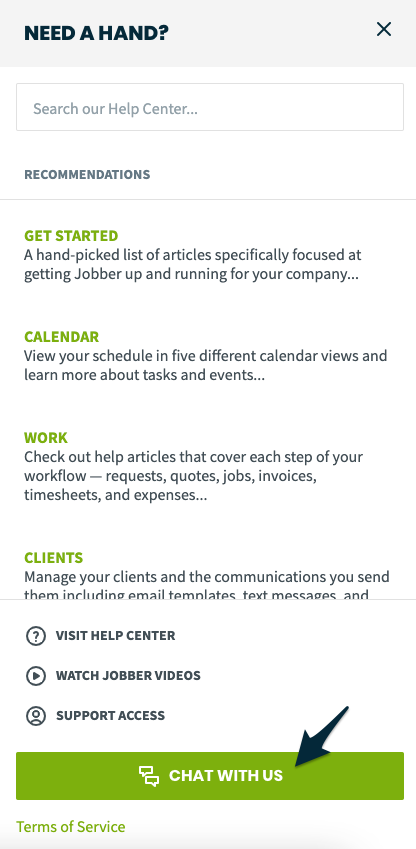 If you have a new question for us, go ahead and click New Conversation to start chatting in with our team.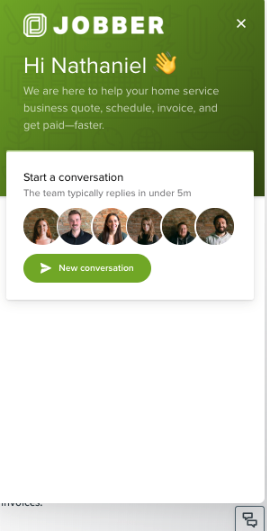 If you've chatted with us a few times, you can review your past chat history and download the transcript if you want it for reference. To start a new chat, click New Conversation. To review a past chat, click on the message thread and it will open. To download the transcript, click on the Success Team member's name at the top of your screen, this will expand some options for you. Click the down arrow to download the transcript.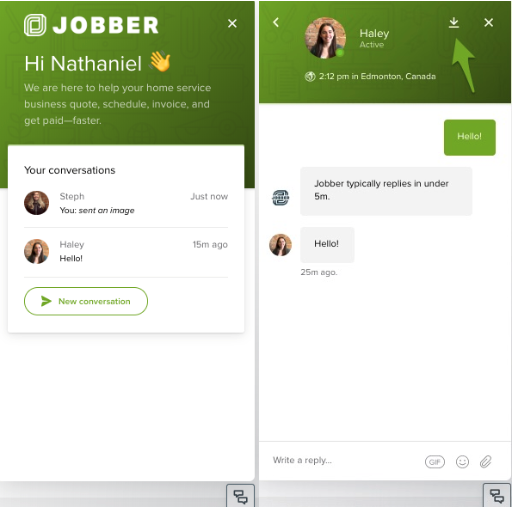 You can also see if the person chatting with you is active or away. If they are away and you are chatting in during our business hours, you will get a faster reply by starting a new chat so an active agent can help you.

Gear icon
The gear icon is where you can find your Settings, Account & Billing, Manage Team (where you can edit users),Jobber Labs (where we test experimental features), Refer a Friend, Product Updates (where we post updates about new features), and Log Out. When you see a red dot on the gear icon, it means that one of these items has been updated. Most often it's a new product update.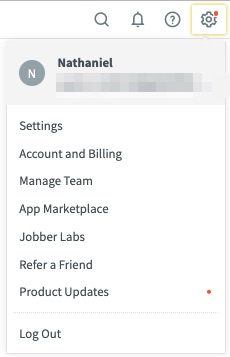 More actions
The more actions button appears in many different places in Jobber and displays the actions that are possible from that item. That means the actions are different in most menus because different actions can be taken in different places.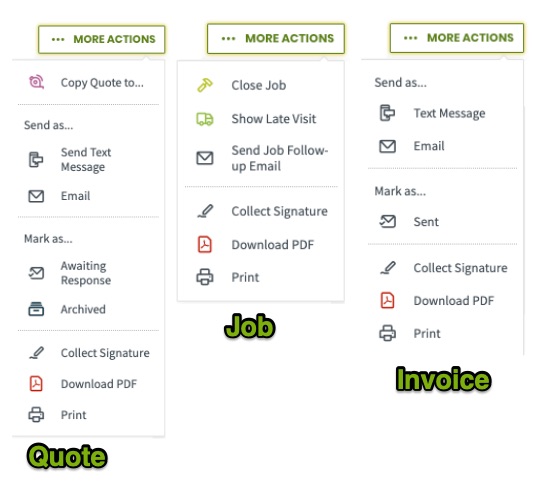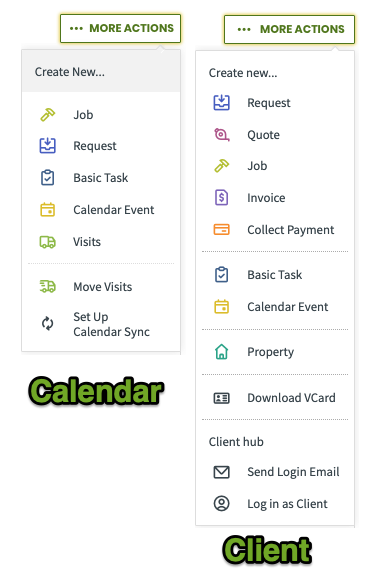 While the More Actions button displays the list of possible actions, to the right of the More Actions button are primary and secondary actions. These are the actions that might be more commonly taken on this item.

Navigating between schedule views
There are five schedule views that can be switched between to visualize your upcoming schedule in different ways. The schedule views are:
On each of the schedule views, in the top right of the schedule beside the buttons for Filter and More Actions, there is a button that displays the name of the current schedule view you are looking at. This button is for navigating between different schedule views. Click it to jump to a different schedule view, such as the day, map, or list view.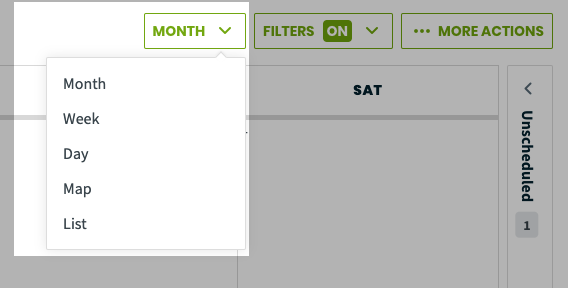 In the top left of the schedule, there is a Today button as well as the date range of the week or month that you are viewing. To view a different week or month, click the date range, and from the date picker, select the time period you would like to view.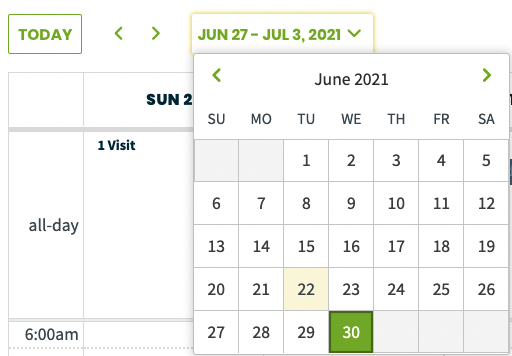 To jump back to the current time period, click Today. This will return you to the current week or month on the schedule.
Learn more about Schedules.
Client name
On a request, quote, job or invoice you can click the client's name at the top of the page to take you to the client's profile.