So you've been paid for your work. Congrats! Now we have to enter that payment in Jobber to balance your client's billing history.
Collect payment button on an invoice
Regardless of the method of payment, the first step will be to go to the invoice that the payment is for. It will be in either awaiting payment or past due status. Beside the More Actions button in the top right, you will see a button for Collect Payment.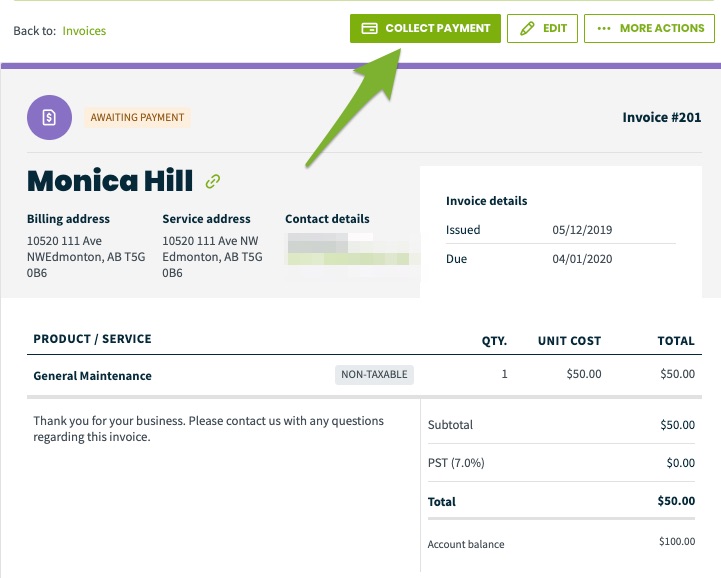 When you click, Collect Payment a pop-up will appear that will prompt you to enter the details of the payment.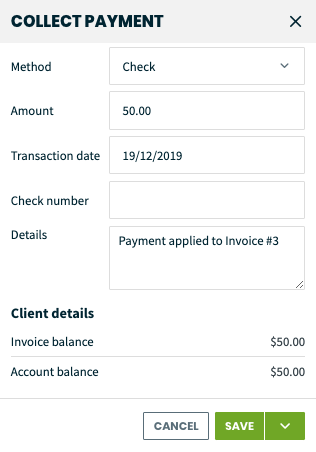 You will be able to enter payment details here like method, amount, transaction date, and details. If you are charging the client's credit card through Jobber Payments, make sure that you have Jobber Payments selected in the method type, rather than "credit card". Choosing Jobber Payments will charge the client, whereas "credit card" will just make a record that you have collected a payment via credit card outside of Jobber. The credit card method is a good option if you are using a credit card provider that does not integrate with Jobber, but you still need to indicate that the client paid in Jobber. We have more information about collecting payments with Jobber Payments here.
Note: If you are recording a partial payment, be sure to adjust the amount field to reflect the partial payment.
Once you save the payment, it will appear below the invoice total and you will see the payment amount removed from the invoice total. When your invoice is paid in full the invoice balance will be $0.00.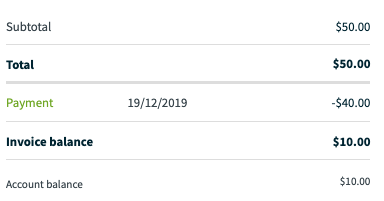 Mark as paid
From More Actions there is an option for Mark as Paid.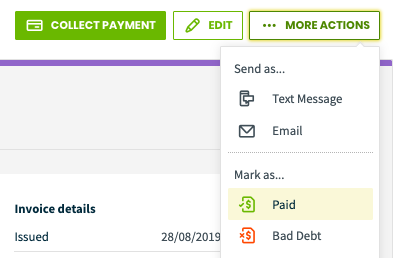 This option changes the invoice status to paid, but doesn't actually record a payment on this invoice. That means invoices marked as paid in this way will still have outstanding balances. You might use the Mark as Paid option from the invoice if you are recording payments entirely outside of Jobber, but want to track awaiting payments in Jobber.
Tip: For most workflows in Jobber you will want to be using the Collect Payment option rather than marking the invoice as paid to ensure that the invoice balance is updated.