Overview
Give your clients the option to pay over time, helping them get the service they want–faster. Even better, it helps you win more (and bigger) jobs.
Make it easy for your clients to afford the work they want. We've partnered with Wisetack so that you can include financing options for your clients on the quotes you send through Jobber. You improve your win rate, and your clients get to afford their dream job.
If you're eligible to apply based on the following criteria, you'll see the card in the App Marketplace.
You must live in the United States
Work in an industry that does one-off work

The following industries are not eligible: pool & spa, residential cleaning, commercial cleaning, window washing, snow removal
In addition to successfully completing an application, to be approved by Wisetack you must:
Have a strong online review presence (ie. 10+ reviews online with an average of ~4.5 stars out of 5)
Have over $12,500 in monthly revenue or $150,000 in annual revenue
Consumer financing must be set up by an account owner on jobber.com. Financing offers are automatically added to quotes on jobber.com and in the Jobber mobile app.
Setup
Consumer financing can be set up in two places:
On a quote
Note: to set up consumer financing from a quote, the quote must have a subtotal of at least $500.
After your application has been submitted, it may take up to five business days to process the application. You'll receive an email from Wisetack when your application has been processed.
App Marketplace
To set up Wisetack from App Marketplace, click Apps from the side navigation. Locate the Wisetack card and click Get Started.
Quote
When you create a quote where the subtotal is over $500, you will see a prompt with more information about consumer financing, including how low the rate could be for that particular quote. Clicking Learn More will bring you to more information about Wisetack in App Marketplace, where you can start your application.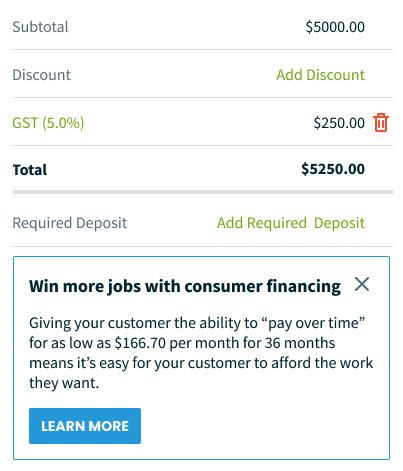 Application
No matter if you've navigated to the Wisetack page in App Marketplace from a quote or directly through App Marketplace, the next screen will have some information about the Wisetack integration and a button to start your application.
Before consumer financing is set up in your Jobber account, you will need to apply through Wisetack and get approved. Click Apply with Wisetack to start your application. If you aren't able to finish your application all in one go, Wisetack will save your progress so you can return to the application later.
The application will ask you questions that cover your contact details, business information, business owners, and executives. The last step in the application is to link your bank account using a service called Plaid so that you can receive payments.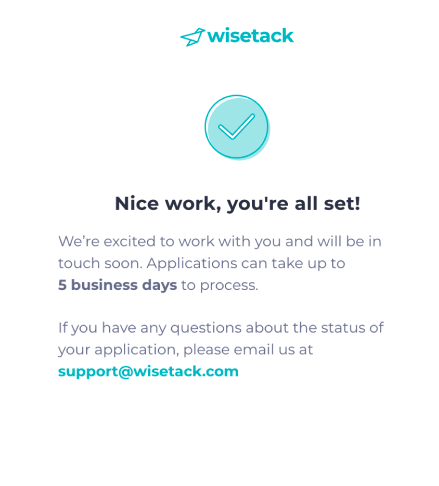 It may take up to five business days for Wisetack to process the application. You'll receive an email from Wisetack once your application has been processed.
Creating a quote with consumer financing
To comply with fair lending regulations, all quotes between $500-$25,000 will automatically have financing offered. Quotes must also meet these requirements:
Quotes must be for a residential client with a first and last name. The quote can't be for a client where the primary name is a company. If the client in Jobber is set up as a company, financing won't be offered.
Quotes must have a title. If you try to save the quote without a title, you will see an error that instructs you to add a title.
Quoted work must be one-off (not a repeating schedule) where the work must be completed within 90 days.
Be between $500 to $25,000.

Note: If your quote uses optional line items, the subtotal of the items selected by your client must be over $500 to offer financing.
Create your quote as you regularly would (or check out Quote Basics, if you need a refresher on how to create a quote). If you are sending a quote to a commercial client, you'll need to ensure that your client is marked as a company in Jobber in order to send them a quote that does not have financing offered.
When it's time to send the quote to the client, the email will mention the financing offer by giving the quote total and how low the cost could be per month with financing. The email template can be edited by going to the Gear Icon > Settings > Email and Text Messages and updating the quote templates. You can also send the quote via text, but the text message doesn't have the "as low as" calculation since text messages have a character limit.
Tip: If you want to add additional messaging to your templates, the marketing toolkit found with the consumer financing resources has some tips on how to market the financing offer.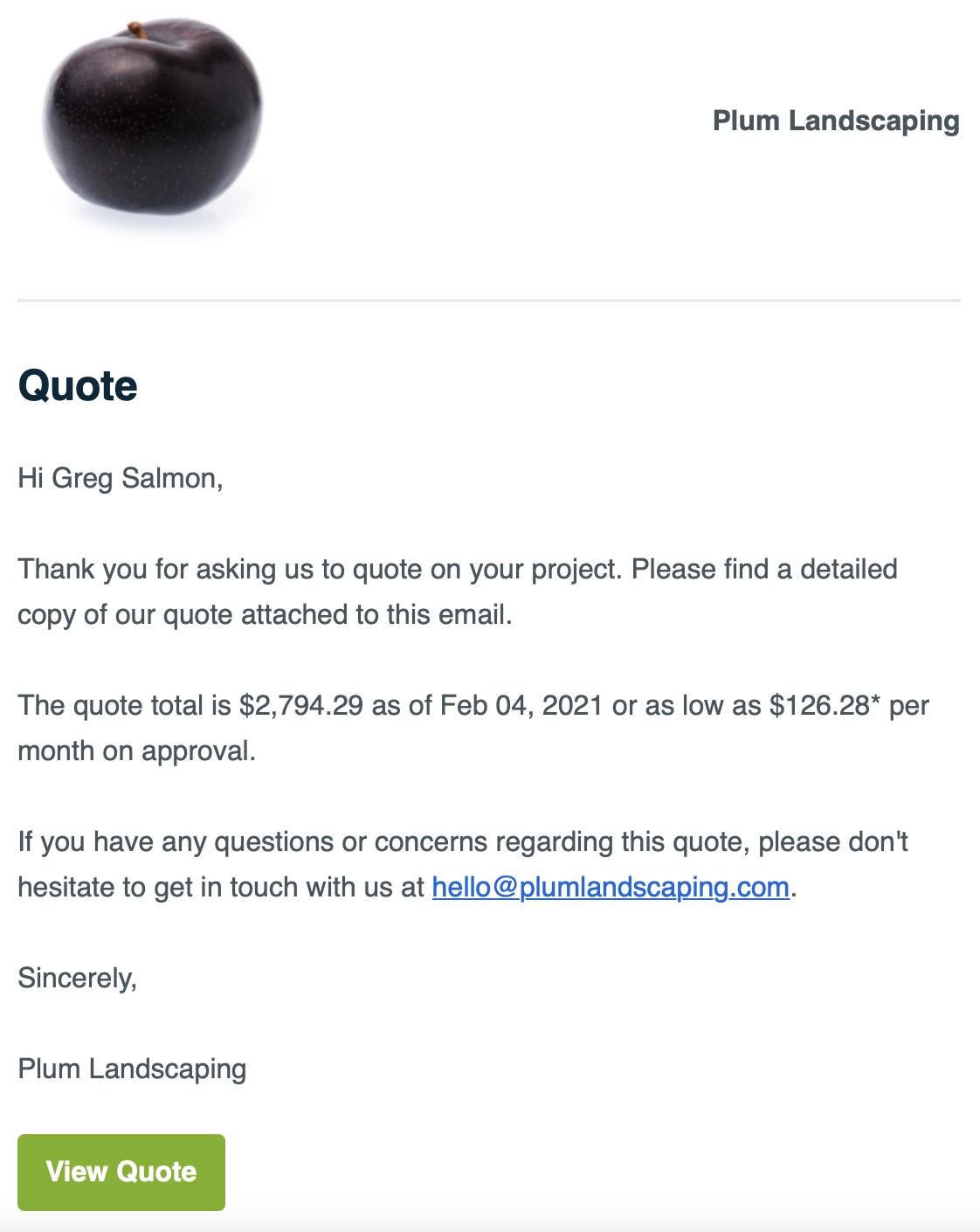 Note: The following language appears in the quote below the View Quote button: *All financing is subject to credit approval. Your terms may vary. Payment options through Wisetack are provided by our lending partners. See http://wisetack.com/faqs.
When your client is approved for financing, you will receive an email from Wisetack letting you about their approval. If they decide to accept the financing offer, you will receive another email letting you know they are moving ahead with financing. On the quote you sent them in Jobber, you will see a label for "financed".

Required deposits
If you have created a quote that has a required deposit, financing is offered on the quote total minus the required deposit. This means that your client will pay the deposit upfront and out of pocket. Then the financing will cover the remainder of the quote since financing is only applied to the completed job.
How financing appears throughout your workflow
When it's time to convert the quote to a job, it must be a one-off job. The same label for "financed" that appeared on the quote when the client accepted their financing offer also appears on the job total so that you know the payment for this job has already been sorted.

Once the job is closed, a draft invoice is automatically generated from the job. The invoice will stay as a draft until your client has confirmed that the work was completed. At that point, the draft invoice will be marked paid automatically. Your client will also be sent an email from Wisetack where they have to click a button to confirm that the work has been completed in order to release the funds to you. Emails from Wisetack are sent from notifications@wisetack.com.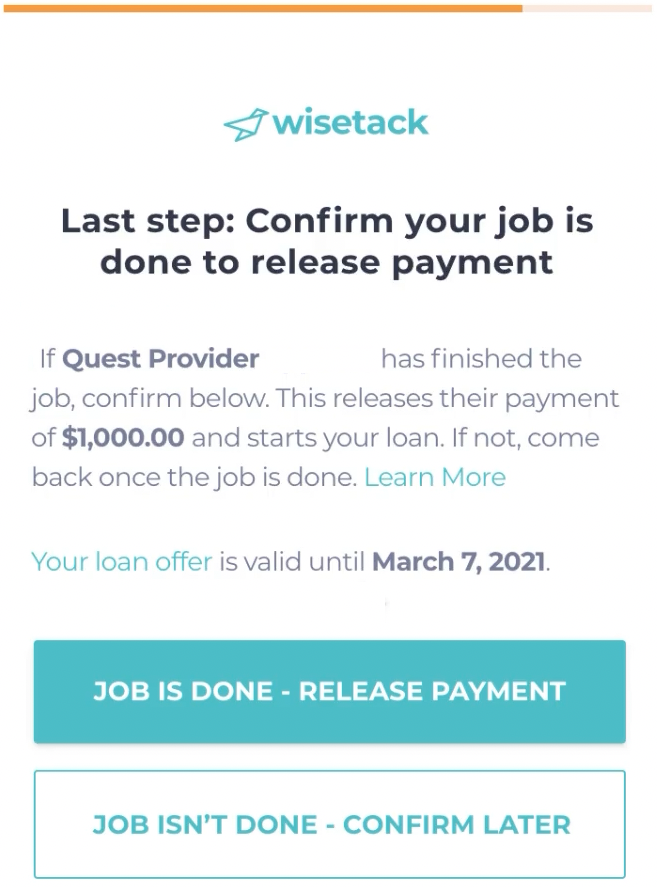 When your client has confirmed that the work was done, the draft invoice will be marked paid automatically. The payment method on the invoice will show consumer financing with details about the Wisetack ID.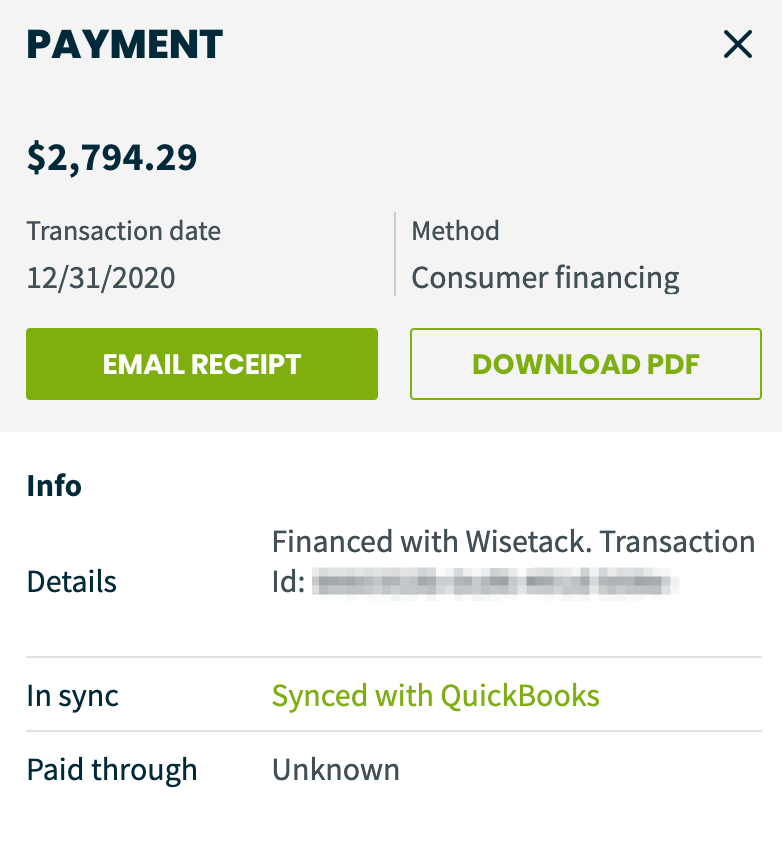 Note: You will receive these funds in 2-4 business days after the client confirms the work has been completed.
If the scope of work changes and the job ends up having more line items added to it over the course of the work, the financing application is not updated automatically. If the invoiced total is higher than what was quoted and the financed amount, your client will have to pay the difference between what the financing amount covered and the rest of the invoice.
If the quoted total ends up being more than the invoice total due to a discount or the scope of work changing, the amount of your client's approved financing amount cannot be changed. In this situation, edit the original quote for the updated amount, then resend to your client as they will have to re-apply for financing and let the original application expire. There are no fees charged on expired financing applications.
Client experience
When your client views the quote you've sent them in client hub, they will see a financing option through Wisetack. The lowest monthly payment will show, but when your client clicks See Loan Options they will be prompted to provide their contact details then select from various financing options with different monthly payments.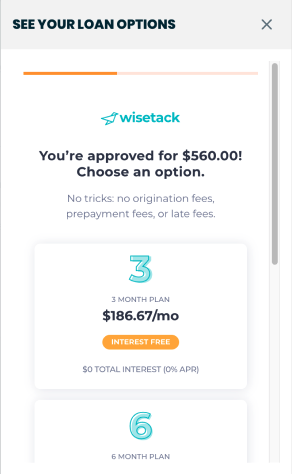 Wisetack requires some borrowers to add a debit card before their financing option is approved. Their debit card will be charged to collect their first payment the day it starts. They may see a pending charge the same day the card is added. The debit card on file will only be used for the first payment.
If your client is not required to add a debit card, once your client has chosen their financing option, they can connect their bank account through a service called Plaid, which will automatically withdraw payments for repayment.
They will also be provided with a summary which includes:
Number of payments
Amount per payment
starting date of the monthly payments
total of payments
total finance changes
and annual percentage rate (APR)
Once the quote has been approved, the Wisetack financing offer on the quote will update to show the approved financing amount.

Note: When applying for Wisetack, a soft credit check is pulled.
Resources
Once you have been approved for Wisetack, the page in App Marketplace where you previously started your application updates with resources for Wisetack. This includes:
Payment calculator to see what your clients could pay
Marketing toolkit with resources and guide to learn more about how to incorporate consumer financing into your marketing sales, and service. This is a dropbox folder where you can access this information.
Attend a training webinar to learn more about consumer financing. At a Wisetack hosted webinar, you'll be able to ask questions and brush up on your consumer financing knowledge.
Overview this is where you can see the dollar amount that is currently being financed as well as the number of clients that currently have financing.
click View loan report to jump to the consumer financing report from the Reports section.
Reporting
To track which clients have accepted their financing offers and the progress of the application, there is a consumer financing report which is found in Reports > Financial Reports. The report contains an overview where you can filter to see status of applications
Accepted financing offer
Confirmed financing offer
Paid
Declined
There is a flat 3.9% cost to you from each financed amount. The fee column shows the dollar amount that the 3.9% breaks down into. The "Net" amount is what is deposited into your bank account once the fee has been removed.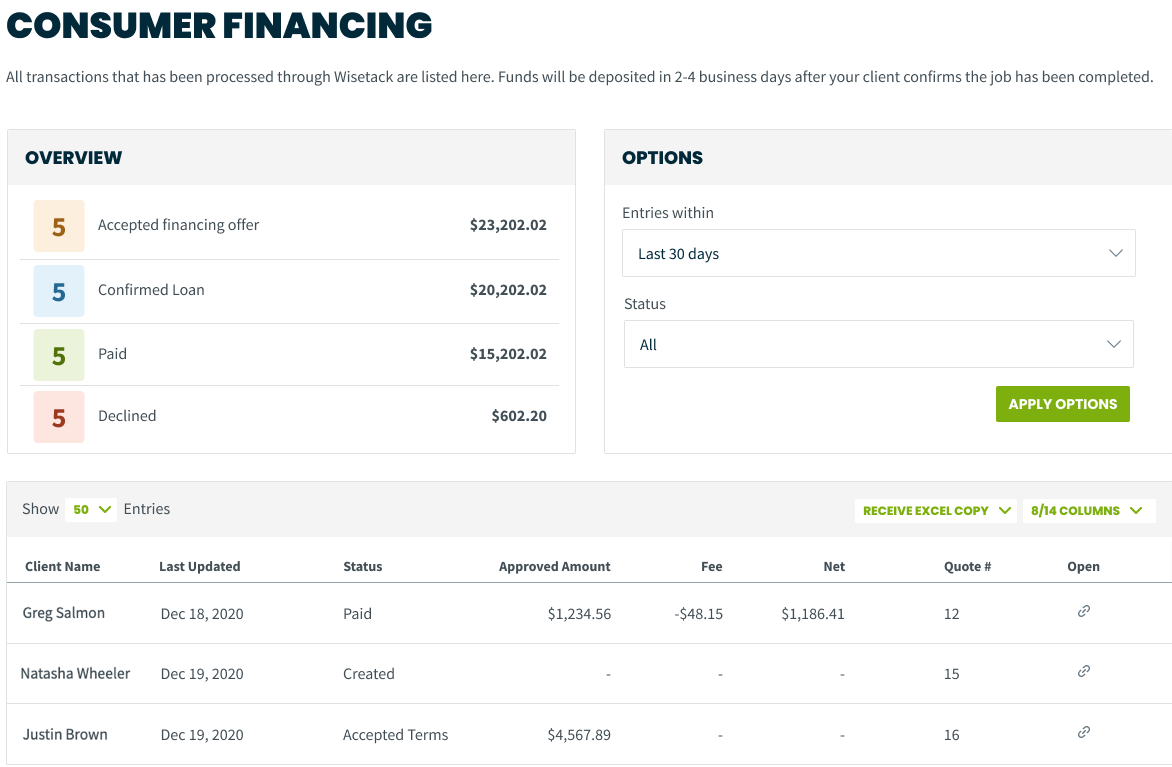 On the Transactions list. Any invoice payments that have been covered by consumer financing will have "Consumer Financing" as the payment method.
FAQ
How do I add a financing option?
Build your quote as you normally would in Jobber. Monthly financing options will be automatically included on every residential quote between $500 and $25,000
How much does it cost me?
If approved, it only costs you 3.9% per transaction. No set-up fee, flat fee per transaction, credit card processing on top of Wisetack's fee, or any additional fees.
How much does it cost my clients?
Depending on the term length your client chooses (and their eligibility) they'll receive options with annual percentage rate (APR) from 0% to 29.99%. For example, a $1,000 purchase could cost $45.18 a month for 24 months, based on a 7.9% APR, or $333.33 a month for 3 months, based on a 0% APR. All financing is subject to credit approval. Terms may vary. Payment options through Wisetack are provided by our lending partners. See additional terms at http://wisetack.com/faqs.
How do my clients get approved for financing?
When you send a quote, your client will see an "as low as" monthly calculation beside the total cost of the job. If they wish to pay via financing, they apply with Wisetack through a short application. They'll receive an instant response from Wisetack if they're eligible.
How many months can they choose to pay over?
Once approved, they can choose to pay over 3 to 60 months.
When do I get paid out for the job?
After you've finished the job, you get paid in full and the funds arrive in your bank account 2 to 3 business days after the work is completed. An invoice will automatically be created in your Jobber account and will be marked as "paid" when your client confirms the job is done.
Can my client apply for financing after the quote has been approved?
Yes! When they view the approved quote in client hub, they will still have the option to apply for financing.
I'm selling my company and transferring ownership of my Jobber account. Is there anything I need to do to update Wisetack?
If you are changing over the ownership of your Jobber account after selling your company, your personal details and your bank account information will need to be updated for the new owner in Wisetack. Reach out to the Wisetack Team for next steps around updating your Wisetack profile. They can be reached at support@wisetack.com.
I want to apply for Wisetack, but I don't see it in the App Marketplace. What should I do?
If you do not see Wisetack in the App Marketplace, please contact Wisetack directly by emailing them at support@wisetack.com and provide the following information as it relates to your Jobber account:
Business name
Business phone number
Business address
Email
You must also include at least one of the following types of documentation for proof of revenue:
Business tax documents - Schedule C is okay if sole proprietorship
Bank statements/trust receipts (3 months)
Signed quotes
Sales reports
Once Wisetack receives and reviews this information, Wisetack will contact us to manually enable the app card so you can apply.
What happens if the quote turns into multiple jobs?
The Wisetack payment will be applied to the first invoice associated with the first job, however all jobs converted from the financed quote will have the "financed" label. Since the following invoices are coming from a "financed" job, we expect the payment to come from Wisetack. There won't be an option to make a payment on the invoice and unless it's the first invoice the payment won't come from Wisetack.
If you have a financed quote, we recommend only converting it to one job. If you need to use the quote for multiple jobs, from the quote click More Actions > Create similar quote to copy the quote details.
Questions?
If you have any questions about setting up or turning off consumer financing our Success Team is here to help!
If you want to learn more about Wisetack and consumer financing, check out Wisetack's Jobber Welcome Page.