Overview
Customize and automate notifications to keep your clients in the loop at key points before, during, and after the work.
Assessment and visit reminders are a type of notification that is sent before you go to a client's property to notify your clients that you will be there. These notifications can be sent as an email or text message or both. They can also be sent automatically according to a schedule, or manually. This feature can help make sure you aren't surprising anyone or catching them off guard when you show up!
Assessment and visit reminders are available on select plans. Sending a reminder as a text message is currently available in the United States, United Kingdom, and Canada, however email reminders can be sent anywhere. View our current pricing plans.
To check what plan you're on, navigate to the Gear Icon > Account and Billing. If you have any questions about your plan's features or pricing, our support team is here to help!

Appointment reminder settings
To set up automatic reminders go into your Gear Icon > Settings > Emails and Text Messages.
On this page, the assessment reminders is found in the Requests section and the visit reminder is found under Jobs.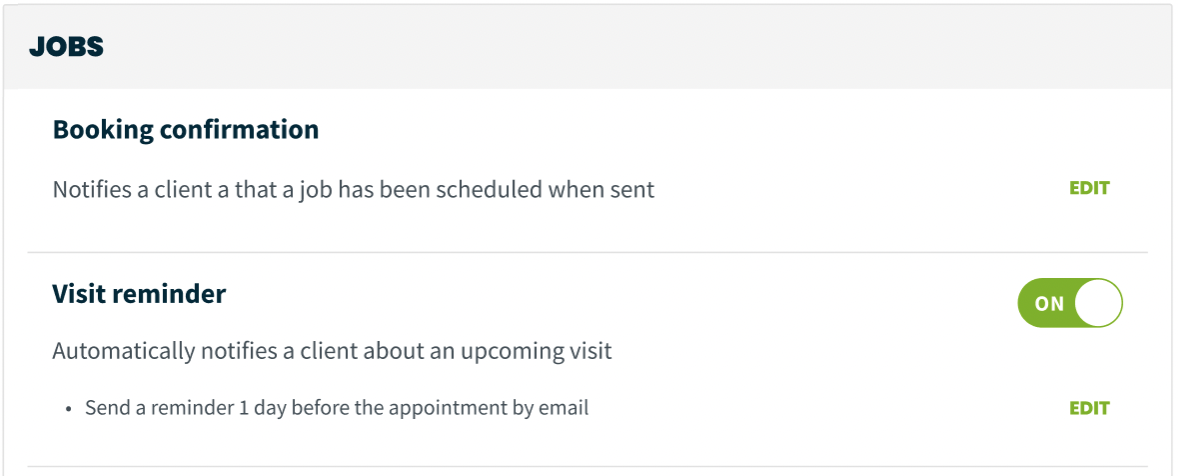 For each notification type, you can toggle it feature on or off, and edit how frequently the reminders are sent out. Reminders can be send either via email or text message.
Note: the text message option is only available in the United States, United Kingdom, and Canada.
Click Edit to modify the message and schedule for the reminders.
There are four options:
Status: Turn this automatic reminder schedule ON or OFF
Send Via: Email or Text Message
Schedule: Set the schedule for when the reminders will send out
At this Time: Set a specific time of day that the reminders will send out. You will need to choose a time for text message reminders to be sent to anytime visits.
Schedules

A reminder can either be scheduled for a specific time, or based on the time of the appointment. For example, a reminder set to go out one day before the visit or assessment would send out 24hrs before that time: a job at 7am on a Thursday would have the reminder go out at 7am the day before, Wednesday.
Text message reminders for anytime visits will only send if you specify a reminder time. This prevents clients from receiving text messages in the middle of the night. For example, if you set text message reminders to go out 1 day before a visit that was set for Thursday (but no specific time set for the visit), the text message will not go out because an "all day" visit doesn't have a time associated with it. We recommend in this case that you set your text message reminders to go out at a specific time, such as 1 day before at 9:00AM; this way your clients will always get text reminders at a reasonable hour.
Scheduled reminders take some time (up to an hour) to queue before they are sent. When you set up a new reminder schedule or move a visit to within the time frame where it should be sent according to the schedule, Jobber will check to see if an automated message should have been sent and since it should have, a reminder will be sent out right away however it may take a few minutes to trigger before it's sent.
Note: All times in the settings page are local, based on the time zone you have set in Settings > Company Settings.
Templates
On the same edit screen, you can set up the templates for your reminders. There are two templates available for both visit and assessment reminders: one for email and one for text message. These templates will allow you to make custom messages for each type of reminder.
There are two reminders that you can schedule. This means that you set up one text message reminder and one email reminder to notify the client about your appointment with them, or you can have two of a kind.
This edit screen is where you can also edit and preview the email and text message templates for both assessments and visits. There are tabs for each message type.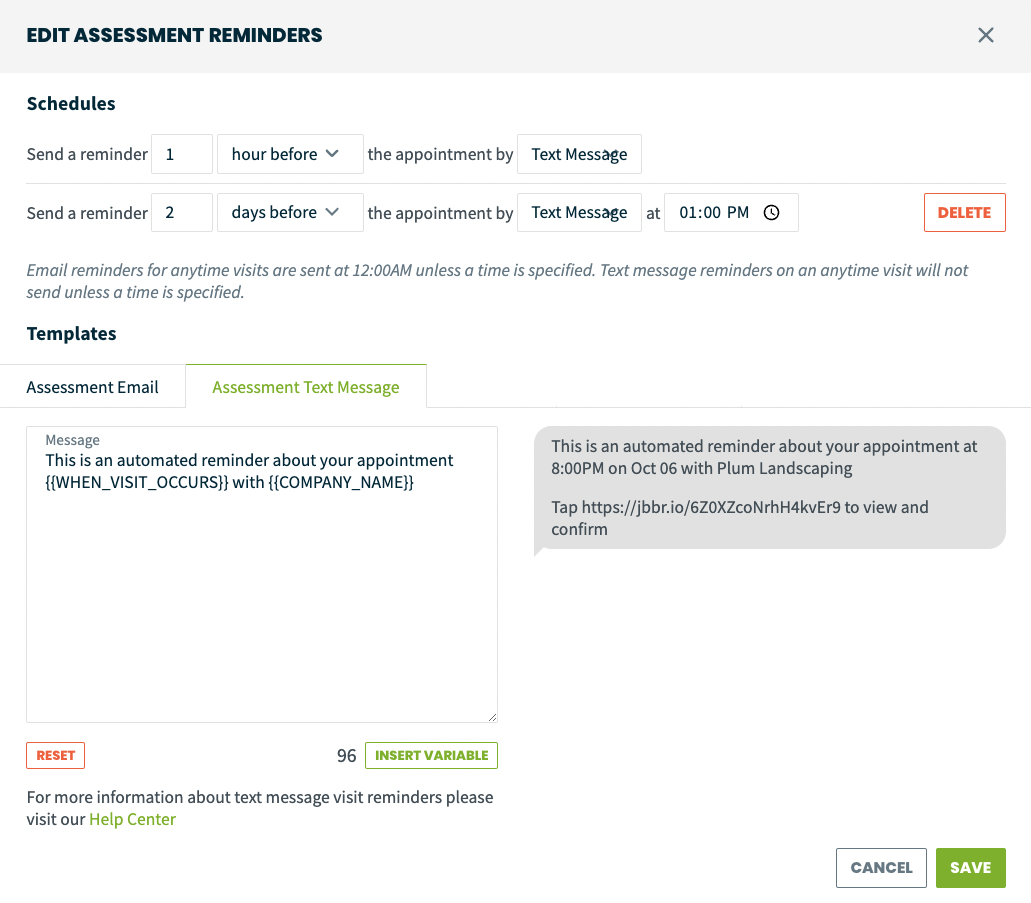 You can further customize the messages with variables. With the Insert Variable button you can choose variables to include which will auto-fill information into these reminders, you can use this to populate information like the visit date or the address.
Note: If you are sending your reminders as text messages, there is a 160 character limit with s character counter at the bottom of the edit text box. At this time we only support text in these messages, so we can't use emojis or URLs in the templates. This is mainly to protect against phone companies (like AT&T or Verizon) blocking our phone numbers from your clients receiving text messages.
Enabling client phone numbers to receive text messages
In order for clients to receive text message reminders they must have a phone number that is set to receive text messages. Only mobile numbers can receive text messages.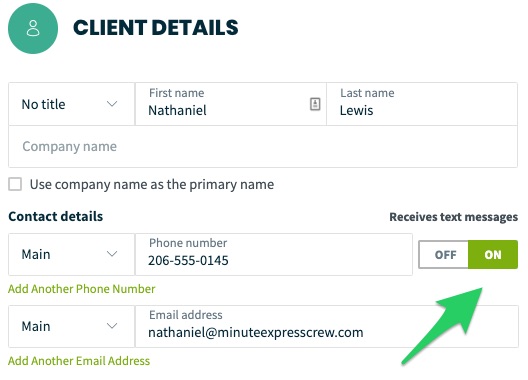 On the edit screen of each client, there is an option to enable their phone number to receive text messages. In order for a client to receive notifications like appointment reminders or "on my way" text messages, this will need to be enabled. You can edit this setting by going to a client and clicking the Edit button in the top right corner.
Disabling reminders for clients
Email client reminders are turned on by default for every client.
To disable reminders for any individual client, go to the client's profile and click Edit and switch the toggle for Appointment Reminders to OFF. This turns off both assessment and visit reminders.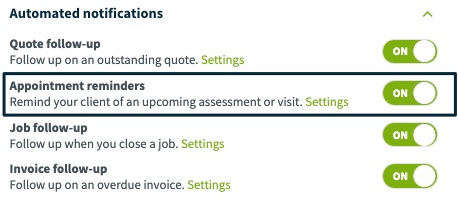 Sending manual reminders
To send a manual reminder, click on an incomplete assessment or visit from the calendar and choose View Details. In this popup, click More Actions then select either Text Reminder or Email Reminder.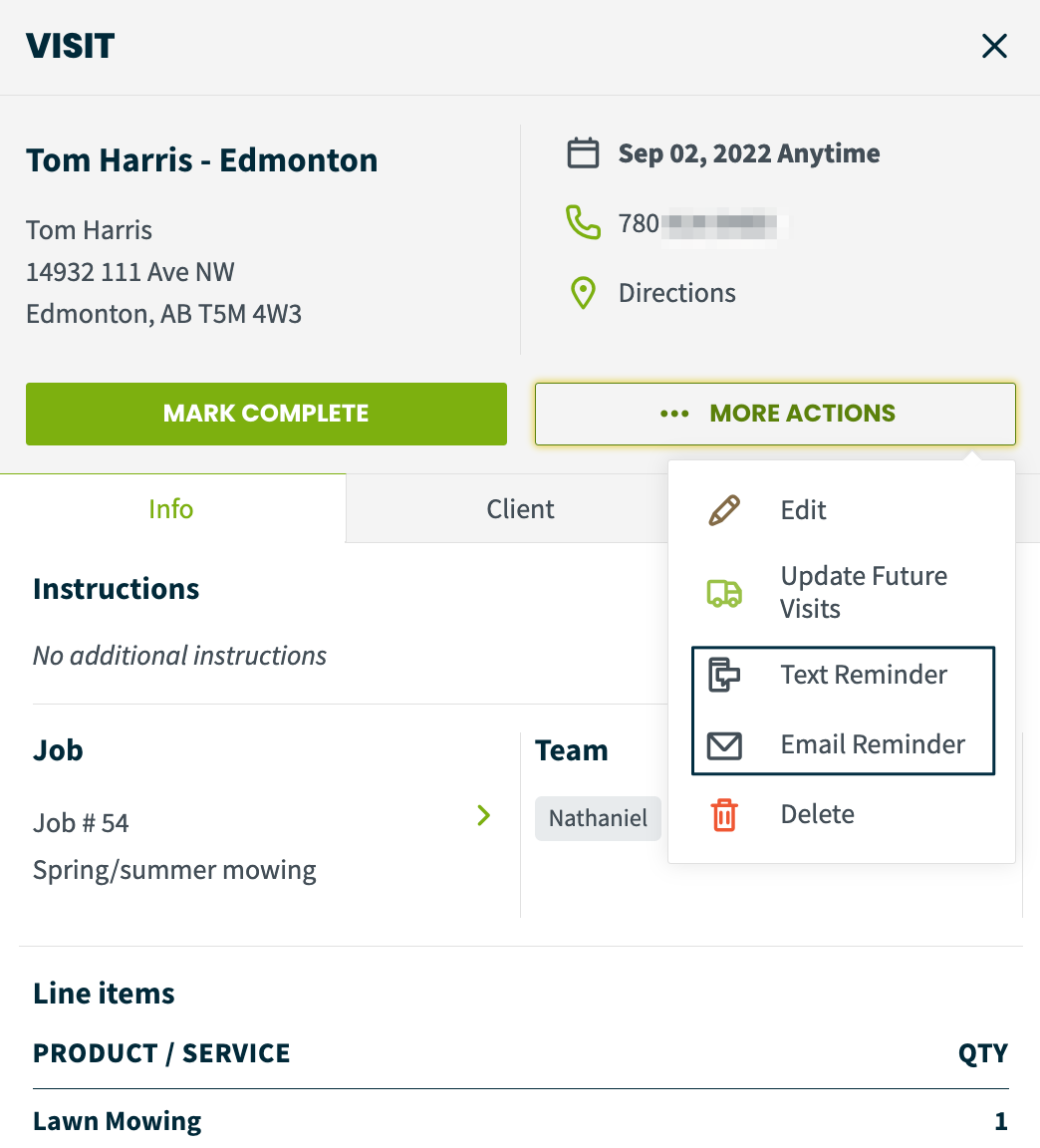 Note: Sending a manual reminder will not override scheduled automatic reminders. A manually sent reminder will be sent in addition to the scheduled automatic reminders
These messages can be customized before they are sent to the client.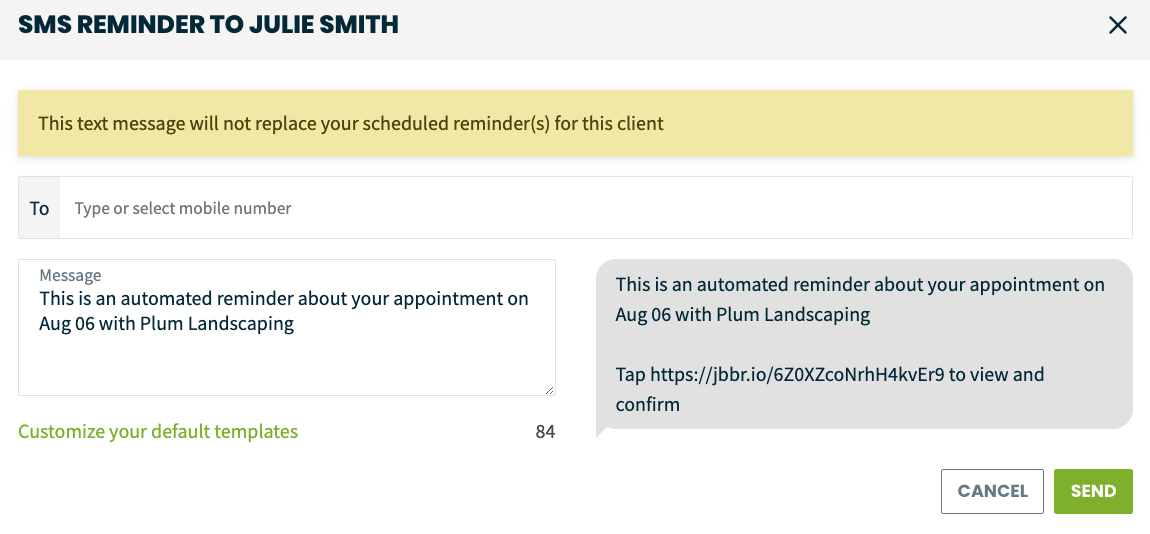 Confirming an appointment

When you send your client a reminder, their message will contain a link where they can view the appointment in client hub and confirm it. The appointment in client hub will show details like the location, time and if there are any team members assigned to the appointment. Clicking Confirm Appointment updates the status of this appointment to "confirmed".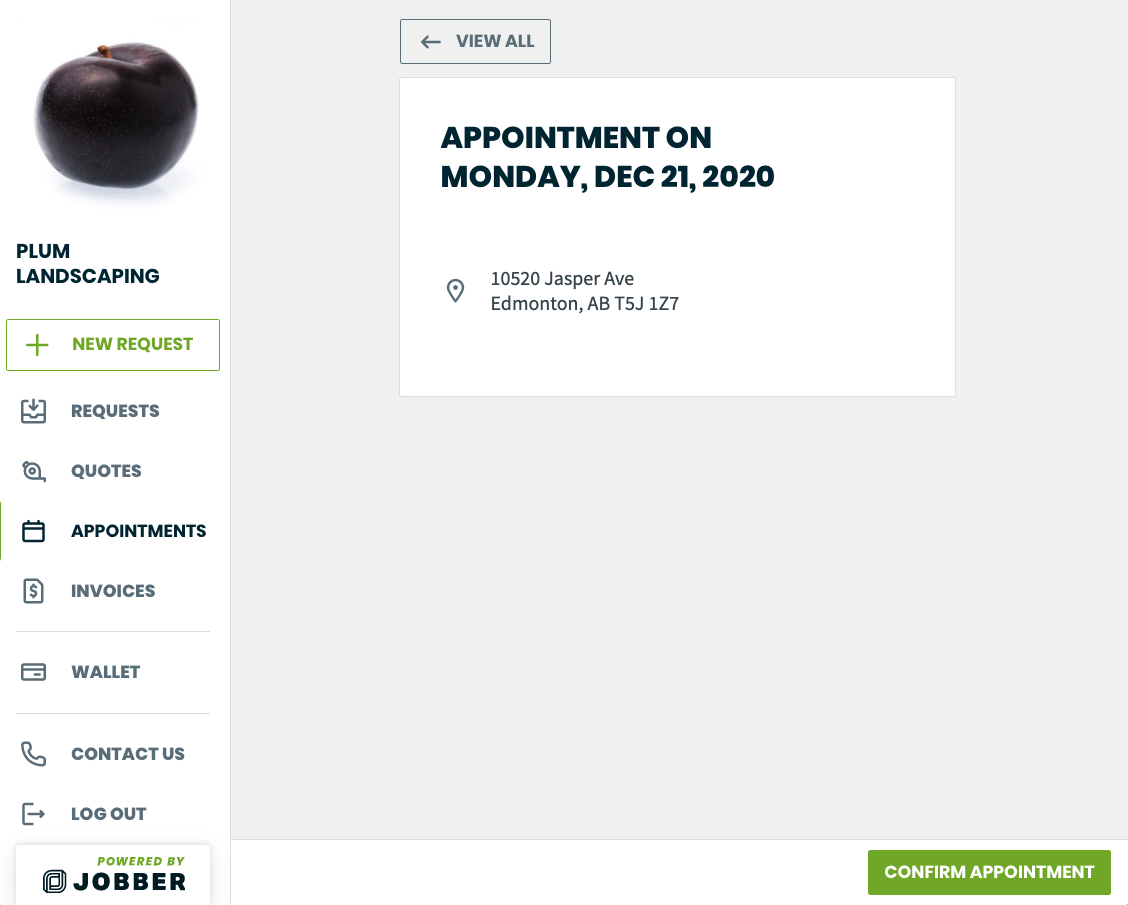 When your client confirms their appointment with you, you can view this in your Jobber account.
Activity feed: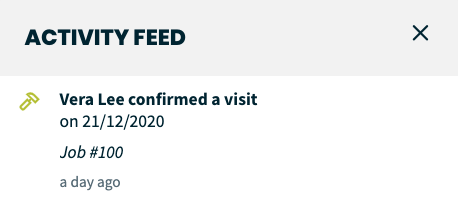 List view of the calendar:

Client profile:

Visit section of a job:

Visit details: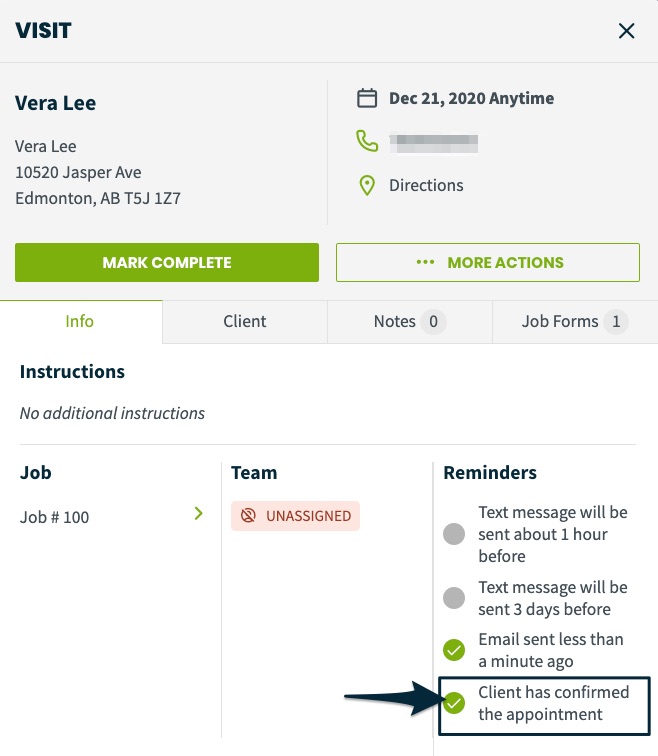 Reporting
All text reminders and notifications sent out to clients will appear in the Client Communication Report, in the Reports tab. From here, you'll see all messages sent, who they were sent to, and the number this was sent to.