What are appointment reminders?
Customize and automate notifications to keep your clients in the loop at key points before, during, and after the work.
This feature is available on select plans.

Appointment reminders are a type of notification that are sent before you go to a client's property to notify your clients that you will be there. Appointment reminders includes notifications for both assessments and visits. This feature can help make sure you aren't surprising anyone or catching them off guard when you show up! They can be sent both by text and email.
Appointment reminder settings
To set up automatic reminders go into your Gear Icon > Settings > Notifications
The appointment and assessment reminder settings will be managed from the Doing the Work section on the Notifications page. Here you can toggle this feature on or off, and edit how frequently the reminders are sent out. Reminders can be send either via email or text message.
Note: the text message option is only available in North America.

Click Edit to modify the message and schedule for the reminders.
There are four options:
Status: Turn this automatic reminder schedule ON or OFF
Send Via: Email or Text Message
Schedule: Set the schedule for when the reminders will send out
At this Time: Set a specific time of day that the reminders will send out. You will need to choose a time for text message reminders to be sent to anytime visits.

There are two reminders that you can schedule. This means that you set up one text message reminder and one email reminder to notify the client about your appointment with them, or you can have two of a kind.
This edit screen is where you can also edit and preview the email and text message templates for both assessments and visits. There are tabs for each message type.
You can further customize the messages with variables. With the Insert Variable button you can choose variables to include which will auto-fill information into these reminders, you can use this to populate information like the visit date or the address.
Sending manual reminders
To send a manual email client reminder, click on an incomplete assessment or visit and choose View Details. In this popup, click on Send Client Reminder from the More Actions drop down.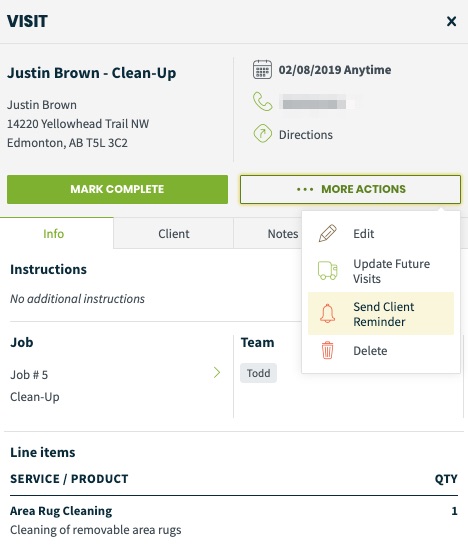 Note: Sending a manual reminder will not override scheduled automatic reminders. A manually sent reminder will be sent in addition to the scheduled automatic reminders
Disabling reminders for clients
Email client reminders are turned on by default for every client.
To disable reminders for any individual client, go to the client's profile and click Edit and switch the toggle for Appointment Reminders to OFF. This turns off both assessment and visit reminders.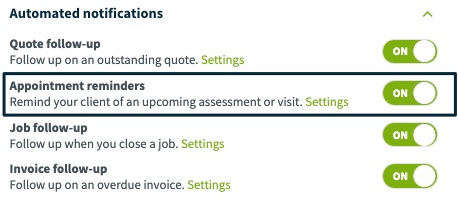 Confirming an appointment
When you send your client a reminder, their message will contain a link where they can view the appointment in client hub and confirm it. The appointment in client hub will show details like the location, time and if there are any team members assigned to the appointment. Clicking Confirm Appointment updates the status of this appointment to "confirmed".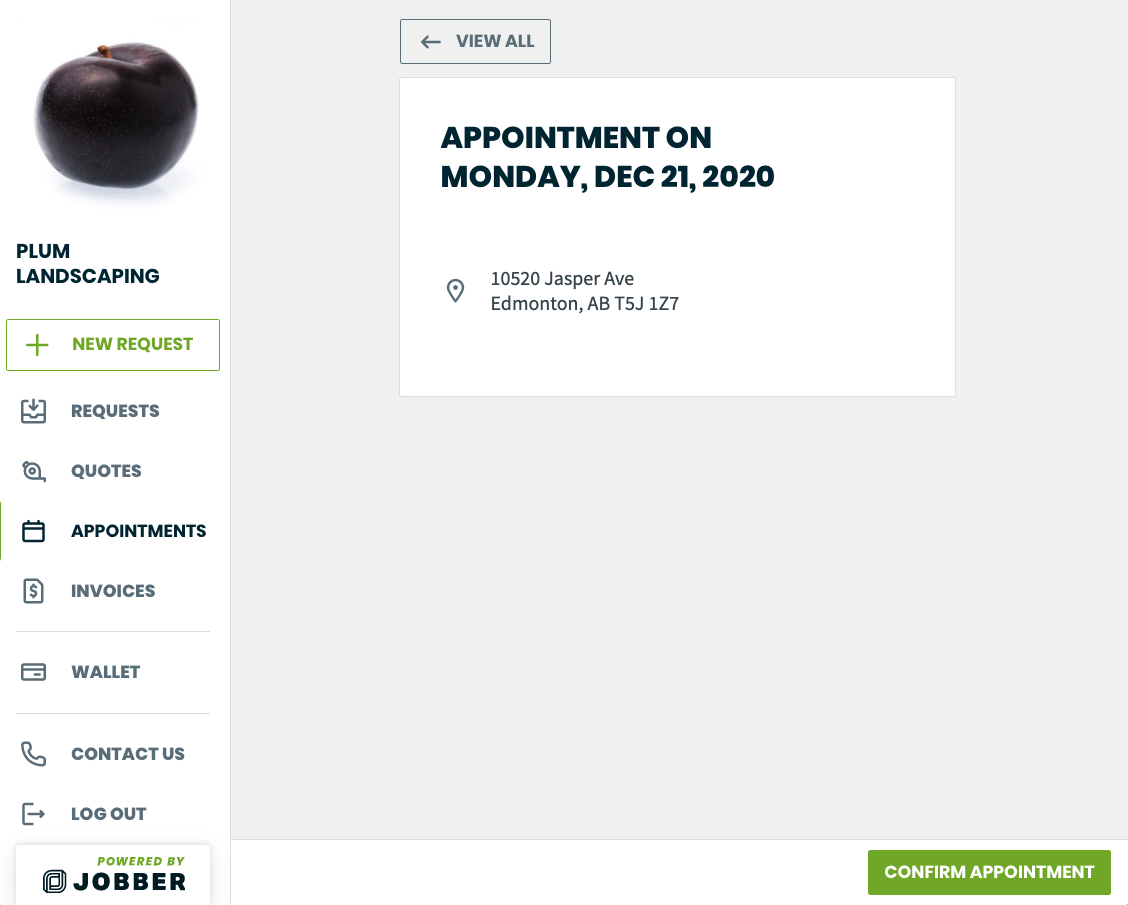 When your client confirms their appointment with you, you can view this in your Jobber account.
Activity feed: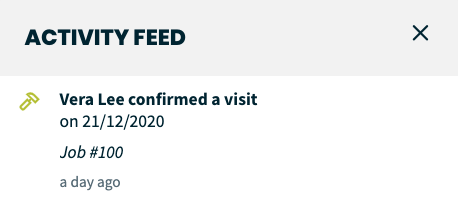 List view of the calendar:

Client profile:

Visit section of a job:

Visit details: