Overview
The updated app shown in this article will be rolling out to all users in November. If your apps are set to automatically update, you will get it once the updates are available to your account and your app has been updated to the latest version available at that time.
If you are interested in moving you and your team onto the updated app, start a chat and let our support team know!
These are the top things you should know about the updated Jobber App.
1. The schedule has been updated, including a new week view and new team view options
There are five schedule views in the Jobber App:
The view options on the schedule are a tool that you can use to choose how to display your schedule and what information to show. To add or remove options from your schedule, tap the View options icon.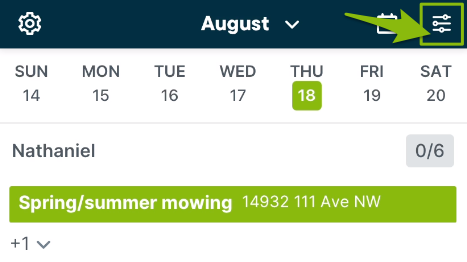 There are three categories of schedule options:
View

Select between the

Day,

List, 3 Day, Week, or Map views of the schedule.

Days

On the week view, set the toggle to

ON

to hide weekends and instead show Monday through Friday.

Team members

Select team members to view their schedules side-by-side. Scroll to the right to view all team member's schedules.
Learn more about the Schedule in the Updated Jobber App.
2. Get directions to your job site from your favourite mapping app
On a visit or assessment, tap the directions icon to open Apple Maps, Google Maps, or Waze with directions to this property address.
To copy the address so that you can text it to a team member or open in another mapping app, tap the address. The address will be copied to your device's clipboard.
Learn more about Schedule in the Jobber App (Updated Jobber App).
3. Timers can now run when a visit is marked complete
To mark a visit complete, you do not need to stop the visit timer first. The visit timer can still run even when the visit is completed. We made this change so that if you are invoicing per visit, this allows you to keep the timer running to account for the time spent on that job while creating an invoice. This is a change from the legacy Jobber App where the timer was required to be stopped before the visit could be completed.
Once you are done with all the work at this property, stop the visit timer.
Learn more about Timers and Time Sheets in the Jobber App (Updated Jobber App).
4. Events on the schedule (visits, tasks, and calendar events) got a makeover to prioritize the information you need
You'll notice some visual changes with the updated app. Rather than navigating across different tabs the information for appointments is all on one page so all information is in one place. On visits, there is a second tab specifically for notes.
Key information is prioritized like the client name, title, and address so you'll know who you're seeing, what you'll be doing, and where you're going. The actions you would more frequently take on the event are represented with buttons. On tasks and visits, this includes a button to complete the task or visit. Visits also have a button to start the visit timer. Tap ... to open a menu for more actions.
Learn more about Schedule in the Jobber App (Updated Jobber App).
5. Text your client directly from their work with two-way messaging
If you are on a plan that supports two-way text messaging, now you can text back and forth with them directly from the visit instead of navigating to the Messages tab. This keeps you on task with your work since you can keep the details close by.
Tap the speech bubble icon, then select if you want to sent an on my way text message or a text message. This icon appears across all work items for this client (requests, quotes, jobs, and invoices) so you quickly shoot them a message.
Select Send text message to open the conversation with that client. Add your message in the Type a message... field then tap the Send icon.
Learn more about Two-Way Text Messaging in the Jobber App.
6. Send booking confirmations
A booking confirmation is a message that can be sent via email or text message that notifies your client you have their work in your books. It is typically sent manually at the start of the work to let them know you have their booking.
Note: This is a different type of notification than appointment reminders which are sent out prior to each visit or assessment at the client's property.
There will be a button to Send Booking Confirmation when a job is in "Upcoming" status.
If a job has already had a booking confirmation sent, is in "Late" status, or is in "Requires invoicing status" but the job is still open, tap More Actions (...) > Send booking confirmation.
If a job is in any of the following statuses, there will be no option to send a booking confirmation:
Action required

Unscheduled

Archived
7. New overview of a client's work history
Clients in the updated Jobber App have been simplified with less tabs to navigate through, including all work for the client unified under the Work tab rather than being split up across different tabs.
Every client profile starts with the client's name (or the company name), followed by their client balance. The balance matches the billing history box from Jobber Online where you can see an overview of the client's invoices, payments, and deposits.
Client profiles in the updated app now have three tabs:
Client: This includes details like the client name, client custom fields, property and billing addresses, and contact details (including phone numbers and email addresses).
Work: This is a list of the work for this client, sorted by recent activity. Each item on this list shows what kind of work it is (request, quote, job, or invoice) as well as the status of that item. Tap the item filters to view only that item type, for example, only jobs.
Notes: Internal notes and attachments on the client are accessed from this tab.
To navigate to a client's profile, tap Search from the bottom menu, then type the name of the client you're looking for or scroll from the list. To only see clients in the list (rather than other work items) make sure Clients has been selected from the search options. Tap the client's name to jump to their profile.
Filter by status
A Search tab has been added where you clients and work items can be filtered by status so that you have a list of only items in that particular status. To filter by status, first select the item type (client, request, quote, job, or invoice) from the tabs above the list. Once the item type is selected, you'll see filter options for statuses for that item. Tap the status for a list of items in that status.
Learn more about Client information in the Jobber App (Updated Jobber App).
8. Smoother internal note uploads
In the updated Jobber App, internal notes and attachments have been redesigned and now will upload more smoothly. As part of the redesign, notes have a new look where you can type a note to your team, attach files, and link the note to other work for the client all in one place. File uploads can also now be cancelled mid-way through, if needed.
Another new addition is that phone numbers, email addresses, and URLs can now be interacted with when saved in an internal note, custom field, or instructions on visits and jobs. You can now tap these fields to call, email, or open a webpage.
Note: Phone numbers must be entered in this format to display as a clickable link: xxx-xxx-xxxx or xxx xxx xxxx or 1-xxxxxxxxxx.
Learn more about Notes and Attachments in the Updated Jobber App.
9. Opting into the updated app is account wide
If you opt into the updated Jobber App before it's fully rolled out in November, you're opting your whole account into the app and every user will see the updated Jobber App rather than the legacy app. To prep for the updated app, you may want to let your team know this change is coming and their app will look different.
If you are interested in moving you and your team onto the updated app, start a chat and let our support team know!
Learn more about Jobber App Basics (Updated Jobber App).
10. Maintain team compliance with job form alert
Job forms allow you to set up a custom form to be filled out on visits. They are a great fit for standardizing how your team works and collecting the right information upfront.
Now, if a job has a job form associated with it and it's left blank, you and your team will see a reminder if you complete the visit without filling out the job form.
Bonus: Jobber's Success Team has your back
Jobber's award winning Success Team is here to help you out! We know that transitioning you and your team to a new app can be a learning curve and we're here to support you.
Check out our Help Center's section on the Updated Jobber App for documentation on the updated app. This is where you can find guides that cover your full workflow in the app.
If you have any questions you can start a live chat with our team where a real person will help you out with any questions. To start a chat from the Jobber App, tap the Gear Icon then from the Support section, tap Support chat.
Learn more about How to Get Help.